by Miceál O'Hurley
Part III – Final Instalment of Our Series that Began on 27 October 2020
DUBLIN – Mr. Ambassador, here in Ireland, an Taoiseach Micheál Martin, in light of Britain's announcement they intend to unilaterally change the terms of the agreement they made to leave the EU, has made clear that he expects Britain to abide by the EU Withdrawal Agreement.  Ursula von der Leyen, the President of the European Commission, stated unequivocally she expects agreements to be kept.  In an age where Governments no longer feel bound to honour agreements they have signed, or where Courts to which nations have submitted to abide their jurisdiction and decisions, the 'Rule of Law' seems an increasingly empty concept.  How can Ireland, the EU, Iran or any other government engage in bilateral agreements with any sense of confidence they will be implemented or survive longer than the signing ceremonies?
The complicated interplay of law and politics at the international level defies the rigid dichotomy of zero-sum analyses. First of all, there are certain legal and normative guarantees for preserving treaties and agreements beyond their signing. Secondly, it needs to be recognized that unilateral moves away from negotiated agreements are the exception rather than the norm in international relations. Nevertheless, the cost of non-compliance needs to be much higher and in direct proportion to the risks and damage posed to peace, security and human rights.
There is a perpetual and dynamic confrontation between law and force. The legal framework of international relations is vital for maintaining peace and order in a civilized world. While legal principles will not ever be without violations, law and order will prevail in the long run. The JCPOA is a case in point here. Despite the unbelievable pressure which accompanied the US withdrawal from the deal, the US has not achieved any of its stated goals. Clearly, President Trump has underestimated the power of international resistance to its unilateral aggression. In particular, the EU which ordinarily would have supported the US position actively opposed it and declared it to be unconscionable and unacceptable. This demonstrates that in the long run principles of multilateralism and diplomacy will prevail. It also illustrates the value of international support for upholding multilateral agreements.
Let me ask, Your Excellency, returning to the JCPOA and the UN's pledge to lift sanctions given the IAEA position that Iran was complying with the Deal, has there been any real benefit to Iran given the UN having lifted all sanctions under UN Resolution 2231?
The JCPOA enabled Iran to resume oil exports and engage in international trade and financial transactions. The economic benefits were noticeable but short-lived. While Iran has been faithful to its commitments under the agreement, the US has betrayed its obligations and the EU has retreated from its responsibilities in relation to its economic engagement with Iran.
In political terms, UN Resolution 2231 (by authorizing the lifting of nuclear-related sanctions) has served to delegitimize sanctions against Iran and it, therefore, rendered the subsequent US re-imposition of unilateral sanctions illegitimate. The US sanctions' policy against Iran has placed it in complete isolation from the international community. Its policy is not endorsed by international law or consensus; rather it is a politically-motivated policy which is tied to the domestic political agenda in the US and serves the interests of foreign lobby groups. This is what the Iranian people have been saying for decades; namely that US policy in relation to Iran was less about addressing any alleged wrongdoing by Iran than about bringing our country to its knees.
Do you believe the goal of the sanctions is to cause 'regime change' in Iran?
On the basis of the oft-cited explicit and implicit statements by several members of successive US administrations, we can see clearly that, despite frequent denials, the goal of so-called 'regime change' has always been an underlying aim of US policy towards Iran. In real terms, however, it has been an ill-conceived and illegitimate objective. Such wishful thinking on the part of US policymakers has nosedived and proven itself to be a completely ineffective approach for over 40 years now.  
Given the fraught, if not bellicose relations between the United States and Iran, and the European Union's demonstrated willingness to continue to collaborate with Iran, what is the likelihood of improved Iranian-EU relation and a more isolated US?
My understanding is that in principle, the EU does not support the US 'maximum pressure' policy, though whether or not it has the capacity to challenge its impact is another matter. Through our cooperation on the JCPOA the EU and Iran have been brought closer together and this connection has served to set the EU position apart from that of the US. We hope that the EU has learned its own lessons regarding US unilateralism. The sooner they become fully aware of all of its negative consequences and make decisions accordingly, the better the outcomes.
The extra-territorial effects of US sanctions on Iran have indeed damaged European interests and deprived many companies of the benefits of increased opportunities with Iran. Europe's band-wagoning with the US and its failure to keep promises have badly damaged its image and reputation in Iran.  However, while, there have been many missed opportunities in Iran's bilateral and multilateral relations with European countries, we believe these relations hold great future promise. We would like to see more independent foreign policy decisions by the EU.
Speaking on the 40th Anniversary of the Islamic Revolution, you indicated that Iran and Ireland shared commonalities, stating, "over the past 100 years, the hardworking and decent people of both countries have struggled for freedom… both had fought against foreign intervention and occupation and, tormented by deliberate famine and sanctions imposed on them by foreigners, faithfully pursued their independence and self-determination".  With Ireland taking-up one of the Non-Permanent seats on the UNSC, do you believe Ireland and Iran can forge greater cooperation?
I still firmly stand behind my statements. Similar historical experiences provide common ground for mutual understanding and empathy between our two nations. People of such resilience and proud backgrounds and the leaders representing them in the international arena are keen to protect their principles, identity, independence and integrity and would not compromise them for material gain.
Given our rich national heritages there are immense possibilities for collaboration. I see plenty of common ground for promoting further cultural interaction and people-to-people relations. I have been keen to promote bilateral relations between cultural institutions from both sides which are progressing fairly well.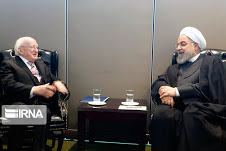 Iran supported Ireland's application to become a non-permanent member of the UN Security Council precisely because we trust that Ireland will act according to the UN Charter during its term of office. From our perspective, Ireland's upcoming membership of the UN Security Council is, therefore, an inherently positive development. We hope that it leads to tangible results in protecting the integrity of the UN Security Council from unilateral positions that directly undermine it. Within the UN, Ireland and Iran have convergent viewpoints on many issues including non-proliferation and the elimination of all nuclear weapons, disarmament, climate change, international peace and security and the rights of the Palestinian people. Ireland has also played a good role in indicating its support for the JCPOA and we hope that our mutual support for each other can continue to develop.
Iran and Ireland have recently established a mechanism for political consultations. This is a significant move forward in that we now have a platform for informing each other about important issues and coordinating policies. President Rouhani and President Higgins met for the first time on the sidelines of the UN General Assembly last year. Our parliamentary leaders and deputies meet from time to time. I have the privilege of enjoying positive and cordial relations with authorities in the Irish government and parliament.
Opportunities for bilateral trade are also considerable. To name just a few, I would refer you to the great potentials for cooperation and trade in agricultural and meat products, herbal medicine, renewable energy, medical equipment, education and skilled manpower. Because of sanctions on the Iranian banking system, the volume of trade between our two countries has decreased. This has, unfortunately, undermined the legitimate trade interests of companies on both sides.
I want to enquire about the conditions under which the Iranian people have lived these many years under what some might call 'crushing' sanctions.  Your colleague, Kazem Gharib Abadi, whom I believe serves as Iran's representative to international organizations in Vienna, told a meeting of the IAEA recently that US actions were "neither legitimate nor legal" and should not be accepted by the international community.  Ambassador Gharibabadi, added "[the] costly" consequences of American sanctions mean they should be seen as weapons of warfare."  Karl von Clausewitz, the 19th century German general and political theorist, once opined, "War is an extension of Government policy by other means."  Your Excellency, do you honestly believe the US sanctions policy is war by 'other means' on the Iranian people?
Iranian people feel the war character of sanctions every day. What is happening is a hybrid war by all means. The impact of sanctions on people's healthcare, livelihoods, economic conditions and peace of mind has been devastating in ways that often exceed the effects of war or military conflict. The US sanctions should indeed be characterized as acts of terrorism because they terrorize innocent people on a large scale and jeopardize their well-being by injecting constant distress and instability in a persistent manner.
Sanctions, by both the US and UN, have had a crippling effect on Iran's economy.  Ambassador Eslami, I want to show you the following chart produced by the BBC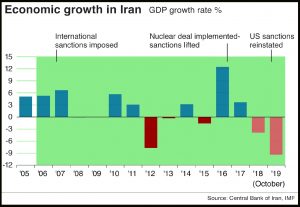 President Rouhani signed the JCPOA limiting Iranian nuclear activities in return for the lifting of all sanctions and when the sanctions were lifted the economy soared.  So, let me paint a picture, if I may.  According to the Central Bank of Iran it grew 12.3% in a single year.  However, once President Trump re-imposed sanctions the Iranian economy suffered, greatly.  Iran's gross domestic product (GDP) contracted an estimated 4.8% in the 2018.  According the International Monetary Fund (IMF), it shrank an estimated further 9.5% in 2019 all while the unemployment rate rose in 2018 from 14.5% to 16.8% in 2019.  The IMF had forecast zero percent GDP grown for Iran in 2020, even before the Covid-19 pandemic shook the world.
The Rial has more than halved in value since 2017 and the cost of living has increased from a controlled 9% inflation rated achieved by President Rouhani in 2017 to what the IMF now estimates to be upwards of a staggering 45.7% last year.   The Statistical Centre of Iran reported that the Consumer Price Index (CPI) 12-month rate of inflation for households stood at 42% in late October 2019.  Food and beverage prices are up by some 61%, year-on-year.  Mr. Ambassador, what have these sanctions actually meant for the average Iranian people in daily life?
As these statistics illustrate, sanctions have led to the devastation of daily life. This is what we mean by collective punishment and systematic violation of the rights of over 80 million human beings. The cruel objective of this type of wholesale sanctions is to terrorize ordinary people and provoke an economic crisis of such a magnitude that it will result in political destabilization. That has been intentional and the most vulnerable people in society are paying an enormous price for this unjustifiable and illegitimate sanctions 'strategy.' This is insane! The deafening silence of human rights organizations has to be questioned here.
A fundamental concern which is often neglected by the media is the rationale for these brutal sanctions. No one seems to question what, for heaven's sake, are Iranian people guilty of which justifies such collective punishment?  If the baseless and unproven claim that Iran has sought to have a nuclear weapon is the reason, why not preserve and strengthen the only deal that was ever reached with the precise aim of solving this dispute? Why jeopardize the only verifiably workable diplomatic achievement with these counterproductive sanctions?
I read with some concern that Iran is unable to access spare parts, even for its domestic passenger airline services, causing mechanics to cannibalise other aircraft for parts.  This creates a significant safety problem for civilian travel.  Tell me, can Iran continue to function as a modern society and provide the kind of basic travel safety people in the West have come to demand and expect given such sanctions?
Yes, it is true that Iran has been forced to use outdated air carriers because of its inability to procure parts due to the operation of sanctions. Because of this difficulty, Iran has incurred huge extra costs to prevent the safety of passengers and aircrafts being compromised. Meanwhile, Iran has developed its own indigenous aircraft maintenance sector to try to overcome this deficit.
Iran has suffered greatly because of Covid-19.  Reports have emerged of a health care system in crisis in Iran.  An October 2019 Human Rights Watch (HRW) report clearly blames the US for the suffering of the Iranian people.  Despite humanitarian trade being exempt from sanctions, when the US designated the Central Bank of Iran as a 'Specially Designated Global Terrorist' the effect was to essentially cut-off Iran's foreign currency exchange necessary to purchase medical and other humanitarian supplies.
I want to quote from the HRW report, "broad restrictions on financial transactions, coupled with aggressive rhetoric from US officials, have drastically constrained the ability of Iranian entities to finance humanitarian imports, including vital medicines and medical equipment".  Mr. Ambassador, I'll ask the question on the lips of human rights organisations around the globe, have the punitive US sanctions simply become a tool to create and sustain unnecessary human suffering in Iran?
Undoubtedly, sanctions have caused enormous suffering in Iran and this has been deeply felt by the most vulnerable in society. Because of their debilitating impact on trade, economic growth, inflation and currency valuation, sanctions have seriously impacted all aspects of the Iranian economy and society.
At the outset of the Covid-19 pandemic, there were several calls from the international community for the US to lift or ease sanctions to facilitate access to medical equipment and supplies that were urgently required in Iran.
Nevertheless, in the midst of this terrible pandemic, instead of providing some measure of humanitarian relief, the US actually applied more sanctions on Iran and deliberately blocked Iran's application for a loan of $5 billion from the IMF to deal with the serious effects of this virus.
This US persistence in applying the full force of sanctions against the Iranian people with total disregard for the devastating combined effect that sanctions and Covid-19 were and are having reveals their inherently indiscriminate, disproportionate and cruel nature.
Ambassador Eslami, more than fifty plus years of US sanctions didn't create regime change in Cuba.  I did, however, sustain incredible suffering for the Cuban people.  Since 1966, the UNSC imposed 30 sanctions regimes, in Southern Rhodesia, South Africa, the former Yugoslavia (2), Haiti, Iraq (2), Angola, Rwanda, Sierra Leone, Somalia and Eritrea, Eritrea and Ethiopia, Liberia (3), DRC, Côte d'Ivoire, Sudan, Lebanon, DPRK, Iran, Libya (2), Guinea-Bissau, CAR, Yemen, South Sudan and Mali, as well as against ISIL, and Al-Qaeda and the Taliban.  US sanctions didn't change regimes in Korea, Syria or Iran, or to a larger extent elsewhere.  I guess what I'm asking is this – like these other counties, Iran has demonstrated a determination to endure US and/or UN sanctions for decades.  In the end, the sanctions only seem to have caused unnecessary suffering for the common people, created impediments to accessing health care, destroyed infrastructure and housing development or rehabilitation and resulted in high mortality rates.
What can be done, in your opinion, if anything, to change this dynamic?  Are sanctions an outdated modality of diplomacy or the only tool available short of war?
Sanctions should not be imposed outside of the UN framework and should only be resorted to in the most serious and critical of situations. Also, as we are living in an era of interdependent global trade, the level, extent and effects of sanctions should be continually monitored and scrutinized to prevent humanitarian catastrophes.
Viewed from an ethical standpoint, in order for sanctions to be justified there would also have to be evidence that the decision to implement sanctions was based on right intentions and the expectations of reasonable chances of success. To be considered justifiable, sanctions must also be proportionate and not harm civilian populations. On all of these measures, we can conclude that the US sanctions on Iran are without moral basis or ethical justification.
The US has not achieved success with any of its declared objectives, nor was it ever reasonably expected to do so. The 'maximum pressure' sanctions have been the most indiscriminately and disproportionately applied sanctions in history with devastating effects for the lives of millions of people.
As you've outlined above, the track record of sanctions 'working' is very poor. In the majority of cases, sanctions have been found to have failed to achieve any changes in the policies of the targeted states. In fact, they have often proven to be counterproductive.
It is utterly appalling to see that sanctions have become an end in themselves rather than an instrument. Such situations are the direct antithesis of diplomacy and extremely damaging for the success of potential or possible negotiation efforts.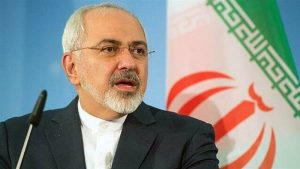 I want to turn to the so-called Islamic State in the Levant (ISIL) and the situation in Syria.  ISIL was not only committed to terrorism, but being decidedly anti-Shiite, posed a threat to Iran.  In June 2017, ISIL claimed responsibility for an attack on the Iranian Parliament and the mausoleum of Ayatollah Khomeini.  The attack was confirmed to have left 16 dead and was the first instance of an ISIL attack within Iran's borders.
Iran's Foreign Minister, Javad Zarif, once described ISIL as an "ideological sibling" to Al-Qaeda, saying "the so-called Islamic State, is neither Islamic nor a state."  This may be the one point on which the US and Iran unequivocally agree – Al-Qaeda and ISIL are a threat to peace.  Iran's work in eliminating ISIL has met with spectacular success.  The President of Iraq, Fuad Masum, praised Iran as "the first country to provide weapons to Iraq to fight against the ISIL Takfiri terrorists".  Iran's Quds Forces, then led by the late General Soleimani, dominated ISIL on the battlefield and went deeper to destroy ISIL cells throughout the region.  Is ISIL finished and what is Iran doing to moderate any remnant influence they may still have to ensure yet another iteration of Al-Qaeda or ISIL does not pose future threats?
The emergence and growth of ISIL did not happen in a vacuum. It is a Wahhabi-inspired extremist group which was designed by the US, funded by Saudi Arabia and equipped by a coalition of their allies. Their immediate goal was the disintegration of Iraq and Syria. Their ultimate target, however, was Iran. Iran was able to turn the tide and played an indispensable role in the fight against ISIL, repelling its advance in Iraq and Syria and assisting the local populations in defending themselves. However, while the structure of ISIL has been demolished, remnants of it continue to exist and receive support from their sponsors. Without logistical and financial support from the US and its coalition ISIL cannot survive at all.
The US-led coalition has used ISIL and other terrorist groups at critical moments of the conflict. They supported ISIL, the terrorists of Jabhat al-Nusra and local ethnic groups against the Syrian government forces. In these ways, the US has interfered in the balance of power between warring parties in Syria which has fueled continued insecurity and complicated prospects for conflict management and resolution. US forces have also been deployed around the Syrian oilfields to exploit those resources and make them available to terrorist groups.
This is an ongoing problem for the countries in the region who are trying to protect and defend themselves against this real security threat. What is most imperative for the restoration of regional security and stability, particularly in Syria, Iraq and Yemen, is the withdrawal of all foreign forces from these countries. The main problem of the US and its allies is the lack of will to eliminate ISIL. They want to keep it and use it for political purposes. This is why we insist on expelling foreign forces that operate in Iraq and Syria against the will and permission of their people and governments. This would be the first step towards stabilization in the region. The security of the region must be preserved by the governments and people of the region.
Iran sided with President Al Assad in the Syrian civil war that arose after 2011.  Iran's Supreme Leader, Ali Khamenei, stated "In Syria, the hand of America and Israel is evident."  He went on to express part of Iran's reasoning for supporting the Syrian regime, "Wherever a movement is Islamic, populist, and anti-American, we support it."  Are there not ways Iran and the United States might reduce tensions and move towards normalisation of relations for each nation's good and the good of the region?
Iran's involvement in Syria is based on the request of its governmental authorities to provide assistance in fighting against ISIL terrorists. However, there seems to be no legitimate justification for the US military presence in Syria which is against the will of the Syrian government and is considered a flagrant violation of the territorial integrity and sovereignty of Syria under international law. Iran has done everything possible to reduce tensions and bring peace, stability and political solutions to Syria. It has mainly been because of Iran's support for Syria that ISIL terrorists and the US-led coalition forces have not been able to achieve their intended regime change there and the further destabilization of the region. The only solution to the Syrian predicament is to stop any further militarization and destabilization of the region while providing a space for political engagement of indigenous Syrian parties to run their own country.
In February 1962, President Kennedy authorised sanctions against Cuba which endured for some 54 years in the hopes that it would cause the Cuban people to rise-up and depose the Castro regime.  Then, under President Barack Obama, the Dishielo Cubano eased sanctions, even resulting in a return of tourism.   President Trump issued National Security Presidential Memorandum (NSPM) 'Strengthening the Policy of the United States Toward Cuba' to end that policy.
Given the history since the Revolution, do you have any realistic hope, Your Excellency, that the once close Iranian and American people will be able to experience a Ērān Thaw and resume constructive if not friendly relations?
That is a desirable ideal, but we have to be realistic about it. If you objectively analyze the parameters defining the current hostile situation at the state level, you have to admit that it has been the US who has undermined constructive and friendly relations. We should not be blamed for resisting US interference in our affairs which repudiated our cultural values, rejected our national identity and negated our political independence. Moreover, it is the US who has to be held accountable for backing Saddam Hussein in imposing his brutal war on us. Our people are still suffering from the devastating consequences of that war. It is the US who has turned the Persian Gulf region into a powder keg by selling military arsenal to its lame puppets that are constantly provoking tension and conflict against Iran.
The extremist approach adopted by the current Trump administration has reduced trust and confidence to an all-time low level. We are aware that this extremism does not represent the will of the American people. However, our people have been the victim of US military muscle-flexing and adventurism for decades. If the US changes the course of its coercive policies towards Iran and removes sanctions, this could be construed as an indication of genuine resolve to improve relations. These are prerequisites for normal relations.
History has shown that Iran willingly engages with constructive and mutually-beneficial approaches to dispute resolution. Given our well-founded lack of trust in the US government to abide by its legal obligations and keep its political commitments, concrete assurances of future reliability and accountability will be critical. In any event, as long as the US continues its arrogant behavior and fails to appreciate Iran's legitimate concerns and interests, constructive initiatives for normal relations are likely to remain elusive.
I watched a press conference recently regarding the conflict between Azerbaijan and Armenia in relation to Nagorno-Karabakh and I see Iran that has a comprehensive peace plan. Can you provide some background on this development?
 Iran has spared no efforts to contribute to building peace between our two neighboring countries over Nagorno-Karabakh. We are actively encouraging both sides to end all hostilities and conflict and we have offered to mediate a ceasefire and peace talks to resolve this conflict.
We are advocating an approach based on international law, with due regard to the UN resolutions concerning this matter, as a means of conflict resolution. The territorial integrity and sovereignty of both Azerbaijan and Armenia needs to be respected and the conflict needs to be addressed within the framework of the UN Charter.
We want foreign and outside players to stop meddling in the situation as that would be totally counterproductive to achieving a lasting peaceful outcome. We are actively seeking to avoid a situation where Nagorno-Karabakh becomes a site for further instability in the region.
Undeniably, Iran is concerned about the spillover effects of this conflict, particularly if our border areas are further affected. We also wish to halt any further exacerbation of this conflict, so as to prevent terrorist groups and mercenaries from gaining a foothold in our region.
Ambassador Eslami, this is my last question.  I saw an image of you leaving Áras an Uachtaráin where President Higgins is in the background with a visible smile on his face.  Where do you see Iranian-Irish relations and where do you see opportunities for collaboration and possibly new initiatives?
Iranian-Irish relations are based on some historical and cultural commonalities. Both our nations have fought against foreign intervention and strove for political independence. We share a deep appreciation for the value of national self-determination.
The possibilities and potentials for further collaboration between the people of our two nations are immense, particularly in relation to inter-cultural exchange, bilateral and multilateral political cooperation and mutually-beneficial trade opportunities. We need to continue to work at strengthening political and trade relationships and both sides should give priority to building cultural bridges to deepen our appreciation of our respective national heritages.
Ireland has a wonderful asset in the person of His Excellency, President Michael D. Higgins, who in his role as President of Ireland has done extraordinary work in representing Ireland and enhancing relations between Ireland and many countries throughout the world. The productive meeting last year between President Rohani and President Higgins paved the way for further direct engagements between our leaders. An invitation to visit Iran has been extended to President Higgins and if the opportunity arises for this visit in the future he will be received with great welcome.
I want to thank you for your time, agreeing to such a wide-ranging interview and your candid answers.  Please accept my best wishes for your health and welfare and that of the Iranian people.  I look forward to what is hopefully a happier, healthier and safer future for us all.
Thank you, it was my pleasure. I also wish to extend to you, your family and our readers  good health and happiness. We are all waiting in hopeful anticipation of a better future.
________________________________________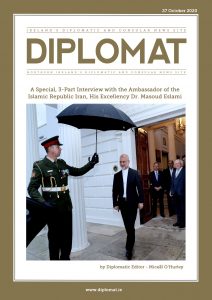 You can read the complete interview with His Excellency Dr. Masoud Eslami by Miceál O'Hurley in the PDF format by clicking on the adjacent cover image of the diplomacyireland.eu Cover Story.