by Miceál O'Hurley
 
KYIV – With the need for countries to stimulate Foreign Direct Investment (FDI) and investors to maximise their potential while minimising exposure in the aftermath of marked declines following the 'Covid Chill', DiplomacyIreland.eu spoke to one of the world leaders in emerging market representation with vast experience across multiple sectors – Dan Bilak, Esquire.  A Canadian, and a graduate of McGill University, Dan has practiced with some of the world's leading law firms, served with the United Nations Development Programme (UNDP) as well as in the private sector representing amongst others, the IT sector.  Dan's experience in a newly independent Ukraine (and Eastern Europe) as well as serving as Director and Chief Advisor on Investments to the Prime Minister of Ukraine, gives him a unique insight into meeting client needs, matching interests and creating opportunities in Ukraine and throughout emerging markets around the globe.
Building on his phenomenal success in establishing UkraineInvest, Dan joined Kinstellar (a spinoff of Linklaters), and as Senior Counsel continues to serve clients taking advantage of investment opportunities from the Information and Innovation Technology Sectors to Agriculture, Manufacturing and across all sectors.
Global FDI in 5 Year Decline – Markedly So Since Covid Pandemic
According to the latest OECD Data and analysis, global FDI experienced a 38% decrease compared to 2019.  This dynamic is commonly referred to as the 'Covid Chill'.  Global FDI flows are now at their lowest levels since 2005, representing only 1% of world GDP since 1999.   The global trend, however, is not evenly experienced across markets or nations.
The three-top FDI destinations continue to be China ($212b USD); the United States ($177b USD); and, India ($64b USD).  There are signs of a rapid recovery, however, pushing aside the Covid Chill.  According to the World Bank, cross-border M&A activity in advanced economies rebounded in Q4 of 2020 with a remarkable 94% value in the deal increase over Q3 of 2020.  Moreover, Greenfield Investments grew by 44% in advanced economies in the same period.
Ukraine Has Bucked the Trend – Experiencing FDI Increases Outperforming Ireland and the Entire EU
Ukraine, as Dan points out, is a particularly good destination for FDI in the current market (and despite fending-off Russian incursions and temporary occupations in Eastern Donbas and Crimea).  FDI into Ukraine has outperformed its neighbours and many European destinations.  Foreign Direct Investment in Ukraine averaged $995.23m USD between 1998 until 2021.  Bucking the declining trend of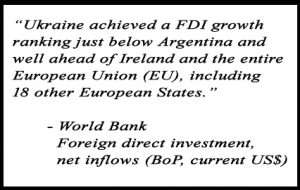 FDI experienced across Europe between 2015-2021, Ukraine has done remarkably well, experiencing growth each and every year.  Despite the marked drop attributed to the Covid Chill, Ukraine, which has 22% of the world's 'Black Earth' contributed significantly to world food security through its modernised and reformed agricultural sector, contributing to its attractiveness.  World Bank statistics indicate Ukraine achieved a FDI growth ranking just below Argentina and ahead of Ireland and the entire European Union (EU), including 18 other European States.  Ukraine even outperformed the United Kingdom.
Legal and Market Experts Drive FDI Success
Kinstellar has emerged as the leading independent law firm in Emerging Europe, Turkey and Central Asia.  With 11 offices in 10 jurisdictions, Kinstellar has not only grown as a firm in size, but with offices in Nur-Sultan and Almaty (Kazakhstan), Belgrade (Serbia), Bratislava (Slovakia), Bucharest (Romania), Budapest (Hungary), Kyiv (Ukraine), Istanbul (Turkey), Prague (Czech Republic), Sofia (Bulgaria) and Tashkent (Uzbekistan).  Most importantly, Kinstellar has amassed the most talented staff of lawyers and experts in the field today.
One factor that elevated Kinstellar above its competition has been the way it operates as a single, fully integrated firm.  Kinstellar has received both awards and recognition for the way it delivers consistently high-quality services across all jurisdictions in an integrated and seamless style.  With talent, expertise and experience drawn from the largest and most capable firms from around the globe, particularly across Europe, Kinstellar is particularly well positioned to service complex transactions and advisory requirements spanning several jurisdictions.  Regional in focus, international in ability, Kinstellar's pedigree was earned over the past two decades and shaped by its time as part of a UK 'Magic Circle' firm – providing comprehensive services to meet client needs and goals.
With Ukraine's FDI success, built in part on the reform of the Supreme Court and lower Courts thus providing considerable legal surety for investors, and enjoying one of the most modern civil law codes in Europe, more and more countries look to Ukraine as model for success in FDI, reform and economic growth under the most difficult of situations.  Likewise, investors continue to eye the breadth of opportunities in Ukraine, making it an FDI destination of choice for emerging market investors.
By all measures, UkraineInvest and its promotion of Ukraine as a destination for doing business in Europe and into Asia is a success story that continues to grow.  Most importantly, they are not resting on their laurels and continue to innovate and reform to meet investor needs while building an ever growing economy with the most educated workforce in Europe.