by Miceál O'Hurley
DUBLIN — The initial itemisations included in the West's sanction regime were primarily directed a sending a message of deterrence, disabling Russia's access to spare parts and technology and crippling its economy.  Implicit in this was an attack upon the Ruble.   Throughout the early days of Russia's recent escalation of its now 8-year war against Ukraine proponents of the sanctions pointed to the devaluation of the Ruble as a sign of success.
In a Tweet that now seems to have been remarkably premature, US President Joe Biden claimed an early victory:

"as a result of our unprecedented sanctions, the ruble was almost immediately reduced to rubble."

Biden's claim claims of success were not only premature, but wrong.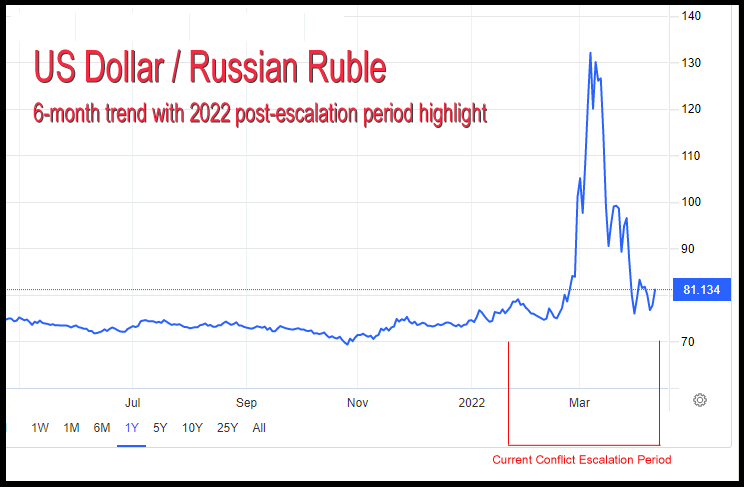 Yes, the sanctions had an immediate effect on the Ruble.  On 24 February, the day Russia launched its widened invasion of Ukraine, the Ruble was valued at 79.33 compared the USD.  Just after the escalation of war into Ukraine's interior the Ruble experienced a brief spike in value.  However, after the sanctions came into effect it dropped to a low of 75.68 on 30 March.  Today, it stands at 81.134 Rubles to the USD, trading higher than it did at any point in 2021.  Consequently, Russia has been able to stave off economic collapse or default on sovereign debt to date.  Contrary to Biden's celebration of the sting of sanctions on the Ruble, it remains almost where it was at the beginning of the war and remarkably on par with where it has been valued for the last year.
Curiously, the Ruble has sustained it value in the days following growing revelations of mass summary executions in Irpin, Bucha and Muriupol and other mounting evidence of outrageous war crimes.  Moreover, the announcements of new sanctions by the West failed to blunt the Ruble's rebound.  It has bounced back by almost a full point since mid-week as the market acknowledges that Europe's failure to divest itself of Russia's dirty fossil fuels will see a phased implementation of the sanctions and not the abrupt end to doing business with the Russian energy sector as Ukraine had hoped.  For the foreseeable future, Russia will continue to enjoy profitable energy business dealings with the West.
It appears that neither market forces or rational inclinations have had the desired effect of destroying the Ruble to date.  How is this possible?
The initial sanctions package, though more robust than any before, still didn't address energy purchasing or exclude all Russian banks from SWIFT or sanction Russian President Vladimir Putin directly.  The latest round of sanctions which will be phased over the next 6-months will soften the blow to Western economies, but will barely put a further dent on the Russian economy.  The propensity for the West to continue to take half-measures hoping for success seems endless and self-defeating.  More pointedly, they specifically undermine Ukraine's chances for success.  The buoyancy of the Ruble underscores Moscow's capacity to continue to wage cruel war against Ukraine while the West remains reluctant to truly join the fight.
Sanctions simply aren't cutting deep enough.  Certainly not to the extent necessary.  They were not really meant to.  Loopholes big enough to drive a bus through are routinely part of every sanctions regime.  Consider the US sanctions against Russia for its 2014 invasion and occupations in Crimea, Luhansk and Donetsk.  During the tenure of President Donald Trump, the US Department of the Treasury approved literally hundreds of "licenses" to US companies permitting them to do business with Russian companies and people that were on the sanctions list.  Then there is the Irish scandal of Section 110 companies, Special Purpose Entitites that are known to have funneled millions of Euros to Russia and are a favoured financial instrument used in criminality specifically because the beneficial owners of the funds are almost impossible to trace and the cost of doing business is mere filing fees to use Ireland as a money laundering point.  Its difficult to tell at this point if the new round of sanctions close such loopholes.
It is not just the depth of sanctions that is at issue.  There remains the scope of the sanctions.  EU sanctions on maritime transport specifically excludes ships carrying oil and gas.  They also fail to apply to the transport of agricultural and food products.  Just as during Russia's long-cruel war on Afghanistan, they will be able to sell food to fund their war and keep their economy afloat even as their own citizens will go without and Ukraine is propelled headlong into further food scarcity.  Even the EU ban on imports of Russian coal are postponed until mid-August.  Europe continues to be unwilling to share the pain to an extent necessary to ensure Ukraine survives.
The Ruble's resurrection is a bad omen for Ukraine.  Moscow's commitment to keep it afloat portends that it has no intention of ending its war of wholesale bloodshed in Ukraine.  William Jackson, the Chief Emerging Markets economist at Capital Economics, a London-based research firm:
"… the same time, the impact of sanctions has caused domestic demand and imports to weaken sharply.  So Russia's trade and current account surpluses are probably increasing dramatically, creating demand for Rubles."
As long as Europe continues to buy energy and Russian banks still have access to the SWIFT banking system, the Ruble will remain buoyant.  This poses an existential question for Ukraine.  What will come first?
Will Russia win on the battlefield before Ukraine gets the arms it truly needs?
Will Western economies continue to protect themselves to the detriment of Ukraine at which point Ukraine will run out of resources to continue what has been a spectacularly effective defense?
Or worse, will Russia's brutal assaults on civilian population centres undermine support for the war, both domestic and foreign, and Western leaders again lean on Zelenskii to cede territory to Russia in an attempt to end the conflict and save what is left of Ukraine?
All these are possibilities.
The Ruble has proven unexpectedly strong in the short-term.  The reality is that Russia's financial position has proven stronger in the short term than many expected.  Its exposure to sanctions and market forces does however, render it vulnerable in the long-term, significantly so.  But Russia seems to be embracing an old-economy tactic that allowed it to survive during the Soviet-era, manipulating the financial markets with those willing to do business with it and thereby prop-up the Ruble.
Russia's recent deal with India is exemplar of that tactic.  By entering into a deal with New Delhi for trade that doesn't require the Ruble or Rupee to be converted to the US Dollar it skirts the direct currency exchange ban including in the sanctions and gives Russia a way to do business with a large, 'free market' economy.  Similar supports from China and the host of Middle Eastern countries that continue to decline to embrace sanctions means that Russia can continue to trade with a significant portion of the world and maintain the Ruble's relative buoyancy.
There is the issue of Russia's move to repatriate cash prior to the war.  Russia's not insignificant reserves of foreign currencies creates an economic buffer.  While its foreign currency reserves held outside of Russia remain frozen, and deprives the Russian Central Bank of its pattern of buying-up Rubles when its value was trending downward to artificially stabilise their currency, what it repatriated has changed the game, at least in the near-term.  Russia is in no immediate need of access to foreign exchange markets simply because it has an abundance of Euros, Dollars, Yen and other currencies on-hand.
The reality of sanctions regimes is they have proven to have limited success simply because they are aimed at restricting hard currency from flowing into a sanctioned country.  What they fundamentally fail to effect is outflow.  While Russia may be restricted from access to certain goods and markets, sanctions also dwindle the amount of consumer and industrial goods Russians are able to spend money on and therefore the number of Rubles flowing out of the country at a disadvantageous rate is greatly reduced.
This inherent trade and currency offset creates a perverse boon for the Ruble as Russia's current account is headed for a record surplus in 2022.  The current account is the remains the most significant measure of goods and services trade plus investment income.  In short, Russia's ability to survive half-hearted sanctions, or even hard-hitting sanctions that are delayed or phased-in over time, ensures it can continue to pound Ukraine into the dark-ages without totally destroying its economy.  The question returns to how long can Ukraine hold-out without access to the weapons it needs to win?
In a war of attrition, Russia is tipped to win.  The price it is paying for its ruthless campaign to force Ukraine to become subservient again to Moscow's dominion has been high.  It will become increasingly more costly over time.  However, as long as Russia continues to have outlets for trade in major markets like China, India and the Middle East, and Putin can continue to command the board by requiring that energy sales be settled in Rubles, and Russia can impose strict currency controls on its population, requiring them to convert all foreign payments to Rubles, regardless of its value, Russia can survive.  Russia seems poised to embrace the tactic of Ho Chi Minh who famously quipped, "We do not need to win the war – only not to lose it to prevail".
Russia's appointment of a new, overall commander for combat operations in Ukraine is General Alexander Dvornikov.  Dvornikov earned the moniker "Butcher of Syria" for his ruthless use of cluster bomb and thermobaric (vacuum) bombs that were wielded indiscriminately against civilian populations.  He has also been an experienced commander in Donbas.  Moscow seems to have learned from its mistake in not having an overall commander for its latest escalation in Ukraine and the appointment of Dvornikov indicates that they are serious about producing a victory.  It remains to be seen if the West has the courage to overcome its nuclear-fear paralysis and help Ukraine win or if the continued sanctions regime, with its many holes, will allow Russia to continue to have enough funding to quell domestic criticism long enough for a battlefield victory.
Unless the West arms Ukraine with what it truly needs to win, not just continue to fight, the toll from Russia's brutality may outweigh the will of the people to continue to defend what is left of their heavily damaged country and the West's penchant for losing interest in supporting democracy may doom Ukraine.  The West much choose Ukraine's future by giving support, or doom its own future as being built on failed institutions where economic prosperity is preserved at the expense of liberty, democracy and sovereignty.