by Miceál O'Hurley
 
The Government of Ireland kicked-off its official launch of the Conference on the Future of Europe (CoFoE) in Ireland during an online event held Friday, 14 May 2021.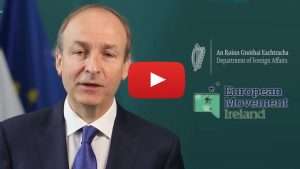 The CoFoE began with welcoming remarks from Micheál Martin, T.D., Ireland's Taoiseach.  Minister of State for European Affairs, Thomas Byrne, T.D. also spoke at the conference.  Contributions were also made by Simon Coveney, T.D., Minister for Foreign Affairs and Defence; Mairead McGuinness, European Commissioner for Financial Services, Financial Stability and Capital Markets Union; Emily O'Reilly, European Ombudsman and Tara Grace Connolly, one of Ireland's UN Youth Ambassadors.  The conference was moderated by Noelle O Connell, CEO of European Movement Ireland.
Organised and hosted by the Department of Foreign Affairs (DFA) in co-operation with European Movement Ireland, the virtual Conference on the Future of Europe explored Europe's current and future challenges and priorities.  An EU-wide project, the Conference on the Future of Europe (CoFoE) is a democratic process designed to educate and engage citizens across Europe in the ongoing debate about the EU.  Over the next year, a series of debates and discussions will be held in Ireland and throughout Europe that will enable people from every corner of EU to share their ideas to help shape Europe's and their own future.
The DFA invited anyone in Ireland to take part in this virtual, inclusive conversation with Irish and other EU citizens living across the island.  A core goal of the Irish Government and the DFA is to ensure that the process provides ample opportunities for all voices to be heard during this process.  Online participants were given the opportunity of submitting their questions prior to the event.
#CoFoE