by Miceál O'Hurley
DUBLIN — Notwithstanding the brutal and illegal warfare being waged by Russia against Ukraine (and let's admit it – the entirety of Western civilisation), calls for the planned Russian Victory Day (VD) celebrations announced to take place in Phoenix Park, or wherever elsewhere around Ireland, must be allowed to take place in a lawful, orderly manner.  Freedom of speech and expression is a gift liberty endows perpetually to its people – even if the base and distasteful at times abuse it.
I understand Green Party leader Eamon Ryan's outrage over the Council of the Russian Compatriots in Ireland (CORC) plans for Russian 'VD' celebrations.  I too find it revolting.  The idea of a car convoy emblazoned with the organiser's encouraged 'Z' that has been used by Russian Federation Forces in their 8-year long war on Ukraine driving through bucolic Ireland will undoubtedly prove shocking to the senses of a reasonable person.  It is unfathomable that anyone would want to associate themselves with the rapine pillage, systematic violation of women and children, torture, summary executions and targeting of civilian homes and infrastructure.
That Russians living in this free and democratic society unbound by the shackles of authoritarianism that prevails in their homeland want to stage and take part in this demonstration is regrettable.  However, this is their right.  There is little in the law that prohibits a person from espousing stupidity and lies.  Freedom of speech and expression is a fundamental right in law and it exists for the good of society at-large.  As disagreeable as it is, for the benefit of the continuity of Western values of which the right of freedom of speech and expression is a bedrock foundation, we must ensure everyone enjoys the right, not only those with whom we agree.
Long after Russia's brutal war in Chechnya replete with human rights abuses, after it invaded and occupied Moldova's Transnistria, Abkhazia and Tshkinivali in Georgia, was complicit in the use of chemical weapons and banned 'barrel bombs' against Syrian civilians, their poisoning of EU citizens on European soil and commencing their 2014 invasion and occupation of Ukraine, Ireland continued to treat Russia as a reliable and trustworthy partner.  Where were Ryan's objections then, or for that matter objections by most Irish politicians?  Complaining today about Russians living in Ireland planning to yet again take to our streets and parks to celebrate their 'VD' seems pointedly opportunistic.  One might think it is an attempt to paper-over the cracks caused by Ireland's complicity of silence in the past.  Ireland  for too long played both sides of the coin, joining in sanctions and yet promoting and doing business with Russia and treating her as a trustworthy partner despite the Russian Federation's vile record of aggression, crime and subterfuge targeted at the West.
Despite joining sanctions regimes against Russia for its invasion of Ukraine 8-years ago Irish politicians failed to take the threat posed by Moscow seriously.  To some extent they still do.  Enterprise Ireland specifically developed a pamphlet on how to do business in Russia – even after its 2014 invasion of Ukraine (which was mysteriously deleted from Government servers after February 24th).  The Kerry Group invested heavily in Russia and our ministers, ministries and civil servants promoted doing business with Russia despite their clear record of evil.
Despite Minister for Finance Paschal Donohoe responding to a Parliamentary Question in the Dail on 22 March 2022, "Central Bank data shows that the direct exposures of the Irish Financial System as a whole to Russia are very small," Albeit, Ireland allowed – and still allows today – Russia to exploit Section 110 of the tax code.  It laundered €103bn through Ireland alone between 2007-2015.  According to Donohoe, at the end of 2021, these Special Purpose Vehicle companies controlled by Russian interests held almost €37bn in unsecured assets; €11.5bn in secured assets; €1.7bn in Irish banks; and, €97m in assets in the Irish insurance industry.  What did Ireland gain by this?  Universal condemnation that Section 110 companies were prone to be exploited for criminality and money laundering and collecting a few hundreds of Euros in fees, per company, for the Irish exchequer.
Today's objections to Russians celebrating their 'VD' in Ireland arise only after the wholesale slaughter of Ukrainians having taken place at the hands of the Russian Federation for more than the past 8-years.  For years these celebrations have taken place without much public notice and almost absent of objection by politicians.  The only thing that has changed is current public opinion condemning Russia's enlarging the war and the desire of Irish politicians to finally end-up on the right side of history after years of acquiescing to Russian atrocities, warfare and murder.
Russians regard May 9th as a major celebration marking the Soviet Union's victory over Nazi Germany.  The day in an of itself is an act of Stalin-era propaganda.  Aside from neglecting the contributions of all the other allies that rescued Russia from Operation Barbarosa, aiding and equipping her so that she might survive, Russia's 'VD' masks a darker, open-secret.  Russia and Germany collaborated to start World War II.  This was Josef Stalin's intent when he instituted this day of bread-and-circus.
The Moltov-Ribbentrop Pact made Hitler and Stalin partners in starting the war, each agreeing to create their own 'spheres of influence' to divide Europe between themselves by force.  The Russians and Nazis even conducted official, joint parades together in Brest-Litovsk and other cities to celebrate their early victories in subjugating Europe to their will.  That Hitler eventually turned on Stalin, his co-conspirator in war, necessitating Russia fighting for its survival against their former partner-in-crime, should not be a cause for celebration.  However, Stalin needed to cleanse himself of his role in conspiring with Hitler and he chose to secret-away this truth by creating the myth of the Great Patriotic War in which Russia was a victim of Nazi agression.  Russian 'VD' celebrations are merely a commemoration of the burial of the truth of Russia's murderous conspiracy with Nazi Germany.  Today's Russian claims of the need for 'de-Nazification' are therefore all the more repugnant and celebrating Russian 'VD' in this age is out of step with modernity.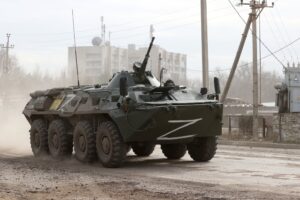 Those who celebrate this Russian farce engage in the perpetuation of evil.  The encouragement of the Council of the Russian Compatriots in Ireland for participants in their ill-conceived celebrations to emblazon the 'Z' emblem on their cars is an appeal to widen the historically WWII celebration of Russian 'VD' to an endorsement of today's illegal warfare waged by the Russian Federation.  By conflating the two Russian 'VD' has become a catch-all celebration of Putinism and Russia's aggression waged against the West.  Encouraging the use of the 'Z' symbloly betrays the organiser's claims they are "100% against the war on Ukraine".
Modernity requires tolerating and protecting free speech and political activism.  It is a litmus test of a truly advanced democracy.  The Irish Constitution, Bunreacht na hÉireann, enshrines freedom of expression at Article 40.6.1.i as a 'fundamental right."  To diminish a personal right on the grounds that the free speech and expression being exercised by Russians for their 'VD' is repugnant to the senses would be both an overreach and a dangerous precedent.  As the jurists and former President of the United States James Monroe opined when considering the Aliens & Sedition Act, "Crisis is too often the invocation of the tyrant."
Granted, fundamental rights are not absolute.  The Oireachtas is empowered to limit or restrict them for common good or public order.  However, the Courts have been loath to inhibit the exercise of free speech.  The passage of the Thirty-Seventh Amendment of the Constitution (Repeal of offence of publication or utterance of blasphemous matter) Act 2018 and calls for the revision of Ireland's stringent defamation laws that inhibit free speech and freedom of expression demonstrates the arc is decidedly bending towards a more liberal and tolerant view of the exercise of the freedom of speech and expression.
This too is our commitment as Europeans.  Article 11 of the EU Charter of Fundamental Rights corresponds directly to Article 10 of the European Convention on Human Rights, which reads as follows:
1.  Everyone has the right to freedom of expression. This right shall include freedom to hold opinions and to receive and impart information and ideas without interference by public authority and regardless of frontiers. This article shall not prevent States from requiring the licensing of broadcasting, television or cinema enterprises.

2.  The exercise of these freedoms, since it carries with it duties and responsibilities, may be subject to such formalities, conditions, restrictions or penalties as are prescribed by law and are necessary in a democratic society, in the interests of national security, territorial integrity or public safety, for the prevention of disorder or crime, for the protection of health or morals, for the protection of the reputation or rights of others, for preventing the disclosure of information received in confidence, or for maintaining the authority and impartiality of the judiciary.
Politicians urging a curtailing of freedom of speech and expression advocate a dangerous proposition.  They are decidedly out of step with the times and the law.  At a time of conflict such as this depriving Russians of their exercise of freedom of speech and expression would only serve to feed the Russian propaganda machine.  Moreover, it would draw Ireland into the ongoing debate about imperiled free speech in Ukraine, challenge our commitment to European values and draw Ireland closer to Russia where freedom of speech and expression are anathema to the Putin regime.  Our politicians should not follow where Putin leads.
Last month, 3-television channels owned by former Ukrainian President Petro Poroshenko were removed from the air due to an "asset freeze" imposed by Ukraine's judiciary.  Public outcry is that Ukraine's judiciary is doing the political dirty-work of the ruling Servant of the People party.  Amongst Ukrainians there is a growing unease this is base political retribution.  The de-politicisation of Ukraine's judiciary has been a key reform demand of the EU for years.
The background to the removal of the television channels is admittedly complex.  Just before Russia widened its 8-year long war against Ukraine, State Prosecutors charged Poroshenko with, of all things – treason.  This would place Poroshenko in a class with the likes of Viktor Yanukovich, the pro-Kremlin President that famously ordered security forces to fire on peaceful protestors setting off the Maidan massacre of patriots now known as the 'Heavenly 100'.  Poroshenko, who was on holidays outside of Ukraine at the time of the charges being preferred, stands accused of buying coal from occupied Donbas in violation of Ukrainian law.  Porochenko vigourously denies the charges.  Poroshenko famously made his rounds claiming political persecution and retribution in Brussels prior to returning to Kyiv to face the charges.  The facts are sketchy and at present he has taken his place in fighting for Ukraine.
Surprisingly, Porochenko was charged with treason for allegedly funding Russian-separatists despite him being widely credited with leading the spirited defense of Ukraine after Russia's 2014 invasion of Luhansk, Donetsk and Crimea.  Indeed, Poroshenko is ascribed as having rebuilt the Armed Forces of Ukraine and stopping the full-scale invasion of Ukraine by Russian forces.  Unsurprisingly, a majority of Ukrainians find the charges unfounded, unwise and merely political retribution by Zelenskii's Servant of the People party.  Zelenskii and his party were supported by disgraced businessman and television station owner Ihor Kolomoyskyi who is sanctioned by the U.S. and whose PrivatBank was seized by the Poroshenko government at a cost to the Ukrainian taxpayer after billions of Euros were found to have been siphoned-off, reportedly for Kolomoyski's personal benefit.  Crafting a piece of legislation designed to force Porochenko of divesting himself from his television channels on the Ukrainian airwaves is said to be political retribution and payback on behalf of Kolomoyskyi.  Ukraine's State Prosecutor denies such accusations.
The political undertones of the case and the decision to remove 3-channels from Ukrainian airwaves at a critical time in Ukraine's struggle to free itself from Russian invaders has resulted in widespread discontent amongst Ukrainians.  Few are willing to publicly criticise the charges against Porochenko or decry the media ban at this time fearing it would only serve Russia's interests.  However, there is a eerily similar retort by those asked about the matter, 'We won't forget this when the war is over.'  Freedom of speech and expression have been a rallying cry for Ukrainian reformers and youth since the Maidan Revolution.
Ukraine's inteligencia has been vocal about the curtailing of free speech in Ukraine.  Since February 24th, 21 journalists were killed, 15 went missing, 9 were wounded, and another 8 were captured by Russian forces. To date, Russia has forced more than 100 regional media outlets in occupied territories of Ukraine to cease operations.  Ukrainian patriots are united in their position that the last thing Ukraine should be doing is removing loyal Ukrainian media outlets from the air.
Then there is the thorny issue of what constitutes speech or expressions that are worthy of being banned.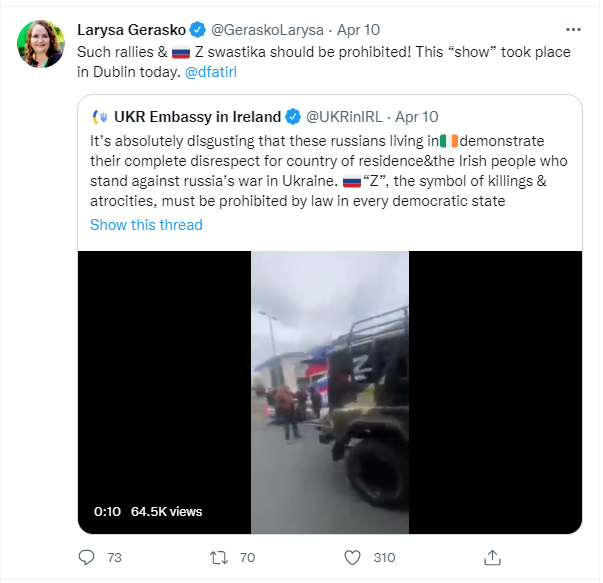 Ukraine's Ambassador in Dublin, Her Excellency Larysa Gerasko, has advocated for Ireland to ban the use of the 'Z' symbol as a symbol of hate.  After a previous Russian caravan of cars emblazoned with the 'Z' symbol drove around Dublin in a show of support for Russia's war on Ukraine in April, Gerasko tweeted, "Such rallies & Russian Z swastika should be prohibited! This "show" took place in Dublin today."
Admittedly, seeing the 'Z' emblem in the bucolic land of Ireland is deeply troubling.  Why anyone that would embrace its use and live in a country that values freedom, liberty, democracy and free speech is puzzling.  However, as Russians have pointed out in numerous social media posts, the 'Z' symbol is not banned any more than that Wolfsangel and Black Sun symbols used by Ukraine's Azov Regiment are banned.  It was foreseeable that Gerasko's demand that the 'Z' be banned would invoke equal demands by pro-Russian supporters of the war on Ukraine thus ratcheting-up the rhetoric between Russians and Ukrainians in Ireland.  It has also outraged members of the legal community, civil society activists and academics.
Ireland has its share of critics assisting Ukraine to defend itself against Russia.  The cast included 2-Members of the European Parliament, Mick Wallace and Claire Daley, a pair known to support authoritarian regimes aloof from liberal, democratic values including Russia and Syria.  A not insignificant portion of the Irish population still attributes some blame to Ukraine for supposedly stirring-up tensions with Russia by wanting to join NATO.  Others remain historically skeptical of NATO, warfare and express concern that Ireland maintain its neutrality.
In this fertile field of ready-made skeptics, Russian efforts to undermine Gerasko's demands to ban the 'Z' symbol have taken root.  After the Russian Ambassador, His Excellency Yuriy Filatov was accused of lying to the Oireachtas by denying Russia had any intention of invading Ukraine, Russian social media has buzzed with accusations that Ambassador Gerasko herself lied to the Oireachtas to conceal Ukraine's supposed pro-Nazi policies.
The dispute over symbols and Ambassador's alleged lying to the Oireachtas are centred around the now famous Azov Battalion.  Russia has accused Ukraine of requiring "de-Nazification," citing the incorporation of the 'right-wing, neo-Nazi' Azov Battalion having been officially incorporated into the Ukrainian military.  Ambassador Gerasko's demands to ban the 'Z' symbol and her testimony before the Oireachtas has given Russian's a basis of fact they have now whipped into effective propaganda to counter Ukraine and undermine the Ukrainian Ambassador's very credibility.  Ambassador Gerasko committed an un-forced error in judgment which has now created a backlash and given grist to the Russia propaganda mill.
The Azov Battalion has been daily in the news for their heroic defense battling to save civilians trapped by incessant and punishing Russian aerial, artillery and rocket attacks in Mariupol over the last 2-months.  The Azov Battalion grew out of a self-described, right-wing group of football supporters that transformed into a political movement that formed a volunteer military unit fighting for Ukraine's defense after Russia's 2014 invasion.  Their links to a right-wing political party that often ran afoul of the police and espoused neo-Nazi ideology has been like cannon fodder for Putin's broadsides asserting Ukraine must be 'de-Nazified'.
The Founders of the Azov Battalion and not just a few key members have publicly and repeatedly stated in media interviews they consider themselves "Nazis."  The Azov Battalion states they do not embrace Nazi ideology as a military unit or organisation, pointing to Jewish, Muslim, Orthodox, Catholic, Protestant, Buddhist and atheist members as proof of their lack of ideological dogma.  I met members of the Azov Battalion in 2014 in Donbas and again while embedded with the Ukrainian military in April 2022 and found no evidence of Nazi ideology.  For much of the world, however, doubt persists.
The Azov Battalion, originally founded as an all-volunteer unit financed by none other than Kolomoisky, has long since been incorporated into the official Armed Forces of Ukraine.  The act of incorporating the Azov Battalion into the Ukrainian Armed Forces by Kyiv has long troubled many in the West.  To begin with, the Azov Battalion use the runic 'Wolfsangel' symbol which is heavily associated with Nazi Germany's Schutzstaffel (SS).  Their unit insignia also incorporates the 'Black Sun', another highly recognisable Nazi SS symbol associated with atrocities and the extermination of Europe's Jewry.  Combined with the willingness of some of its members to self-identify as "Nazis" in previous interviews, the Azov Battalion has been at the centre of controversy for years.  The controversy has been much to Russia's delight.  The Azov Battalion represents less than 1% of Ukraine's armed forces.
Beyond their use of historically Nazi symbols there is the infamous March 2015 USA Today interview.  The publication quoted the Azov's official spokesperson responding to an interview with an Azov member 'Alex'.  Alex openly promoted his identification as a Nazi and vowed that when the war with Russia is over the Azov Battalion would "march on Kyiv and install our own government":
Andriy Diachenko, a spokesman for the Azov Brigade, said only 10% to 20% of the group's members are Nazis. "I know Alex is a Nazi, but it's his personal ideology. It has nothing to do with the official ideology of the Azov," Diachenko said. "He's a good drill sergeant and a good instructor for tactics and weapons skills.
By demanding the 'Z' symbol be banned as a hate symbol Ambassador Gerasko almost invited the pro-Russian community.  Russia's 'Troll Factory,' notorious for spitting-out vile disinformation en masse from their St. Petersburg offices, put her demands to work for Russia's benefit.  Citing the Azov Battalion symbols and the Right Sector in their reactive propaganda was like 'manna from heaven' for Russian propagandists and their adherents.
Beyond their own distorted views, Russians were quick to remind social media followers that the Simon Weisenthal Centre deemed the Azov's use of the Wolfsangel and Black Sun symbols as hate symbols on par with those used by the Ku Klux Klan and Islamic State.  Not missing a chance to pit Ukraine's ally the United States against Kyiv, social media posts reminded readers the United States Congress included a provision in the Consolidated Appropriations Act, 2018 specifically blocking military aid to Azov due to its "white supremacist ideology."
The blowback from Ambassador Gerasko's demand for the 'Z' symbol to be banned did not end there.  Russian trolls sought to defend Russia's Ambassador in Ireland, Yuriy Filatov, from accusations he lied to the Oireachtas about Russia's intention to expand their invasion of Ukraine on February 24th.  The trolls ammunition to discredit Ukraine proved to be Ambassador Gerasko's own words from her February 15th testimony before the Oireachtas.
Only 9-days before Russia launched their large-scale offensive against the interior of Ukraine in February, Ambassador Gerasko appeared before the Joint Oireachtas Committee on Foreign Affairs and Defense.  Asked by Teachta Dála John Brady (Sinn Fein) about Ukraine's tolerance of neo-Nazis the exchange has now been weaponsied in Russian chatrooms and fed to members of the Oireachtas as a means of discrediting Ukraine:
Deputy Brady – "When I speak about truth being the first victim in any conflict, there are reports coming out of mercenaries being used on all sides, with reports of Russia building up troops in Donbas and also counter-narratives about mercenaries being sent in to fight from the Ukrainian side. I see some reports being circulated that there are extreme far-right and neo-Nazi groups that have been incorporated into the Ukrainian army to fight against the Russians. The ambassador might take the opportunity to answer that."

Ambassador Gerasko – "I probably did not understand the point about Nazi groups. I do not know what Deputy Brady means, because I never heard about any Nazi groups in Ukraine.  We are a very peaceful and tolerant nation. I am sure that you will not find any reports or documents, for instance in the UN Human Rights Council stating we have Nazi groups or Ukraine violates human rights or anything like that. In the contact lines in the occupied Donetsk and Luhansk regions, we only have military troops from the Ukrainian forces. It seems to me that I have answered all of the Deputy's questions."
Given the widely-reported restrictions imposed by the United States Congress on military aid being provided to the Azov Battalion Ambassador Gerasko's response to Deputy Brady has been characterised by Russian trolls as disingenuous.  They highlight that her previous position was as Consul General of Ukraine in Chicago during this period making it unlikely she was unaware of Congress' restriction on aid to Ukraine being given to the Azov Battalion.  Ensuring members of the Oireachtas are made aware of these contradictions has gone some way towards blunting criticism of Ambassador Filatov and undermining Ambassador Gerasko.  This self-inflicted injury did not do Ukraine any favours.
Russia's online sniping didn't end there.  Russian chat rooms share photographs a Ukrainian-Irishman who had fought with a voluntary military unit against Russian invaders being received at the Ukrainian Embassy in Dublin.  A photograph depicts then charge d'Affaires Olena Shaloput and the Embassy staff holding his book, The heroes of our day ("Герої сучасності").  The book is reportedly about his experiences in Donbas.  The photograph has proven another flashpoint of antagonism and propaganda.
Russian chat rooms accuse the author of being a member of the Right Sector.  They claim his book design incorporates the red and black flag of the Right Sector which they believe to be a neo-Nazi organisation.  Haaretz, an Israeli newspaper, reported groups they describe as ultra-nationalist, right-wing and neo-Nazi, such as Svobda and Right Sector, having engaged in anti-Semitic incidents in Maidan Square.  Reports indicate that Right Sector militants taunted pro-Russian supporters of ex-President Viktor Yanukovich with the label "Zhyd" – a deeply derogatory slur directed at Jews.  Photos show these protesters flying flags with neo-Nazi symbols. Haaretz also reported that Right Sector street-fighters were distributing Ukrainian-language editions of Mein Kampf and the Protocols of the Elders of Zion to the demonstrators in Independence Square.
Die Welt, the New York Times, and Le Monde diplomatique have described some of Right Sector's constituent groups as radical right-wing, neofascist, or neo-Nazi.  The Ukrainian Embassy in Dublin posting the photograph on Facebook of the book and a Ukrainian accused of fighting in a Right Sector military unit has now been weaponised against them.  I was unable to confirm if the author was a Right Sector.  The Right Sector denies they are neo-Nazis and consider themselves Ukrainian patriots.  The New York Times has written they actively condemn anti-semitism.
As Russian chat rooms are apt to point out, Ambassador Gerasko's statement of not having "heard of any Nazi groups in Ukraine" is seemingly contradicted by widely reported stories in the mass media with one post stating "Shes is either illiterate or a liar."  In Facebook's (now Meta) release of its 2019 "Dangerous Individuals and Organizations" list to assist implementation of its policy attempting to prevent "organizations or individuals that proclaim a violent mission or are engaged in violence to have a presence on Facebook," Azov was listed along with hate groups the likes of the Taliban, al Qaeda and al Shabaab.  According to Meta, the battalion itself remains banned from using Facebook to publish posts or recruit members and images of its uniform and banners remain barred as "hate symbols" but praise for the Azov Battalion is allowable.
The issue of questioning the incorporation of neo-Nazis into Ukraine's Armed Forces was also covered by major news organisation across the world, including in Ukraine.  On 7 January 2021, TIME published a special report, Like, Share, Recruit: How a White-Supremacist Militia Uses Facebook to Radicalize and Train New Members. The story featured the Azov Battalion.  According to TIME:
"Outside Ukraine, Azov occupies a central role in a network of extremist groups stretching from California across Europe to New Zealand, according to law enforcement officials on three continents. And it acts as a magnet for young men eager for combat experience. Ali Soufan, a security consultant and former FBI agent who has studied Azov, estimates that more than 17,000 foreign fighters have come to Ukraine over the past six years from 50 countries."
Ambassador Gerasko's demands to ban the 'Z' symbol seemingly intensified Russia's desire to highlight the use of hate symbols by the Azov Battalion and by proxy, Ukraine.  Worse still, it gave Russians a reason to highlight her denials of knowledge of "… neo-Nazi groups that have been incorporated into the Ukrainian army to fight against the Russians." There is enough material in the public domain for Russia propagandists to spin it into whole cloth at both her and Ukraine's expense.  It was overreach that backfired and has now created an indelible record undermining her integrity and the Ukrainian cause.
Aside from the ongoing tit-for-tat exchanges between the Ukrainian and Russian communities, the issue remains one of the fundamental right of freedom of speech and expression and our willingness to defend it.  In the final analysis we must be prepared to tolerate Russians living in Ireland being wont to celebrate their Stalinist past, replete with its cooperation with the Nazis in starting World War II.  Little said by any Ukrainian or Irish person would change years of indoctrination of minds continually shaped by propaganda.  If this is their view they have what Justice Harlan opined was "… a right to be wrong."
Russia is becoming increasingly important to a decreasing number of people.  Provided they abide the law in the exercise of their freedom of speech and expression it might have proved best to leave them to their own devices.  It is doubtful anyone outside of their group of adherents would have taken much notice.
A more effective tactic might have been for opponents of the Russian Federation to use the day to speak about the actual truth of Soviet atrocities, Russian anti-semitism (after all, Putin today apologised to Israel for Lavrov's statement about Hitler having Jewish blood in him) and use Russia's 'VD' as an opportunity to promote the Russian Federations continuation of the despotism and violence they continue as self-proclaimed "continuators of the Soviet Union."  If the record were really known it is doubtful few would elect to associate themselves with the celebration of Russian 'VD'.
The debate about the Russian 'Z' or the Azov Battalion's use of the Wolfsangel or Black Sun is illustrative of how one person's valued symbols may be another's symbols of hate.  Going down the rabbit hole of judging competing claims on which are worthy of receiving free speech protection at this moment only serves to distract from the immediate crisis. Ukraine, having been deprived of the tools of self-defense for far too long, is daily suffering the devastation and bloodshed inflicted by Russia's illegally war.  And, as Putin has made clear, his aims are not limited to Ukraine but extend to any country that was formerly under the Soviet yoke or that of the Warsaw Pact.  Europe is actively being threatened and undermined and attention is required at getting heavy weapons and medical supplies to Ukraine as expeditiously as possible.  Ukraine's security and future depend upon that as does the West's.
We ought not to run headlong into a cry to inhibit freedom of speech or protection simply because there is a crisis – there is always a crisis.  Protecting and promoting free speech is our obligation – even in dark hours of human history.  The rule of law and the basis of Western civilisation and democracy must be worthy of preserving in times of crisis as they are in times of peace.  We must be vigilant in ensuring the triumph of the rule of law over the chaos and tyranny of those who impose their will on the masses by the arbitrary and capricious exercise of absolutist rule.  All efforts must be made so that we not to devolve into  an illiberal democracy.  Our duty is to resist become a mere reflection of the authoritarian regimes in places like Belarus, Burma, Cameroon, the Central African Republic, Ethiopia, South Sudan, Syria or worse, lower ourselves to the tyrannical standards of the Russian Federation.