by Miceál O'Hurley
 
STRASSBORG – The Parliamentary Assembly of the Council of Europe (PACE) yesterday adopted a Resolution that recognised the persecution of Crimean Tatars in occupied Crimea by Russia.  The Resolution, entitled "Violation of human rights committed against Crimean Tatars in Crimea," condemned the "grave violations of human rights" committed against the Crimean Tatars.
In yet a further act of support for both Ukraine and the rule of law, PACE used the Resolution to reaffirm Europe's non-recognition of Russia's attempt to illegally annex Crimea.
Russia's occupation of Crimea has been marked by brutality and human rights abuses.
Russia's Growing Human Rights Abuse Record Condemned
The PACE Resolution explicitly denounced the widespread "…grave violations of human rights"  that have been committed against Crimean Tatars.  The condemnation including killings and enforced disappearances, "which moreover have not since been subject to an effective investigation."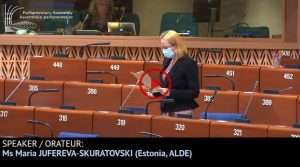 Russia, which effectively controls the occupation of Crimea and Eastern Ukraine, continues to deny PACE, the OSCE and human rights bodies from visiting territory they occupy by force, including Crimea.  PACE parliamentarians overwhelmingly used the Resolution to demand investigations into Russia's conduct in Crimea.
A report by Thorhidur Sunna Ævarsdóttir (Iceland, SOC), upon which the Resolution was based, called for investigations into the litany of human rights abuses alleged against Russia.  The report demanded access to investigate "…each alleged case of killing, abduction, forced disappearance, torture or inhuman or degrading treatment of Crimean Tatars and to apply appropriate sanctions to the perpetrators of any violations found".  The Report also incorporated language that would provide investigators to be allowed to "carry out their work without hindrance".
The Resolution declared PACE's commitment that full respect for the freedoms of expression, association and assembly must be guaranteed, and the ban on Crimean Tatar media outlets lifted.
Demand to Cease Applying Russian Law on Ukrainian Soil
The Assembly explicitly demanded that Russian authorities immediately cease to apply Russian law in Crimea.  Of special concern to Europe is Russia's application of its own laws in the fields of terrorism and extremism which run afoul of any presumption of innocence or allow for protections of the rule of law and human rights observation.  Russia is bound by treaty and international law to observe its obligations as an occupying power in conformity with international law.  This includes applying the laws in force in Ukraine as Crimea remains internationally recognised Ukrainian territory, despite the presence of Russian occupation forces.
Call for Release of Prisoners
PACE also used the Resolution to urge Russia to end transfers of detained persons from Crimea to the territory of the Russian Federation.  The Resolution demanded that "any person unlawfully detained or imprisoned due to the abusive application of Russian law in Crimea, including for political reasons, which is contrary to international law"  be released.
Resolution Requires Russia to Allow Crimean Tatars To Engage in Dialogue
Assembly Members voted to include language in the Resolution the invite relevant actors to "…envisage directly involving the representatives of Crimean Tatars in international dialogue related to the situation of Crimean Tatars and of Crimea".
Overwhelming Vote of Support
Garnering more than 80% of the vote by Assembly Members, the Resolution passed overwhelmingly.  73 Assembly Members voted for the Resolution with only 13 voting against it and 2 abstaining.