by Miceál O'Hurley
 
KYIV – The Minister for Foreign Affairs, Simon Coveney, T.D., will officially open Ireland's Embassy to Ukraine as part of the Government's Global Ireland Strategy to double our footprint on the world stage.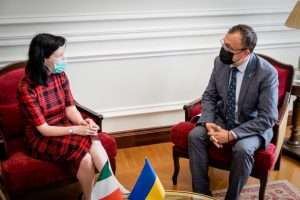 Minister Coveney said, "I am delighted to officially open the Embassy of Ireland in Kyiv. This marks a new stage in our bilateral relationship with Ukraine, through which we can deepen and widen our bilateral cooperation. I am glad also to be part of the international community which has convened to coordinate efforts to resolve the long-standing issue of the illegal annexation of Crimea and the city of Sevastopol".
Minister Coveney will also meet his Ukrainian counterpart, Foreign Minister, Dr Dmytro Keleba, during his visit to Ukraine. The Ministers discussed a wide range of issues, including; the COVID-19 situation; the current situation in Crimea/eastern Ukraine; the impending work of the International Crimean Platform; Ireland's membership of the United Nations Security Council; the opening of the Embassy of Ireland in Kyiv, and; the areas of future cooperation in the economic, trade and cultural sectors.
Minister Coveney will also represent Ireland at the inaugural summit of the International Crimean Platform (ICP).  The ICP has been established to further develop a coordinated approach by those in the international community who wish to resolve the issue of the illegally-occupied Crimea.
While in Kyiv, the Minister will take the opportunity to meet with some representatives of the Irish community in Ukraine.