by Miceál O'Hurley
 
DUBLIN –  Gathering at Howth Head, in Mullingar, Tullamore, Monahan and elsewhere around Ireland, the Lithuanian diaspora across the island assembled to sing their national anthem.  Despite the rain, His Excellency Mr. Marijus Gudynas led the group in a joyous celebration of singing, camaraderie and showcasing of the Republic of Lithuania national colours.    Lithuania carries a  proud tradition of its people gathering to sing the national anthem on its annual celebration of the Day of the State each 6 July.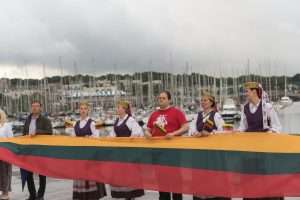 The Lithuanian diaspora in Ireland, proud immigrants whom like the Irish value freedom, liberty and justice, could have picked no more auspicious spot as Howth Head.  It was at this very place in 1914 that the Irish Volunteers greeted the Asgard in what would be recorded as one of the seminal events that led to Irish Independence.
Around the globe, Lithuanians have celebrated their heritage by singing their national anthem from places as diverse as singing while touring the canals of the Hague in the Netherlands, with the Consul General at Santa Monica Beach, Los Angeles, USA, high atop Gellért Hill in Budapest, at the ski resort of Chimbulak, ​Kazakhstan, Madrid, Spain and in the Maidan Nezalezhnosti square, Kyiv, Ukraine.
Ambassador Gudynas' video presentation in advance of the event highlighted that Lithuania is the only nation whose anthem is sung throughout the world once each year.  The tradition began in 2009 by initiative of the Millennium Odyssey.  Since then it has became a beautiful tradition that unites Lithuanians in the world.  It has also become customary for locals to join in with the Lithuanians each 6 July to help them celebrate their national heritage and pride.
In some of the most moving verse, the Lithuanian national anthem calls its people to the unity that they enjoy today:
May Our Love For Lithuania
Keep Burning On In Our Hearts
In Lithuania's Dear Name
We Shall Stand Together!
More photos and coverage of the celebration can be found on the Facebook page of the Lithuanian Embassy in Ireland.