by Miceál O'Hurley
Diplomatic Editor
Tbilisi – The deepening political crisis between Georgia's ruling Georgian Dream Party (GD) and opposition parties has necessitated the European Council President, Christian Danielsson, to return to Georgia for more meetings in an attempt to broker a deal to end the stalemate.  Previous European mediation attempts between 12-18 March failed to produce consensus between the parties, despite one particularly demanding ten-hour session.
According to Danielsson, "Some important progress was made on several aspects of President Michel's six-point plan. However, on other issues, less progress was made."  To date, the governing GD Party and opposition parties have blamed the other for the morass which has brought internal politics to a grinding halt.  All parties have agreed to return to mediation with Danielsson attempting to broker a deal.  The united opposition parties have repeatedly demanded new parliamentary since October 2020.  Widespread protest followed their demands and with Melia's arrest, new protests have followed.
Accusations of Politically Motivated Harassment of Opposition Spark Unrest
In February 2021, Georgian police conducted a raid on the headquarters of the United National Movement (UNM) in Tbilisi, arresting the Party Chairman, Nika Melia.  Observers both live-streamed and video-recorded the raid leading to public outrage and garnering criticism of politically-motivated-arrests.  Outrage has been registered from Georgia's traditional allies in the European Union and the United States.  Serious questions have emerged about Georgia's commitment to democracy and the rule of law.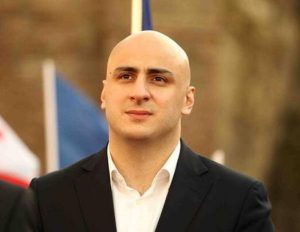 The path to a robust democratic society in Georgia seemed to be fully on-track with the State drawing closer to the European Union, fully embracing the Eastern Partnership, enjoying good relations with NATO and the United States.  The swinging pendulum between Georgia's democratic commitment and its authoritarian past since the 'Rose Revolution' in 2003 continues to plague the country as old habits are proving hard to abandon.  These most recent developments have caused deep concern amongst Georgia's most ardent supporters in the international community and have inflamed the passions of Georgians.
Georgia's former Prime Minister, Giorgi Gakharia, abruptly resigned on 18 February stating that his resignation was "connected with the upcoming arrest…" of UNM Chairman, Nika Melia.  Gakharia has previously argued for Melia's arrest but opined that it would lead to significant civil unrest.  In his resignation remarks, Gakharia specifically noted he had failed to dissuade the ruling GD Party from having Melia arrested.
UNM is the largest single opposition party in Georgia.  Melia was arrested on 23 February immediately following the Georgian Parliament approving Irakli Garibashvili as the new Georgian Prime Minister.
Gakharia Considering New Party
Following his resignation, former Prime Minister Gakharia has reportedly been considering starting a new party.  Pundits are split on whether Gakharia has the necessary support, or the will, to challenge billionaire former Prime Minister (2012-2013), Bidzina Ivanishvili, the one-time leader of the GD Party.  Although having disassociated himself from the GD Party and announced his retirement from politics in January 2021, Ivanishvili is still perceived by many insiders to be the ultimate, power-broker in Georgian politics.
Russia's SVR Intelligence Service Attempts to Exploit the Situation
In a exceptional move, the Russian Foreign Intelligence Service, Служба внешней разведки Российской Федерации (SVR) has used the Russian media and social media to highling what they call "The Georgian Government's resistance to the Country's Euro-Atlantic integration which is opposed by the Georgian people."  Moreover, the SVR has promoted a narrative that claims the United States controls Georgian politics, alleging "Dissatisfaction is growing in Washington, D.C. with the ruling Georgian Dream Party, which is diverging from the unquestioned fulfilment of American demands."
Georgia's Allies Promote Political Solution
The European Union's efforts to mediate the crisis in Georgia have been led by Danielsson.  Earlier in March, Georgia's new Prime Minister, Garibashvili, visited Brussels where he met with European Council President Charles Michel and High Commissioner Josep Borrell.
Garibashvili is reported to have met with NATO Secretary General Jens Stoltenberg as well.  Georgia's allies are collectively urging for all the parties to real a political solution as quickly as possible.
United States Senate Hearings on Georgia
The United States Senate Subcommittee on Europe and Regional Security Cooperation convened a Hearing on 23 March, enquiring into Georgia's commitment to democratic values.  Alluding to the current standoff between the GD and opposition parties, Senator Jim Risch (R-ID) stated that "Responsibility for the current crisis facing Georgia, the culmination of several years of increased tensions and failed reforms, is shared by all sides, I believe. The two main political parties, and their leaders, must realize their duty to their country and move past their disagreements."
Senator Jeanne Shaheen (D-N.H.), who Chaired the meeting, expressed her alarm at the situation, observing, "… given the current impasse, the only party who is winning is Russia.  Every day members of the opposition sit in jail is a victory for Russia." she said.  Shaheen also stated that Georgia's commitment to democracy must be demonstrated by both government and the opposition parties, adamant that "… it is imperative that the government take steps to ensure an independent judiciary, and to work with all opposition parties to find a negotiated resolution to the crisis."
Department of State Deputy Assistant Secretary George Kent provided testimony during the Senate hearing.  Kent opined, "Both the ruling Georgian Dream Party and the opposition have failed to act on opportunities to de-escalate."  Adding that the opposition parties shouldn't have boycotted the new parliament, as "… [a] majority of Georgians who voted for the opposition want the elected MPs to take up their seats….  This is a pivotal moment in Georgia's democratic development.  As Georgia's strategic partner and friend, the U.S. must speak frankly when Georgia's leaders, especially in the ruling party seem to be drifting from the path chosen by the people of Georgia."
Another State Department official, Deputy Assistant Secretary Kara McDonald of the Bureau of Democracy, Human Rights, and Labor, stated, "… [the] ruling party's concentration of power in state institutions, a politicized judiciary, and pressure on civil society – these undermine Georgians' confidence in their democracy."  According to McDonald, notwithstanding 2020's constitutional and electoral reforms, "… a series of negative developments and trends, however, trouble us greatly and urgently call attention to work that remains in protecting and advancing Georgia's democratic gains."
Georgia's Head of Mission to EU Resigns
In yet another demonstration of how internal politics are now effecting Georgia's career diplomats, Her Excellency Ms. Natalia Sabanadze, head of Georgian Mission to the EU, abruptly resigned on Sunday, 21 March 2021.   In her departing remarks published on Facebook, Ambassador Sabanadze stated, "It has been a great honour and a responsibility. It has been a mission full of successes as well as challenges and at times moral dilemmas."  Subsequent to her resignation, Ambassador Sabanadze spoke to the French daily Le Monde's Faustine Vincent concerning the GD party, complaining "All our leaders say they are pro-European, but it is not enough to say it, we must be one."