by Miceál O'Hurley
 
DUBLIN – As Georgia celebrates the 30th Anniversary of its Restoration of Independence His Excellency Mr. George Zurabashvili, Ambassador of Georgia to Ireland, appeared on 'In Conversation This Week with Miceal O'Hurley' which is hosted on our Youtube Channel.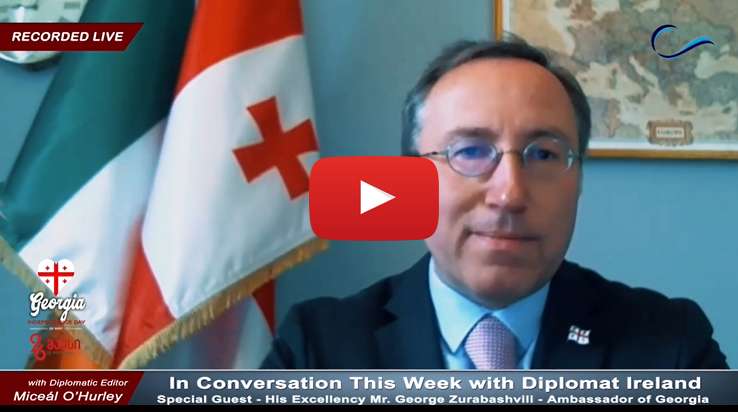 His Excellency discusses the importance of the anniversary, Georgia's place in Europe, its economy, Irish-Georgia bilateral relations, the new Georgia-Irish Business Council, the appointment of Georgia's 1st Honorary Consul in Ireland, travel, tourism, economic opportunities and the continuing threat posed by Russia.  Ambassador Zurabashvili took the opportunity to announce a new initiative with his Eastern Partners and announced the very 1st appointment of an Honorary Consul for Georgia in Ireland, Mr. James Bridgeman.  The new Honorary Consul will also Chair the newly formed Georgia Ireland Business Council.
Ambassador Zurabashvili discusses the Eastern Partnership and a new forum with Georgia, Ukraine and Moldova as each country pursues their rightful places at the heart of Europe.  Georgia, and its fellow Eastern Partner States, Ukraine and Moldova, have continued to enact reforms, embrace a Green future, made use of Schengen travel and become a more robust reflection of Europe and the EU.   His Excellency took advantage of his appearance on 'In Conversation This Week with Miceal O'Hurley' to congratulate his Irish counterparts in the Department of Foreign Affairs, the Oireachtas as well as the Irish people for their support for the restoration of Georgia's internationally recognised borders following Russia's ongoing hostilities and illegal occupation of parts of Georgia.
The Host of 'In Conversation This Week" conveyed his best wishes for Georgia's 30th Anniversary of the Restoration of Independence.  As a special honour, Diplomacy in Ireland – The European Diplomat's introduced special video clips recorded by Ireland's Lord Mayors, some of its Mayors and business leaders expressing their congratulations and solidarity with the people of Georgia on this Anniversary of the Restoration of Independence.