by Miceál O'Hurley
 
UNITED NATIONS – Ms. Ayla Bakkalli, the Crimean Tatar Representative to the United Nations Permanent Council on Indigenous Issues discusses the Anniversary of the 18-20 May 1944 'Expulsion of the Crimean Tatars' from their native homeland in Crimea on the orders of Josef Stalin.  The violent deportation of more than 200,000 Crimean Tatars, resulting in more than 92,000 deaths (46% of the Crimean Tatar population), has been classified as genocide.  Previous expulsions had occurred when Catherine the Great annexed Crimea for Russia in 1776.  The interview appears on 'In Conversation This Week with Miceal O'Hurley' as well as the our YouTube Channel.
Ukraine Reintegrated Crimean Tatars After Independence
After Ukraine regained her Independence in 1991, surviving Crimean Tatars returned to their native Crimea with the support of the Ukrainian government.  The return of the Tatars marked with hostility by ethnic Russians who had been settled onto Crimea by successive Soviet regimes.  Many ethnic Russians were enjoying the proceeds, properties and businesses that were confiscated by the Soviets.
Working together, the Ukrainian government and newly formed autonomous Republic of Crimea (1992), collaborated to re-integrate the indigenous Tatar community to their homeland.  An outward sign of the integration included the restoration of many historic Tatar names to towns and streets that had been displaced with the Russian language.
From a total removal from Crimea in 1944, after 1991, more than 250,000 Tatars, the majority of the remaining Tatars and their progeny not exterminated in the 1994 expulsion and genocide, were able to be repatriated to their historic homeland.  In 2014, Russia once again invaded Crimea, forcing more than 48,000 Crimean Tatars to flee.
Russian Disinformation Attempts to Divide Crimean Tatars and Ukrainians
Russia's current tactic of 'hybrid warfare' in which propaganda is used in conjunction with armed force has been at work overtime since their invasion of Eastern Ukraine and Crimea in 2014.  One of the more pervasive lies promoted by Russia has been that Ukrainians mistreated Crimean Tatars thus requiring Russia to protect them.  Simultaneously, Russia is disseminating the mutually incompatible falsehood that Crimean Tatars were Muslim fundamentalists that posed a danger to Russia and its Christian heritage.  The use of alternative, even conflicting narratives to confuse public perception through sustained and pervasive propaganda is a common trait of Russia's orchestrated 'hybrid warfare'.
Evidence of such this false narrative has largely been the invention of Russian apologists and propagandists, using the computer-hackers employed by the 'Russian Troll Factory' run by Russian President Putin's longtime personal friend, Yevgeny Prigozhin.  Prigozhin is more commonly referred to as as 'Putin's Chef' for serving up whatever Putin wants, even if it has to be created 'from scratch'.  Prigozhin has been implicated repeatedly in disinformation and hacking through his infamous Internet Research Agency (IRA), the St Petersburg 'Russian Troll Factory'.  The United States Treasury Department has imposed sanctions on Putin's proxy, Prigozhin.  The European Union has also sanctions Pregozhin for his arms sales to Libya which have resulted in thousands of civilian deaths.
The recent ransomware attack on Ireland's Health Service Executive (HSE) which has brought Irish civilian medical care to a halt, endangered thousands of lives and continues to cost countless millions, was traced to the St. Petersburg "Wizard Spider" group of cyber criminals.  The Russian government has denied their involvement in hacking the HSE and proposed a 'joint investigation'.  The Russian government does not allow for the extradition of its citizens to stand trial abroad for their crimes, making such an offer an 'exercise in futility'.  As proven with the poisoning then arrest of dissident opposition leader Alexei Navalny, Russia's iron-glove grip on the daily lives of Russians makes the likelihood that a notorious 'criminal gang' of cyber-hackers holding the HSE ransom for €20m without the Russian government's tacit approval an incredulous claim.  The co-location of the HSE ransomware hackers and the 'Russian Troll Factory' in St. Petersburg, both operating for years under the noses of the FSB and police is not considered coincidental, making Spider Wizard and other cyber criminals operating in Russia 'State Actors'.
According to a report by Connor Lally in the Irish Times on 21 May 2021, "At least some members of Wizard Spider are believed to be based in Russia, where their activities are tolerated by the state as long as they do not attack Russian targets. The code they use in their malware or ransomware is programmed to uninstall itself if it locks onto a Russian language system or any systems featuring internet protocol (IP) address in former Soviet states."  
Russian Violations of International Law in Crimea Since 2014
Some of the more insidious acts of the Russian occupiers of Crimea has been the more than 163 criminal cases brought against Crimean Tatars for attempting to 'evade' Russian military service.  "As an occupying power, Russia not only has no right to conscript people in Crimea, but its draft is blatantly violating international law," said Hugh Williamson, Europe and Central Asia Director at Human Rights Watch. "Doubling down on this violation, Russian authorities are also pressing criminal charges against people who refuse to serve in its armed forces."  Russia forcibly and unlawfully conscripted some 28,000 Crimean Tatars, citizens of Ukraine, into the Russian armed forces.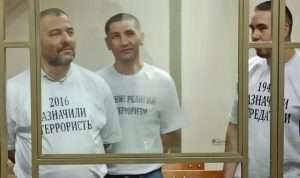 According to a report dating as far back as 2017, issued by the United Nations High Commissioner for Human Rights, "The human rights situation in Crimea has significantly deteriorated under Russian occupation, with "multiple and grave violations" committed by Russian state agents, according to a landmark report by the UN Human Rights Office published today.  "Grave human rights violations, such as arbitrary arrests and detentions, enforced disappearances, ill-treatment and torture, and at least one extra-judicial execution were documented," the report says.  It reiterates that all residents of Crimea were affected when Ukrainian laws were substituted by those of the Russian Federation, and tens of thousands impacted by the imposition of Russian Federation citizenship.  These and other actions highlighted in the report have taken place in violation of international humanitarian and human rights law.  The situation has measurably worsened since the 2017 report was issued.
Russia Attempting to Re-Colonise Crimea Through Expulsion and Etheric Relocations
Along with Ukrainians who opposed Russia's illegal attempt to annex Crimea, most have been expelled with Russia relocating ethnic Russians onto the Peninsula, many occupying confiscated or abandoned homes.  The Crimean Tatars represented 80% of Crimea's population in 1776 when Russia first forcefully annexed Crimea.  Following the 1944 Expulsion of the Tatars and following genocide, even with the return of the majority of the remaining Tatars after Ukrainian Independence in 1991.
Russia's most recent attempt to annex Crimea through violence and bloodshed, resulting in yet another round of death, deportations and destruction, Crimean Tatars now represent less than 22% of Crimea's population.  The Russian policy of relocating ethnic Russians to replace the murdered, jailed or displaced Crimean Tatars and ethnic Ukrainians has only made an already dire situation worse.
Russia's efforts to re-shape the population composition of Crimea through artificial means such as expulsions, deportation, murder and then the relocations of ethnic Russians onto the Crimean peninsula is illegal under International Law.  The International Criminal Court (ICC) is now investigating war crimes in Crimea and Eastern Ukraine following Russia's invasion and illegal occupation that began in 2014.  Amongst the issues under investigation by the ICC are summary executions, torture, State sponsored murder with impunity and a litany of other crimes.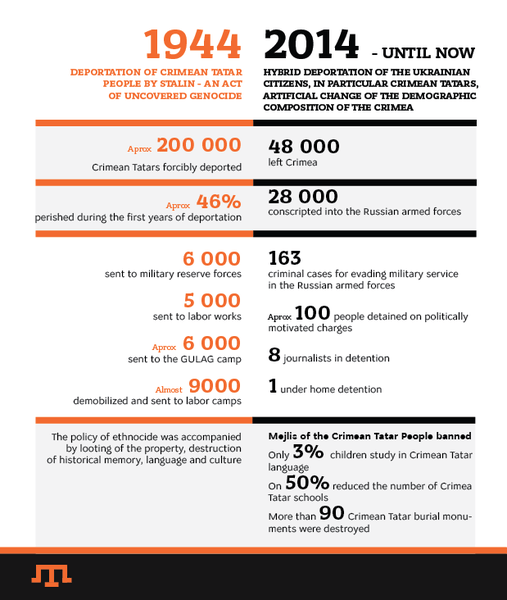 President Zelenskyy Moves to Protect Crimean Tatars
Observing the Anniversary of the 'Expulsion of the Crimean Tatars', Ukrainian President Volodymyr Zelenskyy tabled Draft Law No. 5506, 'On the Indigenous Peoples of Ukraine' in the Verkhovna Rada (parliament), moving it as urgent.  In doing so, Ukraine's Presidential News Service released the following Statement:
"This document defines the rights of the indigenous peoples of Ukraine and the peculiarities of their implementation in order to promote the consolidation and development of the Ukrainian nation, as well as the development of ethnic, cultural, linguistic and religious identity of such peoples."
In his official remarks delivered on the Day of Remembrance of the Victims of the Crimean Tatar Genocide, President Zelenskyy noted that the Strategy for De-Occupation and Reintegration of the Temporarily Occupied Territory of the Autonomous Republic of Crimea and Sevastopol.  This Strategy was approved by the President in March of 2021 and identifies as a priority the restoration and protection of the rights of Crimean Tatars as an indigenous people.
"And today," said President Zelenskyy, "I am submitting an urgent bill on the indigenous peoples to the parliament. I am confident that in a short time the deputies will consider and consolidate the status of the indigenous peoples of Ukraine, including Crimean Tatars, and finally do what 8 convocations of the Verkhovna Rada and all previous presidents have been postponing for 30 years."  President Zelenskyy also expressed his personal confidence, and that of Ukraine and her many allies, that Crimea would certainly return to Ukraine.
Crimean Tatars Declare 'Crimea is Ukraine'
Ms. Bakkalli addresses the Anniversary Commemoration, the history of the Tatar people, their indigenous status, and Russia's occupation, re-affirming that Crimea is Ukraine.