by Miceál O'Hurley
 
KYIV – Today, Ukrainians at home and abroad, and human rights activists around the globe, mark the national celebration of the Crimean Tatar National Flag.   The occasion is annually observed on 26 June, not only in Ukraine, but around the world owing to so many Crimean Tatars once again having to live in forced exile due to Russia's illegal occupation of Crimea by force since 2014.
Today marks the opening session of the Second Qurultay of the Crimean Tatar People (a national congress and the supreme representative plenipotentiary body of the Crimean Tatar people).  On 26 June 1991, the Qurultay of the Crimean Tatar People resumed its sessions after a forced interruption of 73 years because of Soviet occupation of Ukraine and Crimea.  The Qurultay's return coincided with Ukraine's independence in 1991.
Muted Celebrations – Crimean Tatars Persecuted Under Russian Occupation
Today's celebrations are once again mutued as Crimea is once again occupied by a brutal regime, once again in Moscow.  Following Putin's invasion of Ukraine in 2014, Russian forces seized Crimea by force and attempted to annex the ancestral home of the indigenous Crimean Tatars.  The renewed Russian occupation has also been accompanied by Putin's embrace of the Stalinist policies of persecution, illegal arrest and detentions, forced transportation to Russia, non-judicial executions and a disturbing number of disappearances for Crimean Tatars and Ukrainian patriots who refuse to embrace the Russian occupation.  The United Nations and European Union (including Ireland) remain steadfast in their non-recognition of Russia's attempt to illegally annex Crimea and have repeatedly maintained their commitment to Ukraine's internationally recognised borders.  Crimea is Ukraine.
Russia's occupation of Crimea has been marked by brutality and human rights abuses, particularly directed at Crimean Tatars and ethnic Ukrainians.
Parliamentary Assembly of Europe Passes Resolution Condemning Russia for Crimean Tatar Human Rights Abuses
The Parliamentary Assembly of the Council of Europe (PACE) yesterday adopted a Resolution that recognised the persecution of Crimean Tatars in occupied Crimea by Russia.  The Resolution, entitled "Violation of human rights committed against Crimean Tatars in Crimea," condemned the "grave violations of human rights" committed against the Crimean Tatars.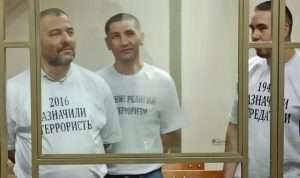 In yet a further act of support for both Ukraine and the rule of law, PACE used the Resolution to reaffirm Europe's non-recognition of Russia's attempt to illegally annex Crimea.
The PACE Resolution explicitly denounced the widespread "…grave violations of human rights"  that have been committed against Crimean Tatars.  The condemnation including killings and enforced disappearances, "which moreover have not since been subject to an effective investigation."
Russia, which effectively controls the occupation of Crimea and Eastern Ukraine, continues to deny PACE, the OSCE and human rights bodies from visiting territory they occupy by force, including Crimea.  PACE parliamentarians overwhelmingly used the Resolution to demand investigations into Russia's conduct in Crimea.
A report by Thorhidur Sunna Ævarsdóttir (Iceland, SOC), upon which the Resolution was based, called for investigations into the litany of human rights abuses alleged against Russia.  The report demanded access to investigate "…each alleged case of killing, abduction, forced disappearance, torture or inhuman or degrading treatment of Crimean Tatars and to apply appropriate sanctions to the perpetrators of any violations found".  The Report also incorporated language that would provide investigators to be allowed to "carry out their work without hindrance".
Soviet Ethnic Cleansing and Exile of Crimean Tatars
The Crimean Tatar National Flag, adopted by the First Qurultay of the Crimean Tatar People in 1917, is the enduring symbol of the unity of the Crimean Tatars, an indigenous people of Crimea, a peninsula in Ukraine.  Reminiscent of the Irish experience, there were times when the flag was banned and subject to repressions as were the Crimean Tatars.
Exploiting promises by British Prime Minister Winston Churchill and United States President Franklin D. Roosevelt, Stalin began to unfold his post-war plans for his Soviet empire – it did not include Crimean Tatars.  Moscow commenced its policy of ethnic cleansing and mass deportation of the Crimean Tatars between 18-20 May 1944.  On instructions for Stalin, NKVD (KGB State Security and Secret Police) Director Lavrentiy Beria orchestrated the deaths of at least 191,044 Crimean Tatars.  The surviving Crimean Tatar population was forcibly transported to Eastern Russia's frozen wasteland to be exploited for essentially slave labour in the gulags.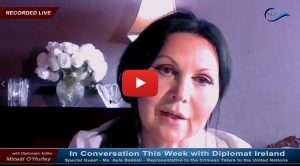 Ukraine's independence in 1991 saw the return of the Crimean Tatars to their ancestral homeland in Crimea.  Thriving under the equality policies enacted by the democratic government in Kyiv, Crimean Tatars began to re-integrate into their historic homes, returning to their status as Crimea's indigenous people.  Reintegration was not without its difficulties.  Ethnic Russians that Stalin and successive regimes in Moscow had re-settled into Crimea, many occupying the homes and businesses of the surviving Crimean Tatars that returned after their 46 year forced exile to Central Asia and Siberia, engaged in acts of physical hostility and discrimination against the indigenous Crimean Tatars that returned.
Putin's Cultural Eradication Campaign in Crimea Carried Out by Moscow
As in 1944, when the place names, streets and territories were stripped of their Tatar identities, only to be replaced with Russian names, Putin's regime in Moscow, and his occupation forces in Ukraine's Crimea, have been engaged in a ruthless campaign to eradicate the Crimean Tatars memory from Crimea.  Under Putin's occupation forces, Russia has prohibited the Crimean Tatars language rights, cultural identity, religious freedoms and rights as citizens of Ukraine.
In acts wholly reminiscent of Hitler's Nazi Germany, Putin's Russia is seeking to remove the cultural and historic record from any trace of the Crimean Tatars and Ukrainian people.  A systematic programme of destroying Crimean Tatar historic sites, engaging in illegal archaeological excavations, destroying monuments, cemeteries and removing cultural artifacts from Crimea are undertaken on an ongoing basis.  As with Hitler's Deputy, Reichmarshall Herman Göring looting occupied Europe during World War II, as President of the Russian Federation, Putin overseas the cultural, artistic and historic heritage treasures of the Crimean Tatars and Ukrainina people being looted for transport to Russia.  Invariably, these works of art, cultural artifacts and archaeological treasures disappear into private collections, become exhibits in museums or are either stored or destroyed to keep them from the world.  Putin, like Hitler and others before him, bears responsibility for his government's policy of attempting to eradicate a people, their faith, their heritage, culture and history from the human record.
As reported in the Irish Times in 2016, a Dutch Court Ordered Russia to return a priceless collection of gold artifacts they had stolen from Crimea after their 2014 occupation.  In an extraordinarily brazen move, Russia had 'loaned' the artifacts, which included archeological treasures, which include gems, helmets and scabbards to Amsterdam's Allard Pierson Museum after they looted them from Crimea.
International art experts continually express concerns over Russia's looting of cultural, historic and artistic artifacts from occupied territories.  A 2009 article in ArtNews indicated that Ukraine suffered significantly high loss of artwork during World War II, "… of 41,000 objects in the Museum of Ukrainian Art, only 1,400 were left. Hundreds of pictures were stolen from the Kharkov and the Smolensk museums….. Since most of these collections were incompletely catalogued, and lists of stolen objects were not compiled at the time, it is difficult at this point to know precisely what was taken, but the objects included icons, European paintings and drawings, 19th-century Russian and 20th-century Soviet art, and objects of applied art. The Kiev museums alone lost thousands of European paintings. Over a thousand icons disappeared from Smolensk."   The theft and destruction of Crimean Tatar artworks, cultural objects and the archaeological treasures of Crimea is yet another blow to Ukraine and the cultural heritage of the world.
The International Criminal Court Investigation War Crimes
In one of her last acts as Prosecutor of the International Criminal Court, Fatou Bensouda, announced that she and her team had concluded, inter alia, "…my Office has concluded that there is a reasonable basis at this time to believe that a broad range of conduct constituting war crimes and crimes against humanity within the jurisdiction of the Court have been committed in the context of the situation in Ukraine….   The preliminary examination of the situation in Ukraine was opened on 24 April 2014 on the basis of an initial ad hoc declaration lodged by the Government of Ukraine accepting the jurisdiction of the Court, which was subsequently extended by a second declaration by Ukraine, lodged in 2015, to encompass ongoing alleged crimes committed on the territory of Ukraine from 20 February 2014 onwards….  Throughout the preliminary examination, my Office has benefitted from the cooperative engagement of the Ukrainian authorities, including the provision of detailed information on investigations and judicial proceedings at the national level with regard to crimes of relevance to ICC jurisdiction initiated by the national authorities in relation to alleged crimes by all parties to the conflict."
Kyiv Celebrates and Defends Crimean Tatars on Flag Day
Speaking on the Crimean Tatar National Flag day, the Ministry of Foreign Affairs of Ukraine released a statement, which in part reads,"Ukraine condemns the aggressor state's policies that aim to erase the Crimean Tatar identity, limit the use of national symbols, such as the national flag, violate the right to education in their mother tongue, destroy national cultural and religious monuments, promulgate hate speech and impose discrimination on ethnic and religious grounds.  
Today, we once again call upon the Russian Federation to uphold its obligations as an occupying power, stop repressions against Ukrainians and Crimean Tatars, comply with the April 19, 2017 Order of the International Court of Justice to lift the ban on the Crimean Tatar Mejlis. 
We call upon the international community to apply additional measures of politico-diplomatic pressure on the Russian Federation to protect humanitarian law and human rights on the temporarily occupied peninsula."
Celebrations in Dublin
The Embassy of Ukraine in Ireland, and members of the Ukrainian diaspora in Ireland, are joining others around the world, including human rights advocates and organizations, in celebrating the Crimean Tatar National Flag day.  Celebrations also took place at the United Nations.