by Miceál O'Hurley
GAZA — Hamas' stealth attack on Israel Saturday, observed as a holy day, the Sabbath, by religious Jews, caught Israel entirely off-guard.  The attack also coincided with Israel's celebrations of the 50th Anniversary of the Yom Kippur War.  Beginning at 0630hrs (local time) Hamas unleashed the largest missile barrage against Israel seen in a generation.  While the aerial attacks reached as far north as Tel Aviv, Hamas launched ground operations which included coordinated seaborne landings from Gaza attacking southern Israel.  According to the Times of Israel, protracted gun battles continue to rage on day-2 of the attack in and around the towns of Kfar Aza, Sderot, Sufa, Nahal Oz, Magen, Be'eri and the Re'im military base.
According to a statement by the Israeli Health Ministry at least 200 Israelis have been killed, and 750 wounded.  Sources within Gaza claim some 232 Palestinians were killed and more than 1,000 wounded in Israeli counterattacks, mostly conducted by airstrikes.  There is yet no independent verification of casualty numbers by either Hamas or Israel.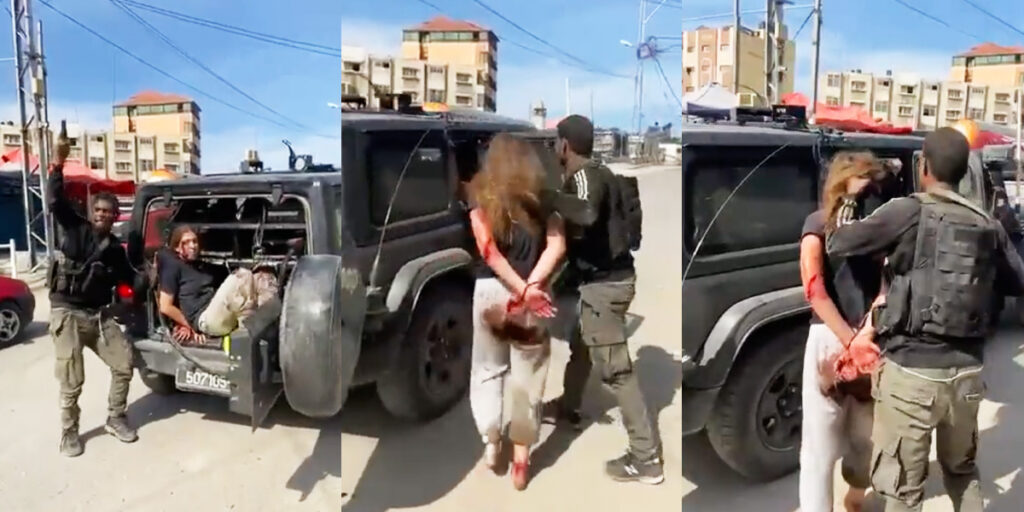 In one of the most disturbing aspects of the operation Israel Defense Forces International Spokesperson Lieutenant Colonel Jonathan Conricus claimed Hamas had taken heretofore unseen numbers of Israelis captive, saying, "These are numbers that were up until now unimaginable.  This will shape the future of the war".  According to Israel the captives include children, women, the elderly and disabled persons.  Open-source videos have geolocated what appear to be Israeli captives, bound and bloodied, being taken into strategic buildings assumed to be used as human shields in the hopes of muting Israeli airstrikes.  When asked if the number of captives reached into the dozens, a Hamas fighter claimed the number of Israelis taken was "several times greater".
Israel has routinely traded Palestinians it has taken captive or arrested in military operations for Hamas militants in previous prisoner exchanges to free Israelis or to gain concessions.  Dating back to the 1948 Arab-Israeli War, the first such exchanges occurred when Israel traded all of its Palestinian prisoners and POWs, including soldiers from allied Arab armies, in exchange for all Israeli soldiers and civilians taken captive during the war.  Speaking to Al Jazeera earlier today, Hamas deputy chief Saleh al-Arouri claimed Palestinian detainees in Israeli jails were "about to be freed".  It is assumed the release of those held by Israel as "terror convicts" will be made in exchange for the release of captives Hamas has taken after yesterday's operations and would include both Israeli civilians and soldiers.  Al-Arouri claimed some of the Israeli captives include "senior officers."
Prime Minister Benjamin Netanyahu, who leads Israel's most religious and conservative government in its history, claimed Israel was "at war".  Tensions with Palestinians, especially with Hamas and their regional allies in Hezbollah, have escalated throughout Netanyahu's tenure in Government.  When Netanyahu's Likud party aligned with the far-right and religious United Torah Judaism, Shas, Religious Zionist Party, Otzma Yehudit, and Noam parties Jewish settler expansion in the West Bank continued to encroach upon Palestinian territory with the tacit approval of the Government.  Palestinian resistance has grown in-turn.  In rather apocalyptic rhetoric Netanyahu claimed he will turn Palestine into a "deserted island" in reprisal for the Hamas led attack.
Hamas military commander Mohammed Deif called on Palestinians and other Arabs to rise up and join their 'Operation Al-Aqsa Flood' operation to "sweep away the [Israeli] occupation".  It remains to be seen if Palestinians in the occupied West Bank, East Jerusalem or majority Arab-Muslim nations in the region will join in the effort.
In a seemingly related yet isolated incident earlier today an An Egyptian policeman opened fire on a bus carrying Israeli tourists in Alexandria, reportedly killing at least two Israelis and one Egyptian.  Hezbollah have signaled their intent to escalate the conflict by launching mortar attacks from neighbouring Lebanon.  Iran's government-backed Tasnim News Agency reported Major General Yahya Rahim Safavi, a senior military and political advisor to Iran's Supreme Leader, pledged Iranian support to the Hamas operation against Israel.
Yesterday's attacks are widely viewed as an abject failure of Israeli intelligence.  Coming on the 50th Anniversary of the Yom Kipur War Israel's intelligence apparatus appears to have failed to anticipate high level tensions with the anniversary and adequately prepared for the Hamas incursion.  While the targets have clearly been to inflict damage on Israel's military capabilities and civilian infrastructure as well as to take captives other aspects of the Hamas operation bare the hallmarks of regional politics and international assistance from bad actor states.
It may be that the attacks were designed with the hope of embarrassing Israel and provoking a brutal response that would embarrass regional partners in adhering to the Abraham Accords that sought to normalise relations and trade with regional partners otherwise opposed to Israel.  The weapons systems used, reportedly including advanced drones, employed with deadly accuracy, strongly suggest external state assistance.  Russia and Iran have both engineered the technology and developed the skill sets to have assisted Hamas from their collaboration in the ongoing assault upon Ukraine that began in 2022.  In excess of 5,000 projectiles and drones were launched against Israel from Gaza suggesting a higher level of technological assets and military capabilities than Hamas previously possessed.
A May 2021 report by the Robert Lansing Institute noted how Russia's Foreign Ministry was actively coordinating anti-Israel Palestinian terrorist groups activities.  Moscow and Foreign Ministry assets were made available as a safe-haven centre for formal meetings between 2015-2020 including senior Russian diplomats and Hamas political and military personnel.  Within the last several months Moscow hosted at-least 2 high-level Hamas leadership meetings with Russia's Ministries of Foreign Affairs Ministry and Defense.
Dating back to the Cold War, Russia has often used Palestine as a wedge issue in regional and international politics.  Recent Kremlin messaging blames the United States, NATO and the West in general for neglecting the Palestinian people and Middle East politics by over-focusing on Ukraine.  Concurrent messaging by Kremlin puppet social media accounts carry a strong race-based messaging that the West cares more for Ukrainian lives because they are Europeans than Palestinian or Arab lives. It is possible that Russia's support for Hamas's attack on Israel is part of a strategy to strengthen its influence in the Arab World while deflecting attention from its woes and war crimes in Ukraine.  Russia has been verifiably recruiting Palestinians in Lebanon to join their war in Ukraine.  Enlistment bonuses of approximately $350 have been an attractive lure to Palestinians to enlist.  Hoping to train a cadre of supporters with combat experience, the pro-Iranian Hezbollah and the 25th Syrian Special Operations Division led by Major General Suhail Al-Hasan actively provide recruiting support for Russia.
According to an anonymous, senior Lebanese security official not authorised to speak on the record, Russia has been recruiting Palestinians and Lebanese men with the operation purportedly being run out of the Palestinian Embassy in Beruit.  According to the source, Palestinian recruits volunteering to fight for Russia against Ukraine are heavily recruited from the Ein Al-Khalwa refugee camp.  Ein Al-Khalwa is the largest refugee camp in Lebanon located just south of the port city of Sidon.  The main source of recruits are reportedly members of the Fatah political movement, an organisation led by Palestinian Authority President Mahmoud Abbas.  Other organisations including the Popular Front for the Liberation of Palestine also encourage enlistment in the Russian army.  Riad Kahwaji, a Lebanese researcher and expert in security and defense affairs, based in Dubai, told The Media Line that the recruitment of Palestinians from Lebanon is not unrealistic, saying, "It is not surprising that they were recruited to work with the Russians in return for paying them salaries because the camp environment is open to such possibilities".  Analysts claim Russian recruits benefit from the urban warfare experience of Palestinian and Lebanese fighters in exchange for them in-turn being trained by Russian forces on the use of drones on the modern battlefield.  The numbers of Palestinians and Lebanese volunteering to fight in Ukraine for Russia cannot be independently verified.
Former Russian President Dmitry Medvedev, who serves as Deputy Chair of the Security Council of the Russian Federation and often plays the role of floating critical Kremlin messaging by acting as the unofficial spokesperson for Putin's views posted on X (formerly Twitter), "Clashes between Hamas and Israel on the 50th anniversary of the Yom Kippur War come as an expected development".   Medvedev used the platform to demonstrate Russia's support for the Hamas attacks on Israel were part of Russia's proxy war on Washington and the West who have acted to thwart their quest for empire in their war on Ukraine, "This is what Washington and its allies should be busy with. The conflict between Israel and Palestine has been going on for decades, with the US the key player in it".
Intelligence sources claim in unconfirmed reports that Iran conducted significant meetings with Hamas leaders in the weeks leading-up to Saturday's attacks.  Speaking yesterday from Tehran, Iran's semi-official news agency ISNA carried a quote by Iranian foreign ministry spokesperson Nasser Kanani, "What took place today is in line with the continuation of victories for the anti-Zionist resistance in different fields, including Syria, Lebanon and occupied lands".
Only two weeks ago Iran's Supreme Leader, Ayatollah Ali Khamenei, delivered a speech at the 39th International Islamic Unity Conference calling Israel a "…usurper Zionist regime" and pledging that its existence would cease.  "Today, the Palestinian movement is more alive than it has ever been during these 70 or 80 years," Khamenei said. "The honourable Imam [Khomeini], may God be pleased with him, described, the usurper [Zionist] regime as a cancer. This cancer will definitely be eradicated, God willing, at the hands of the Palestinian people and the resistance forces throughout the region".
The Hamas attacks upon Israel create an uncomfortable environment for Western governments, most of whom have been long-term supporters of Israel.  Netanyahu's government has been riddled with accusations of corruption and Netanyahu is personally facing criminal charges for corruption.  Recent legislative changes proposed by Netanyahu's coalition government have sought to eviscerate the independence of Israel's judiciary.  The proposed legislation has caused widespread criticism including threats by Israeli military service members and reservist to refuse to perform military duties should the judicial changes be adopted.  Comments from Israeli ministers, primarily from the right-wing and religious United Torah Judaism, Shas and Religious Zionist parties have disturbed international partners.  Israeli National Security Minister Itamar Ben Gvir that his right to life outweighs Palestinians' right to freedom of movement in the occupied West Bank.  Ben Gvir is widely seen as a provocateur who engages in the baiting of Palestinians for political purposes.
This is an evolving story.