by Miceál O'Hurley
BRATISLAVA — Despite erroneous early reporting by the BBC claimed Michal Šimečka's Progressive Slovakia party had narrowly won victory with 98% of ballots having been counted it is clear that the Slovakian people handed an electoral victory to Robert Fico's SMER party.  The latest results put SMER at 22.94%; PS at 17.96%; and, Hlas at 14.70%.  The Hlas party, and offshoot from the political infighting within SMER is led by right-wing leaning Michael Pellegrini.  Multilple smaller parties carried the remainder of the votes with none coming close to attaining more than 10% of the vote.  Fico has been giving the tap by Slovakia's President to attempt to form a Government.
Whether he can forge a stabile alliance with Hlas which pointedly exited from his leadership to establish their own party or form a coalition with myriad smaller parties remains to be seen.  Fico asserted he was ready to enter negotiations with other parties in the hopes of  forming a coalition government, "We're here, we're ready, we've learned something, we're more experienced," he said. "We have clear ideas; we have clear plans".
Fear and loathing typically described the results in Western capitals.  Fico, twice formerly a Prime Minister of Slovakia, campaigned on a pledge of "Not one bullet more for Ukraine".  His pro-Moscow stance has left him compared to Hungary's Victor Orban and his right-wing politics to those of Poland's Andrjez Duda.  Concerns abound about Slovakia's previous robust support for Ukraine evaporating given Fico's rhetoric and sentiments within the Slovakian populace.  Still further disquiet surrounds Fico's ability to be disruptive to the EU's sanctions regime regarding Russia as well as NATO's preparations for what was once thought to be the inevitable entry of Ukraine into NATO membership.
To say the country voted-in Fico's SMER party because they reject Western ideology and embrace the Kremlin would be a serious misnomer.  While Fico repeatedly praised Moscow and made clear his opposition to Slovakia continuing to support Ukraine these were not the only issues on the minds of voters.  Slovakia's economy is in shambles, joblessness is rising, the influx of asylum seekers from Asia, the Middle East and Africa has alarmed voters and there has been a sharp exodus of Slovakian youth.
18% of Slovakian teens leave their native homeland for opportunities abroad with less than half of them ever returning.  This dynamic causes a significant "brain and talent drain" and undermines the economic underpinnings of Slovakia's social welfare and retirement system.  Like most former Soviet-bloc countries steeped in Russian centralised economic policies Slovakia's youth reject this model realising it restrains their opportunities and stymies the country's growth.  According to Pew Research reports, Slovakia's young people have a decidedly different view of where their country's economic future lies than do older Slovakians and this demographic disparity may well be providing Fico and his Russian-aligned SMER party with a "last hurrah".
According to a 2022 European Commission report on Slovakia's Recovery and Resilience Plan, there remain significant domestic deficiencies that threaten Slovakia's social and economic outlook, "Key socio-economic challenges for the Slovak economy include poor education outcomes and skills of pupils - in particular from a socially disadvantaged background – and low enrolment rate of children in pre-school facilities. Slovakia's health outcomes are weak and life expectancy is among the lowest in the EU.  Slovakia´s ability to increase competitiveness and productivity requires improving innovation and promoting sectoral diversification, but the low quality of public research and limited cooperation with businesses constrain the transfer of knowledge and skills. Public administration and the business environment suffer from administrative complexity and systemic inefficiencies. These challenges weigh on potential growth and employment."  Any SMER led Government faces significant internal challenges.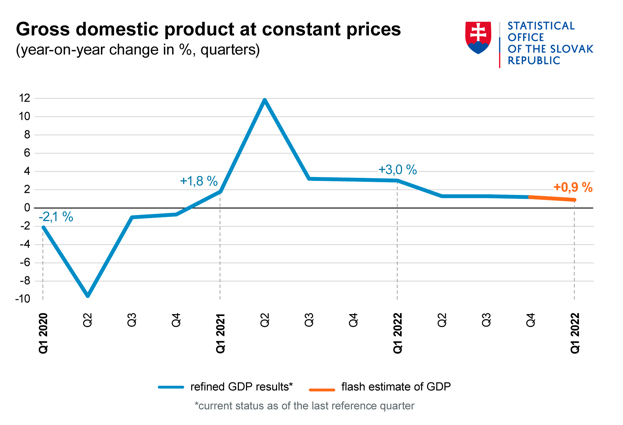 While Fico may have doubled-down on his anti-Ukraine stance in the hours after the election, saying "Nothing has changed in this regard", his historic penchant for pragmatism may lead him to embrace the continued production of arms and ammunition for Ukraine to sustain jobs and buoy the economy.  Fico is widely regarded as a populist.  While technically avoiding recession, Slovakia's economic performance borders on catastrophe with GDP declining, household savings nearing nil and inward investment stalling.
The OECD presents a hopeful forecast for Slovakia, "
His focus on campaigning on withholding future aid to Ukraine was a classic populist ploy to avoid having to address the real and pressing domestic problems he will face should he be able to form a Government.  His ability to lead a Government for what will be the fourth time may not be a stable as some might expect given the electoral results.  Fico was forced to resign in 2018 amidst mass popular uprisings following the murder of investigative journalist Jan Kuciak and his fiancée, Martina Kušnírová.
Kuciak had been doggedly investigating widespread mafia activities in the country that pointed to the highest offices in Slovakia.  Kuciak exposed that two of Fico's closest and handpicked aides had been business partners and intimates of Antonino Vadala, a notorious mafioso of the Calabrian 'Ndrangheta clan.  The Slovakian public was outraged when it emerged that the two included Maria Troskova, a former model who then served the Chief State Adviser at the government office, raising serious questions about her qualifications to hold such an appointment beyond pop culture notoriety.  The other advisor, Viliam Jasan, who served as the Secretary of Slovakia's Security Council, a State body that responsible for key national and international security issues raised concerns beyond the sneering directed at Troskova's appointment as his entanglements with the mafia should have excluded him from even a basic security clearance.
In the aftermath of the exposes from Kuciak, followed by his murder, coalition partners exited Fico's Government.  With Bratislava's streets continuing to be occupied by protestors Fico had no choice but to resign in ignominy.  Fico maintains he was never personally accused of wrongdoing.  Should he be able to form a Government it remains to be seen how long this stint may last.
As for concerns over Slovakia's continued support for Ukraine sober observation would indicate that Slovakia has already transferred whatever weapons systems it may have had leaving only ammunition supply in question.  As Ukraine is fast becoming host to arms manufacturing partnerships any reduction or cessation of ammunition production by Slovakia could be relatively easily offset.  Given Slovakia's commitments to work within the structures of the EU and NATO any backsliding on support for Ukraine might  well be reduced to political statements rather than any real changes in policy or support.  Still, the drift of another European State towards sympathy for Russia's latest round of aggression Ukraine, and their continued occupation of Georgian and Moldovan territory, being enmeshed in the Nagorno-Karabakh conflict, Russia's continued involvement in Syria as well as Africa is disconcerting.
For now, forming a stable Government and dealing with pressing domestic decline may prove the real issues that command Fico's attention.