by Miceál O'Hurley
UNITED NATIONS – Eight States, including Ireland, Belgium, the United Kingdom, Estonia, Norway, the United States of America, France and Germany have joined together to issue a Joint Statement condemning Russia's use of the Arria meeting formula to disseminate disinformation.  Russia's latest move is just another in a long line of attempts to alter the factual narrative about Moscow's bellicose actions that attempt to destabilise Europe by continuing to threaten Ukraine.  Russia called an Arria meeting on 5 May 2021 following their massive deployment of more than 120,000 combat ready troops amassed along Ukraine's borders and into Crimea.
The Joint Statement reaffirms unwavering support for Ukraine and reiterated the international community's commitment to Ukraine's sovereignty and the restoration of her territorial borders.  It further makes clear that Russia's actions are deemed a violation of international law and a violation of the UN Charter to which Russia is a signatory.  Pointedly, the Joint Statement calls upon Russia to de-escalate their threats to Ukraine, cease its temporary occupation of Ukrainian territories and stop politicising human tragedies.  The 8 UN Missions also call upon Russia to abide by the cease fire brokered by the OSCE (Vienna Document).
Wednesday's Arria-formula meeting, held online through the United Nations Security Council (UNSC), saw Russia's Permanent Representative to the United Nations, Vassily Nebenzia, attempt to persuade the UNSC that Ukraine is to blame for violations of the ceasefire, saying, "There is a countless number of brigades, battalions and other sorts of fighters united in arms against those Ukrainians who do not share their extremist and sometimes criminal values."  In Statements following Russia's presentation, only Belarus and Syria, two States with troubling human rights records who are largely dependent on Russia for assistance, voiced support for the meeting then resorting to their historic complaints about the 'West'.
Russia's History of Abusing Arria Format Meetings for Propaganda and Disinformation
Arria meetings are named for Ambassador Diego Arria of Venezuela who, in 1992, Presided over the UNSC.  According to a 2002 UN Secretariat release, Arria meetings are, ""Very informal, confidential gatherings which enable Security Council members to have a frank and private exchange of views, within a flexible procedural framework, with persons whom the inviting member or members of the Council (who also act as the facilitators or conveners) believe it would be beneficial to hear and/or to whom they may wish to convey a message."  
Russia has used its Permanent seat on the UNSC to invoke Arria format meetings before, almost always invoking criticism they abuse the privilege and format to engage in overt propaganda rather than assist the UNSC in decision-making based on facts and reliable information.  Earlier this year, Russia used the Arria format to invite individuals whom they claimed were legitimate leaders of the populations in Eastern Ukraine's Donbas region to speak at the UN.  Russia's misuse of the Arria format to invite pretenders to an illegal and illegitimate 'government' in temporarily occupied territories of Ukraine violates UN rules.  The UN has repeatedly voted to affirm Ukraine's sovereignty and her internationally recognised borders through a series of resolutions.  Russia's attempt to introduce those who pretend to govern temporarily occupied Ukrainian territories as legitimate leaders at the UN is an affront to Ukraine's sovereignty and violation of the UN who previously condemned Russia's role in attempting to legitimise illegal elections in Ukraine's Donbas in order to impose a Moscow-friendly regime, albeit an illegal one.  Russia also used an equally fraudulent election in Crimea as a ruse to claim legitimacy for their attempted, illegal annexation of Crimea.
UN & EU Sanctions Against Russia
The United Nations and European Union have voted numerous times to impose and sustain sanctions against Russia for their role in illegally occupying Ukraine.  Only last month, Fatsou Bensouda, Prosecutor of the International Criminal Court (ICC) announced that the ICC has found sufficient evidence to commence a war crimes investigation resulting from Ukraine's complaint against Russia for instigating hostilities in Eastern Ukraine and Crimea.  Following the Russian orchestrated, led and supported illegal occupation of parts of Ukraine more than 13,000 people have died and over 1.5 million Ukrainians have been internally displaced.  Numerous accounts of summary executions of Ukrainians and Crimea's indigenous Tatars have been documents along with a startling number of 'disappearances'.
Russian Abuses of International Law as 'Justification' for 'Protecting Russians'
Russia has also engaged in re-settling Russians in temporarily occupied Crimea and Donbas.  Using the Russian law "On the Acceptance of the Republic of Crimea into the Russian Federation and the Creation of New Federal Subjects – the Republic of Crimea and the City of Federal Significance Sevastopol" the Russian Interior Ministry has complied with President Vladamir Putin's directive that all occupants of these areas be considered Russian citizens and has take the extraordinary step of coercively issuing Russian passports to Ukrainians in the illegally, temporarily occupied territories of Ukraine over which they exercise effective control.  According to a report submitted to the UN Human Rights Council, Ukrainians in temporarily occupied Donbas and Crimea were required to declare their intent to accept Russian citizenship or remain stateless, effectively depriving them of their lawful Ukrainian citizenship and making them resident aliens in their own homes.
Through Russia's imposition of the 'Treaty on Accession' on 18 March 2014, Ukrainian citizens remaining in Crimea were automatically recognised as citizens of the Russian Federation.  For Ukrainians that were forced to temporarily flee Crimea and take refuge elsewhere in Ukraine, their relocation rendered them a 'foreigner' in their own land, rendering them ineligible to become Russian Federation citizens or re-enter Ukraine's Crimea without Russian authorisation.  Now classified as 'foreigners' to their native Crimea by refusing to accept Russia citizenship, Russian law prohibits them from remaining in Crimea for more than 90 days without an authorised extension.  Failure to comply with the laws Russia now effectively asserts over temporarily occupied Crimea can lead to court-ordered deportations or arrest.  Consequently, to remain in their homes, many Ukrainians were left no alternative but accept Russian Federation passports under these conditions.
On 2 May 2021, at the height of tensions caused by Russia moving more than 120,000 combat troops on Ukraine's borders, Russia's Interior Ministry boasted that it has issued over 500,000 Russia passports in what is internationally recognised as sovereign Ukrainian territory.  The United Nations and the EU do not acknowledge Russia's attempt to illegally annex Crimea.
Distortion of History and Propaganda by Russia in Arria Meeting
During the 5 May 2021 Arria meeting, Russia attempted to use the meeting to engage in a distortion of historical facts in an blatant attempt to change the narrative about their invasion and illegal occupation of parts of Ukraine.  Marking the 7th anniversary of the 2 May 2014 Russian-led assault on the Ukrainian city of Odessa, Russia's Permanent Representative to the United Nations, Vassily Nebenzia, asserted ruing the online meeting that Ukrainian nationalists were fighting side-by-side with the army in Donbass, perpetuating the already debunked myth that the fighting in Eastern Ukraine is a civil war and not a Russian-backed attempt to destabilise Ukraine and seize territory.  Nebenzi tried to reinforce the false Russian narrative that Ukraine is to blame for the fighting in Donbas, "There is a countless number of brigades, battalions and other sorts of fighters united in arms against those Ukrainians who do not share their extremist and sometimes criminal values."
The UNSC, UN General Assembly and the European Union have concluded that Russia is responsible for the events in Ukraine's Donbas and Crimea and have imposed and sustained sanctions against Russia and individuals deemed most responsible for the fighting and violations of international law.  Having previously formally recognised Ukraine's international borders, Russia has since attempted to impose a uniquely false narrative that it was acting to come to the aid of ethnic Russians and Russian speakers in Ukraine who were being oppressed by 'radical' Ukrainians.  Moscow has maintained that the 'Little Green Men', those combatants without markings on their combat fatigues, were Donbas residents fighting to liberate themselves from Ukrainian oppression.  Photographic evidence and open source reporting has been able to identify multitudes of these 'Little Green Men' as active-duty Russian special forces and soldiers, or members of the Russian-sponsored Wagner Group, largely made-up of Russian military veterans and active-duty advisors.
Russia's Threat of Arms and Diplomacy Initiative
Russia's attempt to misuse the Arria meeting in the hopes of changing the narrative about their illegal conduct in Ukraine comes on the heels of Moscow ordering over 120,000 combat troops to menace Ukraine's borders.  The move, which began in the last weeks of April 2021, caused such alarm across Europe that it brought defense postures in Ukraine and NATO to their highest levels since Russia's 2014 invasion of Ukraine.  Russia has maintained a narrative that the deployment was part of a routine, planned, military exercise.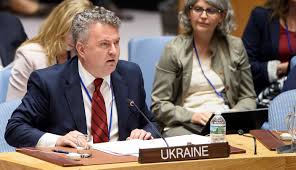 Last week, Russia announced they were recalling the troops to barracks.  This announcement has be republished in the media, worldwide.  However, current estimates confirm that Russia only recalled some of their troop force and have maintained more than 80,000 combat ready troops, with sustained logistical supports and field hospitals at the Ukrainian border.  Analysts now believe the troop recall by Russia to have been a propaganda tool sure to be reported in the media all while maintaining the real threat on Ukraine's borders.  This week's Arria meeting now appears to simply be an extension of Russia's continuing use of threat of arms and diplomacy initiative.

Joint Statement of Ireland, Belgium, the United Kingdom, Estonia, Norway, the United States of America, Ukraine, France and Germany
We continue to express our deep regret about the tragic death of people in Odessa on May 2, 2014.
We urge Russia to stop politicising human tragedies.
We urge Russia to immediately cease all its aggressive and destabilising activities and carry out de-escalation by urgently terminating the extension of troops in the temporarily occupied Crimea and along the borders of Ukraine and immediately cease the temporary occupation of Ukraine.
We also urge Russia to return to compliance with its ceasefire commitments in Donbas and ensure transparency of its military activities in accordance with the obligations under the OSCE Vienna Document.
We strongly condemn the attempt to annex Russia's autonomous Republic of Crimea and the city of Sevastopol.  Russia's actions cause global concern, violate international law, in particular the UN Charter, and also contradict the Helsinki final act.
According to Arria's high-level meeting on Crimea, convened by Estonia jointly with 23 co-organizers, as well as decisions from the UN General Assembly Resolution A/RES/68/262, Ukraine enjoys the full support of the international community in protecting its sovereignty and territorial integrity within internationally recognised borders and territorial waters.
We reaffirm the support of the Normandy format efforts and the firm commitment to peaceful resolution of the conflict in accordance with the Minsk agreements, the conclusions of the Normandy Format Summit held in Paris in December 2019, and for full respect for Ukraine's sovereignty and territorial integrity.
We encourage the constructive work of the Tripartite Contact Group, as well as the full implementation of the Minsk agreements and conclusions of the Paris summit. We emphasize the responsibility and commitment of Russia in this connection.
###