by Miceál O'Hurley
 
DUBLIN — The Oireachtas Joint Committee on Foreign Affairs and Defence commenced a series of meetings to examine demolitions and the forced displacement of people in the Occupied Palestinian Territory (OPT).  The Middle East Peace Process is a matter chosen for priority consideration by the Joint Committee for its 2021 Work Programme in 2021.
Cathaoirleach of the Committee, Charlie Flanagan, TD spoke to the purpose and intentions of the Joint Committee meetings, "The Committee is holding a series of public meetings with stakeholders following reports of the demolition of buildings in the occupied Palestinian territory, which were built with the assistance of Irish Aid, and the forced displacement of people to make way for the construction of settlements. The Committee welcomes this engagement with witnesses to discuss the issue including the humanitarian impact of forced displacement, and the Israeli policy in relation to settlements."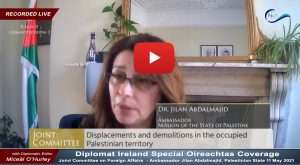 Dr. Jilan Abdalmajid, Ambassador of the Mission of State of Palestine and Ambassador Ophir Kariv, Embassy of Israel to Ireland, were scheduled to appear on 11 May 2021 and 13 May 2021, respectively.  Diplomacy in Ireland – The European Diplomat will cover both meetings which can be viewed on our YouTube Channel.
On Tuesday, 11 May, Her Excellency Dr. Jilan Abdalmajid, appeared virtually before the Committee.  The Joint Committee also heard from Professor Noura Erakat, of Rutgers University (New Jersey, USA) and Dr. Susan Power, Head of Legal Research and Advocacy for the Human Rights organisation Al Haq, and who also serves as a board member of the Irish-Palestinian Alliance, Sadaka; as well as Mr. Éamonn Meehan, also a Sadaka Board member, gave testimony virtually.
His Excellency Mr. Ophir Kariv was scheduled to appear virtually before the Committee on Thursday, 13 May 2021.  Ambassador Kariv's testimony will shortly appear on the our YouTube Channel.  Ms. Jackie Goodall of the Ireland Israel Alliance was also scheduled to attend on 13 May.
A third public meeting to discuss the issue will take place next week.