by Miceál O'Hurley
MINSK – A false report of an 'explosive device on-board' a Ryanair flight was used to cause the aircraft to make an emergency landing in Minsk, Belarus, albeit a demand reinforced by the coordinated threat by a Belarusian fighter armed with air-to-air missiles.  Disputed Belarus President, Alexander Lukashenko, is reported to have personally orchestrated the ruse in order to arrest a single passenger, Raman Pratesevich, the former Editor of Nexta, a Lukashenko opposition news organisation.  Ryanair DAC is an Irish owned company headquartered in Swords, Dublin.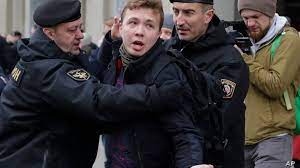 Russian State Media Mouthpiece for Belarus
Minsk airport authorities told Russian state media outlet, RIA Novosti, the Ryanair flight made the emergency landing after an unconfirmed bomb threat.  However, a spokesperson for Lithuania airports, told Lithuania's LRT National Radio that they were alternatively told the flight landed due to a conflict between a passenger and one of the crew members.  Lina Beishene, said Lithuanian civil aviation authorities were never informed about a bomb threat and this version of events first appeared on Russian state media.
Lithuanian President Demands Release of Flight and Journalist
On Sunday, 23 May 2021, the Irish-owned Ryanair flight was on a declared, routine flight between Athens, Greece and the Lithuanian capital of Vilnius.  Lithuania's President, Gitanas Nauseda, immediately demanded the aircraft be allowed to depart Minsk with all of its passengers, including journalist Raman Pratesevich.  Nauseda called the incident "abhorrent" and an "unprecedented event" in a Tweet.  He added, a "civilian passenger plane flying to Vilnius was forcibly landed in Minsk."
Nexta Live and its sister channel Nexta — with close to 2 million subscribers on the Telegram messenger platform — are prominent voices of the Belarus opposition.  Following the election, Pratasevich was placed on a government wanted list for the un-specified and un-supported claim of 'terrorism'.
Lukashenko, and the Russian intelligence services assisting him to remain in power, blame Pratesevich for helping to mobilise protesters following last year's election victory by Ms. Sviatlana Tsikhanouskaya.  Lukashenko is believed to have engaged in election rigging to steal the election, defying Tsikhanouskaya's win amongst the Belarus electorate which would have rightfully ended his long, brutal grip on power.
The Russian media outlet Editor-in-Chief, Margarita Simonyan, reacted in typical fashion by posting a Tweet which can be translated as "I never thought I would be envious of anything Belarussian.  But the Old Father [Lukashenko] did this beautifully."  RT is considered a propaganda arm of Putin and the Kremlin, despite fronting as a thinly disguised 'news organisation.'
Lukashenko's Belarus Now a Russian Client State
Belorussia has become a virtual puppet of Russia when Lukashenko was forced to plead for help from Russian President Vladimir Putin following his electoral loss to last August, resorting to brute force to retain power.  Owing to threats by Lukashenko, his security services and Russian FSB operatives, Ms. Tsikhanouskaya was forced to flee Belorussia despite having won the election.
Following last year's election stealing, Lukashenko pleaded with Putin for help, immediately receiving a €1.25 billion loan from the Kremlin.  Lukashenko went hat-in-hand to visit Putin in Sochi, Russia in February 2021 to beg for another €2.5 billion in aid.  Lukashenko, who in 2020 claimed the Covid-19 virus was "no worse than the flu," publicly refusing to take a vaccination, repeatedly told the Belarusian people to "drink more vodka" to ward off infection, was later exploited by the Kremlin to be an advocate for their international roll-out of their Sputnik-V vaccine as yet another sign of his total submission to Russia.  According to an interview given to TUT.BY, Belarusian Ambassador to Russia, Uladzimir Syamashka, said Lukashenko and Putin had approved plans to establish a common government and parliament.
State Sponsored Air Piracy
Belorussia's incredibly provocative intercept of a declared civilian airliners on a regularly scheduled flight is a deeply worrying event.  Beyond the abundant danger posed to all passengers and crew onboard, Lukashenko's willingness to use force to arrest a single passenger onboard the civilian airliner, for political purposes, demonstrates remarkable hubris and abandon, let alone breaches of international law.  The move will have a chilling effect on international airline travel for journalists, dissidents, activists, academics and politicians who travel anywhere near Belarusian or Russian air space.
President in exile Ms. Sviatlana Tsikhanouskaya took to Twitter to highlight that Pratasevich faces the death penalty in Belarus saying, "We demand the immediate release of Raman, an @ICAO (international aviation group) investigation and sanctions against Belarus."
Irish Government and EU Response

Following the news breaking of the flight being forced to land in Minsk, Ireland's Foreign Affairs Minister, Simon Coveney, T.D., and the European Commission President, Ursula Von der Leyen, responded forcefully on Twitter:
Simon Coveney (Twitter):  "It is utterly unacceptable. This is an Irish Airline with EU citizens on board, forced to land in Minsk, while travelling between EU cities. A strong an united response from EU needed. EU inaction or indecision will be taken as weakness by Belarus."
Ursula Von der Leyen (Twitter):  "It is utterly unacceptable to force @Ryanair  flight from Athens to Vilnius to land in Minsk. ALL passengers must be able to continue their travel to Vilnius immediately and their safety ensured. Any violation of international air transport rules must bear consequences."
European Allies Concerned
Speaking with two Ambassadors from former Soviet Republics, not authorised to speak on the record, Diplomacy in Ireland – The European Diplomat was told of their "deep concern" following an Irish-owned aircraft being forced to land using a "clearly State intelligence asset driven [and] coordinated plan to force the flight into an un-scheduled landing in Minsk for the purposes of effecting a singular arrest for political revenge."
It was further posited that last week's ransomware attack on the HSE by a criminal gang operating in St. Petersburg, with tacit Russian acquiescence, is part of the "hybrid warfare model of the Russian Federation."   It is asserted that the HSE received the cyber-key to restore its computers, without Ireland publicly paying the demanded €20 million to the Russian group, as part of a quid pro quo in exchange for Ireland lifting its order for Russia to cease further construction at its Embassy in Dublin as being "likely to be harmful to the security or defence of the State or the State's relations with another state" and in the public interest.
There is no way to independently confirm such speculation.  Albeit, the intelligence community continues to wonder aloud, why, accordingly to one security analyst, "… a criminal gang suddenly grew a conscious and decided to hand Ireland the key.  This is the conduct of a manipulative State actor, not a gang that thrives on extortion.  They obviously got something they wanted at least as valuable as the €20 million demand."
(This story has been updated to include Statements from Foreign Affairs Minister Simon Coveney and EC President Ursula Von der Leyen and comments of Russia's RT