by Miceál O'Hurley

Part I in a Series of III Interviews Beginning 27 October 2020
DUBLIN — Today I have the privilege of interviewing His Excellency Dr. Masoud Eslami, the Islamic Republic of Iran's Ambassador to Ireland.
Prior to his appointment in Ireland, Dr. Eslami served as an advisor to Ministers of Foreign Affairs on issues of international law and relations for many years. He was a Professor of International Law and Relations at the Graduate School of International Relations in Tehran and he also served as Dean of the School of International Relations and Diplomatic Academy of Iran for five years.  He received M.A.L.D. and Ph.D. degrees in Law and Diplomacy from the Fletcher School of Law and Diplomacy.  He also holds an LL.M. degree from Yale University Law School and a Master's degree in political science and Islamic studies from Imam Sadegh University in Tehran.  His Excellency Dr. Masoud Eslami presented his letters of credence extraordinary and plenipotentiary to President Michael D. Higgins as the Ambassador of the Islamic Republic of Iran to Ireland on 28 November 2018.
Mr. Ambassador, allow me to thank you for taking part in this wide-ranging interview with Diplomacy in Ireland – The European Diplomat.
Thank you Miceál.  It is a pleasure to participate in this interview. 
Out of full disclosure, so that nobody thinks I'm being too difficult in my questioning, I will disclose that during my service I was a member of the 1st Battalion (Ranger), 75th Infantry.  My comrades were involved in the attempted rescue of fifty-two American hostages who endured 444 days of captivity in Iran.  Eight Americans on that mission died in the attempt to liberate the Americans being held captive in Tehran.  Before we begin, I want to assure you that this interview will be fair and objective.  My role as Editor-in-Chief of Diplomacy in Ireland – The European Diplomat is to cover the issues of the day in the diplomatic corps without prejudice.
Thank you for your disclosure. I'll excuse this error of judgment made during your younger days! I doubt you would repeat the mistake or anything close to it now! As you know, the ordeal was a serious infringement of Iranian sovereignty. Venturing into such a naïve yet dangerous ordeal by the US was wrong and doomed to failure from the beginning. It was based on misconceptions and a misreading of the Iranian situation which has been endemic to the US approach to Iran. It only exacerbated the situation and prolonged the difficulties inherent in our bilateral relations. Certainly, an alternative approach to military coercion would have worked better. *
* Editor's Clarifying Note:  On December 15, 1979, The International Court of Justice (ICJ) unanimously declared Iran should ensure the restoration of the U.S. embassy in Tehran to U.S. possession, release the hostages, and afford diplomatic officials full protections as afforded by the Vienna Convention on Diplomatic Relations.  On, 24 May 1980 the ICJ found the militants and students to be 'agents' of the Iranian Government, because the latter had approved and perpetuated their actions, translating occupation of the embassy and detention of the hostages into official acts of the state, of which the perpetrators, while initially acting in private capacities, were rendered agents of the Iranian state.  Personnel participating in 'Operation Eagle Claw' (the Iran Rescue Mission), were awarded the United Nations Humanitarian Service Medal for attempting to rescues diplomatic personnel protected by the 1961 Vienna Convention on Diplomatic Relations (UNTC).
Mr. Ambassador, I would like to briefly cover the current issues keeping Iran in the news.
Only last month the Trump Administration concluded a second accord between a Middle Eastern country and Iran.  In 2020, both the United Arab Emirates and Bahrain normalised relations with Israel.  Where does this leave Iran in terms of its influence in the region?
We regret that certain Arab governments have decided to normalize relations with Israel while its illegal occupation of the Palestinian Territories and Israeli atrocities continue unabated. The accord signifies nothing new. We've known for several years about the existence of relations between these countries on a number of issues including security cooperation with Israel.
The accord should also be seen as the outcome of the enormous pressure exerted by President Trump on regional allies to put on a show of some form of diplomatic achievement in the absence of any real and substantive progress in the region. This is not the first time that US domestic politics, particularly during the presidential election season, has compromised the rights of Palestinian people to please lobby groups in Washington.
In essence, this type of theatrical gesture on a diplomatic level is a mere side issue and it doesn't advance any of the real issues that need to be addressed vis-à-vis Israel and the Palestinian people who rightly feel betrayed by the UAE and Bahrain. The accord also reflects the ever-widening gap between these countries' actions and the sentiments of their citizens. Moreover, even though they have signed this accord with Israel, it cannot hide the injustices that the Palestinian people continue to endure.
On the face of it, Iranophobia has motivated the move. However, Iran's regional influence stems from its unequivocal support for the rights of the Palestinian people. So, rather than lessening our influence, betrayals of the Palestinian cause will actually serve to increase it because public opinion throughout the Arab and Islamic world appreciates that Iran continues to remain steadfast in defending the rights of the Palestinian people while certain Arab countries are only showcasing their retreat and submissiveness.
Lebanon and Iran have a long history of good relations.  As Lebanon slipped into an economic freefall in 2020 relations with Iran seem to have cooled, with some blaming Iran's economic plan for Lebanon being the cause of its woes.  Where does Iran stand with Lebanon today and given Iran's own economic difficulties, can it be an effective partner to Lebanon in the future?
Lebanon is an independent sovereign state. We have always worked to strengthen the sovereignty of Lebanon. As such, Iran doesn't have an economic or any other plan for Lebanon. We have always had good relations with the Lebanese people and successive governments. We hope these positive relations continue. We also hope to be in a position to provide whatever support we can to the people of Lebanon to overcome their current difficulties.
One of the pillars of our relationship with Lebanon is our long history of good relations and our track record of standing with the people and government of Lebanon during crises and upheavals. We stood firmly with them when they were repeatedly invaded by Israel and when their prime minister was taken hostage by Saudi Arabia, just to mention a couple of examples.
When people talk up Iran's role in Lebanon, they often overlook the role played by other states, including the Arab states, France and the US in undermining Lebanon's sovereignty and creating political instability. In particular, France and the US still treat Lebanon in a colonial manner.
Lebanon has also experienced immense pressure because of Israel's acts of aggression. Lebanon has survived two destructive wars imposed by Israel in recent years. We tend to underestimate the long-lasting impact of past wars on a society and its political and economic development.
Ideally, Iran would like to continue its role of supporting Lebanon to protect its political sovereignty and economic development to the greatest extent possible.
Sadly, Lebanon has also been in the news of late due to the incredible destruction because of an explosion in the port of Beirut.  I would like to ask about Iran's historic ties to Lebanon and aid efforts in the aftermath of the explosion in Beirut which has caused a humanitarian crisis.  What is Iran doing to help the Lebanese people?
As I mentioned, the historic ties between Lebanon and Iran are strong and will remain so for good reasons. We are deeply sympathetic towards the situation in Lebanon and we have hope and optimism for the future. We have spared no effort in assisting Lebanon in every possible way to overcome their current difficulties.
Let's talk about human rights issues if I may.
Despite international protests, Iran executed Navid Afkari, and Iranian who came to some fame as in international athletic competition as a wrestler.  He was accused of murdering a security guard during anti-government protests in Shiraz and "waging war against the State…."  What do you have to say to Human Rights organisations and critics who claim his confession was coerced by torture and he did not receive due process of law?
When you allow yourself to look at legal jurisprudence through political lenses, you will have difficulty understanding it. Legal processes and proper adjudication require hard evidence and credible proof. Critics and political commentators may make claims to serve the interests of their constituencies. However, Navid Afkari was a convicted murderer who received due legal process.
As you are aware, Iran is the target of a massive campaign of demonization and disinformation by the United States, Israel and certain other political entities. Part of this mega-project is to discredit the Iranian judicial system and human rights record through media and other means. There are more than 70 radio and TV channels funded by Iran's arch enemies who are constantly injecting false information to smear the image of Iran. If you are exposed to such biased media coverage, you tend to dismiss certain facts and ignore or even ridicule the values and principles espoused by others.
The Iranian legal system is a modern and progressive system founded upon centuries of civil and religious jurisprudence. We would not compromise our judicial integrity for any reason especially as a result of political pressure exerted from outside which is meant to disturb due process.
It is important to emphasize that other countries also use capital punishment measures for serious crimes. One might not like the laws of other countries, but it needs to be recognized that laws emanate from state sovereignty and their independent jurisdictions.
Human Rights organisations and critics claim that Iran used the Afkari prosecution to send a message that anti-government protests would not be tolerated.  Is there room in the Islamic Republic of Iran for dissent, expressions of dissatisfaction and demands for reform?
The principal lesson or message to be drawn from this case is that no one can commit a brutal murder and get away with it even if they can manage to organize a political campaign behind them. The prosecution of Navid Afkari was solely in connection with the murder he was found guilty of. He did receive a full and fair trial.
Opportunities to express dissent and opposition through media, particularly social media, are abundant in Iran. There are more than 700 publications and social media are accessible for people. It is a common and normal practice to express dissatisfaction or criticize the government in the press and on national radio and television networks. Plenty of channels and means of political expression are legally recognized and open to everyone. As in all other countries, protests must be conducted in a peaceful manner in accordance with the law.
The discourse on human rights in Iran should not be reduced to a few isolated cases that are publicized for political reasons. From a genuine apolitical standpoint, it is possible to view Iran and Iranians in a wider context. The most outstanding and urgent human rights problem in Iran is the collective punishment of an entire nation by ruthless economic sanctions which effectively deprive people of their basic rights to a normal life, development and prosperity. The current sanctions deliberately prevent ordinary people from having access to medicine, decent jobs and income, peace of mind and mental health, etc. Tens of thousands of Iranians who suffer from cancer and refractory diseases find it extremely difficult to get medicine. Children with EB (Epidermolysis bullosa), an extremely painful skin condition, are particularly vulnerable to sanctions. We hardly ever hear any human rights organizations or mainstream media condemning this mass violation of human rights.
One of the problems that many countries have with Western governments' approach to human rights is its inherent political nature and inbuilt double-standard. While persistent mass violations of human rights which are tantamount to genocide and ethnic-cleansing in places like Yemen and Palestine are treated with apathy and indifference, individual cases often associated with political controversies are disproportionately emphasized. Millions of people in Yemen and Palestine are terrorized, victimized, tortured, bombed, killed, wounded, subjected to deprivation and starvation and their lives, homes and families are ruined by regimes supported by major Western countries.  
Iran is reported to have executed at least 251 people last year, second only to China. Will Iran maintain the death penalty, even for political crimes, and if capital punishment is maintained, is there any effort being made to reduce the high number of executions?
I am not in a position to verify the statistics here. Iran does not advocate or promote the death penalty. The nature and level of punishment ascribed to each crime in different jurisdictions must be understood within their relevant contexts. Obviously capital punishment is for capital crimes. No execution is carried out in Iran for political reasons.
A large number of individuals who are sentenced to capital punishment in Iran are convicted of drug smuggling. Iran is located at the regional crossroads of huge narcotic smuggling operations. Our soldiers and police officers along the very expansive border areas often get killed or wounded, falling victim to organized crime and drug dealers. Despite the mounting challenges that we face in dealing with this problem, in 2017 the Parliament of Iran passed a law which significantly increased the factual and legal requirements for death penalty sentencing, replacing it with other punishments. As a result, the number of executions has dramatically decreased since then.
By recent estimates, there are upwards of 30,000 Jewish-Iranians, about 10,000 Assyrian Christians, some 300,000 predominantly Armenian Christians and others living in Iran, free to practice their faith.  The Iranian Constitution extends to all non-Muslims the franchise of voting and even holding high-office.  Bibles, the Talmud and non-Muslim religious texts can be purchased freely and legally in Iran.  While Iran may officially oppose the State of Israel your very Constitution protects Jews and the practice of Judaism.  Albeit, non-Muslim shopkeepers must declare their faith in their shop windows, entrants to universities in Iran must pass an Islamic theology exam and other significant 'in practice' barriers such as constant monitoring by the Ministry for Islamic Culture and Guidance, as well as State security forces, creates a chilling effect on religious freedom.  Is there room for non-Muslims to live peaceable, fulfilling lives in Iran free of persecution?
They do not need to be given room in their own home! They are the owners! The facts and figures speak for themselves. Iranian identity is so broad and inclusive that it embraces various religions. A deep-rooted blend of Iranian and Islamic identities has extended this inclusivity even further. Iranian religious minorities are well-known for their peaceful way of life. They live in peace and harmony in a predominantly Muslim country enjoying full civil and individual rights. We have lived together like this for millennia and will continue to do so.
Since the establishment of the Islamic Republic of Iran, all of the main religious communities have not only been able to freely practice their religion, but they have also been represented in the national parliament. There is no state-sponsored religious discrimination or segregation in Iran and there are several hundred churches, synagogues and temples where religious minorities practice their religion. Certain social or religious restrictions may apply to Muslims as well as non-Muslims.
In its 2020 Annual Statement, the US Commission on International Religious Freedom (ICRC) described Iran as a country of 'particular concern' under international law on religious freedom and expressed concern about the state of religious freedom in Iran.  The Iranian Constitution, specifically at Article 13, not only recognise other religions, including Judaism and Christianity, Article 14 states, and I quote, "the government of the Islamic Republic of Iran and Muslims are required to treat the non-Muslim individuals with good conduct, in fairness and Islamic justice, and must respect their human rights."
Ambassador Eslami, why do you believe the ICRC concludes Iran poses 'particular concern' in the field of religious freedom?  Is there room for religious and political freedom in Iran.
US Commissions or entities are in no position to sit in judgment of religious freedom in Iran or anywhere else. Publishing reports on the situation in Iran while the US is totally disengaged from realities on the ground would not bring authority or legitimacy to this political body. As politicized, biased and unilateral outputs such reports are of no value to a debate on human rights in Iran because they are not based on genuine moral or legal concerns.
It is advisable that the Commission devote its efforts to serious human rights situations in the US, particularly in relation to religious discrimination, racial injustice and economic inequality.
I want to recall a bit of a history for some of our readers.  In 1953, the US Central Intelligence Agency (CIA) collaborated with the late Shah of Iran, Mohammad Reza Pahlavi, to overthrow the democratically elected Prime Minister of Iran, Mohammed Mossadeq.  The CIA is said to have orchestrated the installation of General Fazlollah Zahedi to replace Mossadeq and pave the way for the return of Pahlavi as Shah.  The Shah's secret police repressed religious freedom in Iran, tortured Iranians who voiced dissent or desired reforms amongst other bad acts.  What lessons does the Islamic Republic of Iran draw from that historic episode and would you agree that foreign nations ought to stay out of each other's elections and internal politics?
Like the failed rescue mission in 1979, the 1953 coup illustrates perhaps more than any other event in recent history that the US has never been in touch with the reality in which the Iranian people live. They have always dealt with the Iranian nation in an arrogant and humiliating way, taking sides with dictators, supporting the killing and torturing of innocent men and women by the horrible secret service like SAVAK, running roughshod over the collective will of the people and indeed taking a generation hostage for daring to resist such cruel interference in violation of our national sovereignty.
Viewed from a historical perspective, we can clearly see the strong backlash and counterproductive effects of US interference in our country as manifested in the Islamic Revolution with continuing reverberations in our region. In fact, resistance against brazen interference by foreign countries was one of the pillars of the Islamic Revolution and the foreign policy of Iran thereafter.
US interference in Iran in 1953 and other myriad forms of disruptive meddling in other sovereign nations go against the very principles that the US pretends to advocate. It highlights the hypocrisy of their foreign policy – instead of defending democracy; their actions have deliberately undermined it in many countries. In 1953 the US deliberately betrayed the ruling government that had placed its trust in it. This was one of the lessons learned from the 1953 coup. This is why we don't trust the US. In fact, since then the US has consistently undermined our faith in them even further and failed to provide the basis for any substantive trust-building.
So, just a few weeks ago Microsoft issued a report in which they claim Iran, China and Russia are using cyber-warfare to interfere in US elections.  Iran and China are said to prefer a Biden presidency while Russia is purported to be interceding on behalf of Trump.  Mr. Ambassador, is Iran interfering in US elections and if so, to what end?
Iran has no intention or motivation to engage in cyber warfare in the run up to the US elections. Publishing such reports is an attempt to demonize and criminalize Iran for domestic political gain during the election season.  In real terms, it was former President Barack Obama and his Secretary of State Hillary Clinton who openly interfered in the 2009 presidential election in Iran by running media campaigns and allocating a budget for cyber and psychological warfare. It has been a cornerstone of US policy vis-à-vis Iran to try to drive a wedge between the people and government through all political, economic and media means.
Of course we have had an impact on US presidential elections since 1980 through successful diplomacy and legitimate defiance of its aggressive policies. Our soft war tactics have uncovered the US' malign alliance with dictators, revealing the hypocrisy of its claims to be defending democracy abroad. Our asymmetrical war strategies and maneuverings have eroded the imposing American military presence in our region. When it comes to Iran, the US is now diplomatically isolated and its president is admonished everywhere. Trump's campaign promise to withdraw from Iran's nuclear deal has now turned into his Achilles' heel. The accumulated fiascos and failures of US foreign policy on Iran will surely have an effect on the outcome of the upcoming election in the States.
Former Democratic Senator and Secretary of State John Kerry was a proponent of working with Iran to improve relations, largely through the JCPOA.  What do you believe the future might hold for Iran with a possible Democrat in the White House, namely a Joe Biden Presidency, should he win in November?
What matters most for us is the actual behavior of the next US government. We've had experience of different Democratic and Republican administrations. In real terms, US foreign policy vis-à-vis Iran has remained more or less the same despite changes in administrations. So, it's not a matter of whether the next administration is led by a Democratic or Republican president. The US needs to undergo a real change, not an artificial one. To the US government everything looks like a nail because it has nothing in its toolbox but hammers. The extremist and abnormal policy of "maximum pressure" has to stop. We want to see normal behavior being conducted by the next US administration.
If real change is implemented by whoever assumes office next January, it will be recognized by Iran. Former Vice President Joe Biden has announced his intention to rejoin the JCPOA and return to the multilateral approach. This is the least he should do. However, it remains to be seen if he will live up to his promises. We will review the outcome of the US election with patience and our focus will be on real changes in terms of foreign policy. If the next administration continues to use the same one-sided positions and repeat worn out arguments, it will not help to advance any of the issues that require solutions.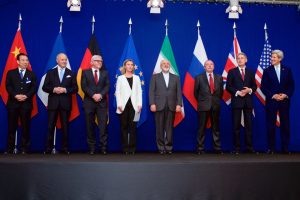 It also needs to be recognized that Iran has already paid a huge price for challenging the aggressive unilateralism and arrogance of the US. The untold pain and suffering of the poorest and most vulnerable people as a result of inhumane sanctions cannot simply be ignored. It is imperative that the irresponsible and unjust behavior of this Trump administration be remedied by the next government. Given that some of the sanctions are tantamount to deliberate crimes, the Iranian people should be fairly compensated for their suffering.
And, if Trump is returned to office, how will that effect Iran's nuclear development plans and improved relations with its European partners in the JCPOA?
Iran's peaceful nuclear program will continue intact. Iran needs to increase its electricity output for internal consumption as well as trade. We will continue to work with our partners in the JCPOA regardless of US positions. We would hope that both Trump and his political appointees have learned the lessons they needed to learn during his first term. The most critical conclusion that they should draw in relation to their failed Iran strategy is that despite their reckless, arrogant dealings they have failed to bring Iran to its knees or force it to the negotiating table to conclude their so-called 'better deal.' US policies towards the Middle East region pursued over the last four years have not advanced stability. In fact, President Trump has deliberately destabilized the region. We can all agree that the world is now more unsafe than when he first assumed office. And, we will all be relieved if and when the next US president changes course and returns to normalcy with a multilateral approach to solving problems that require international consensus.
___________________________
You can continue to read Part II of this III Part Series, including discussion of the downing of Ukrainian Airline PS752, the Assassination of General Soleimani, the JCPOA 'Nuclear Deal', the United Nations Security Council and more on Wednesday, 28 October 2020 at:  Diplomacy in Ireland – The European Diplomat.   Part III of this series will appear on Thursday, 29 October 2020.