by Miceál O'Hurley
New York — As the United Nations commenced the 77th General Assembly this week the continued aggression of the Russian Federation and their threat to regional and global security remained sharply in focus.  One of the most damning indictments of Russia's cruel war waged on the people of Ukraine and their Government came from the Independent International Commission of Inquiry on Ukraine.  Set up by the United Nations in the aftermath of Russia's expansion of its nearly 9-year old war on Ukraine, UN Human Rights Council Member States requested in March for the independent body to investigate and report on the situation in Ukraine.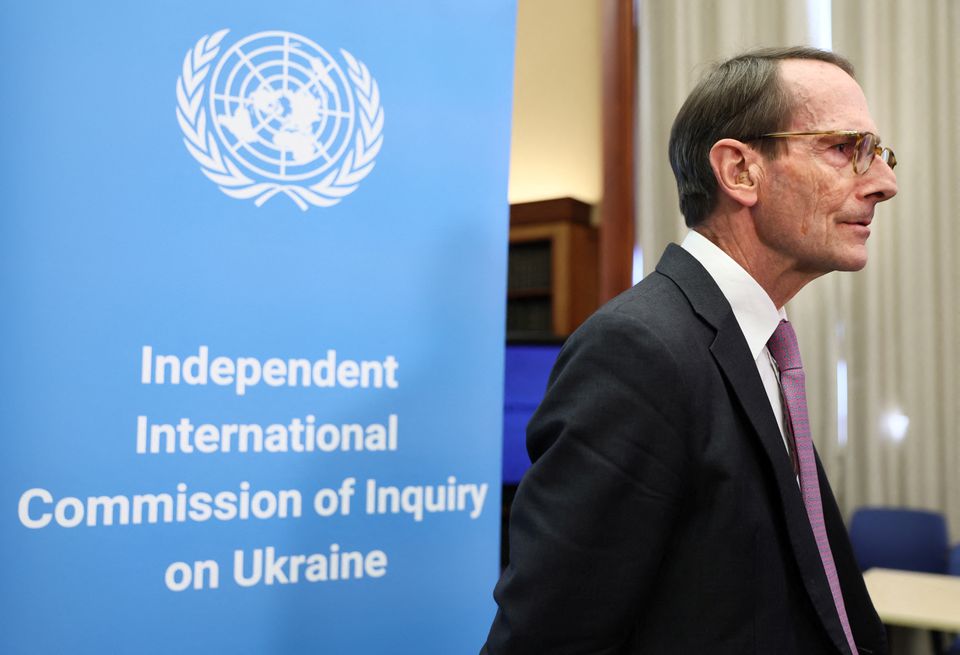 The report is based upon what Commission Chairperson Erik Møse described as a comprehensive review that saw investigators visiting 27 towns and settlements in Ukraine impacted by Russia's invasion.  Investigators from the Independent Commission largely focused on the regions of Kyiv, Chernihiv, Kharkiv, and Sumy.  Prior to this week's grisly discovery of new mass graves near Izium which indicated children, women and men's remains showed signs of torture prior to execution, the communities in which the investigators worked were thought then to be the epicentres of the most serious allegations of the rights violations made against Russian, or Russian-backed forces in the early days of this year's expanded invasion of Ukraine by Russia.  In all, more than 150 victims and witnesses were interviewed for the report.  Møse stated the investigators inspected "sites of destruction, graves, places of detention and torture", as well as remnants of weapons.
The report minced no words in concluding, "Based on the evidence gathered so far during the Commission's existence, we found out after having carried out the investigations in these four areas just mentioned, we found that war crimes have been committed in Ukraine," Møse told journalists in Geneva.  Other key findings contained in the Independent Commission's report outline an alarmingly "large number of executions" in at-least 16 towns and settlements, where "common elements" of the crimes included "visible signs of executions on bodies, such as hands tied behind backs, gunshot wounds to the head, and slit throats."
Yesterday's report, presented to the UN Human Rights Council, detailed how explosive weapons had been used by the Russian Federation forces, "without distinguishing between civilians and combatants in populated areas."  This is consistent with Diplomacy in Ireland's own reporting from Bucha and Irpin earlier this year.  Additionally, the report detailed the observation, "We were struck by a large number of executions and other violations by Russian forces, and the Commission received consistent accounts of torture and ill-treatment."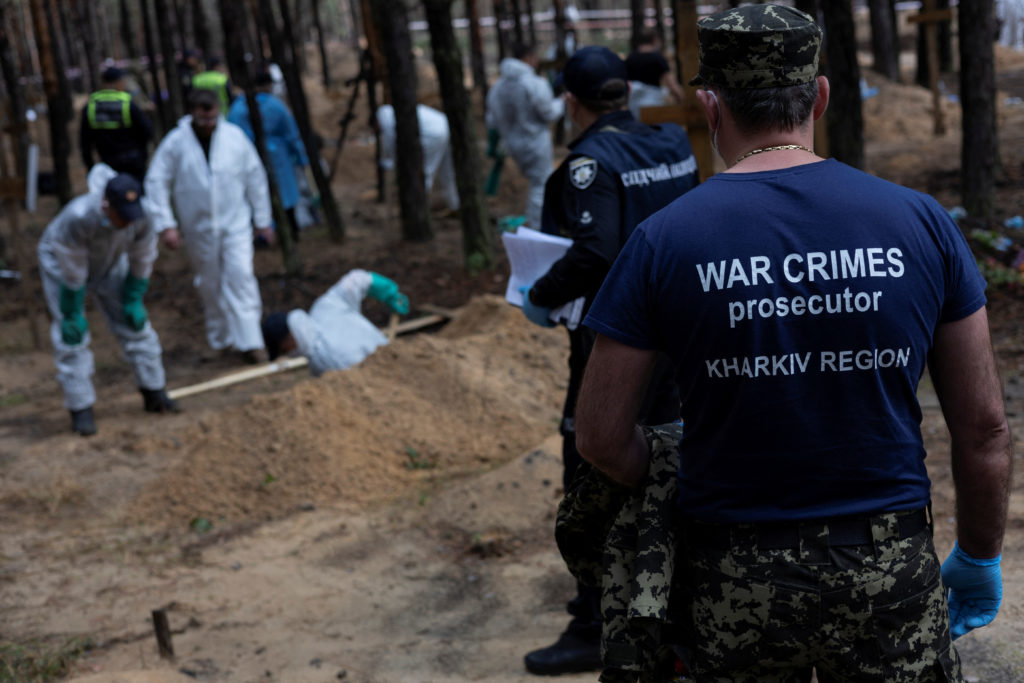 While it is hard to describe any of the plethora of human rights abuses and war crimes committed by Russian Federation forces as being any more shocking than other, the Independent Commission's finding-of-fact of horrific acts of sexual violence being systematically employed against Ukrainian communities is particularly disturbing.  That such rampant and repeated resort by Russian Federation forces to the use of sexual violence against children was verified as factual.  Any moral claims made by Putin that he and Russia are the "defenders of Christianity and Western Civilisation" are void of any grounding in reality.
Aide from suffering massive tactical and strategic setbacks, Putin's much vaunted "professional army" is being roundly exposed as a being more akin to a well-armed gang than a defense instrument of a modern State.  The Russian Federation's demonstrating abandon of human values at a time when Putin is calling for 300,000 new conscripts to reinforce Ukraine raises serious concerns for future war crimes being committed.  With the Russian Federation's "professional army" having demonstrated such wilful abandon and unlawful conduct under the "control" of seasoned professional officers the prospects that ill-trained conscripts and neophyte officers could maintain proper discipline any better is dubious, at best.  The breadth and depth of the war crimes militates towards the reality that war crimes are either Russian policy or tacitly condoned by field commanders if not the Kremline.
To my mind, two, distinct conclusions can be drawn from this report and the scenario that continues to exist — that war crimes are, as Karl von Clauswicz explained '... an extension of Government policy by other means," in Russia's prosecution of its illegal war on Ukraine; and, barely trained conscripts are likely to exacerbate the reoccurance and extent of war crimes given their lack of discipline and the enduring failure of senior Russian officers to control their troops or the Kremlin to condemn such crimes.
The report is not the first of its kind.  Early in 2022, the UN Human Rights Monitoring Mission in Ukraine (HRMMU) published similar findings.  The HRMMU report documented unlawful killings, including summary executions of civilians by Russian armed forces in more than 30 villages and settlements including Kyiv, Chernihiv, Kharkiv and Sumy regions while these regions were temporarily under Russian control in March and April 2022.
Russia dismissed both reports and continues to deny any and all responsibility for the documented war crimes.  Russian Foreign Minister Sergei Lavrov noticeably avoided the UN Human Rights Council meeting in which the Independent Commission released its report.
As in every war, both sides to a conflict are compelled to observe lawful conduct.  Ukraine is not exempt from this standard.  According to Commissioner Pablo de Greiff, "We have found two-instances of ill-treatment of Russian Federation soldiers by Ukrainian soldiers, and we mentioned this in our statement. We have found obviously significantly larger numbers of instances that amount to war crimes on the part of the Russian Federation."  While such conduct cannot be condoned and responsible parties must be held accountable, the disparity between two-instances of ill treatment of Russian Federation soldiers by Ukrainians stands in sharp contrast to the hundreds-of-instances of war crimes committed by Russian Federation soldiers against both soldiers and civilians.  The sexual abuse of children by Russian Federation soldiers is particularly evil in its scope and character.  Zero tollerance for war crimes and mistreatment of persons must continue to be the "gold standard" despite the ferocity of war.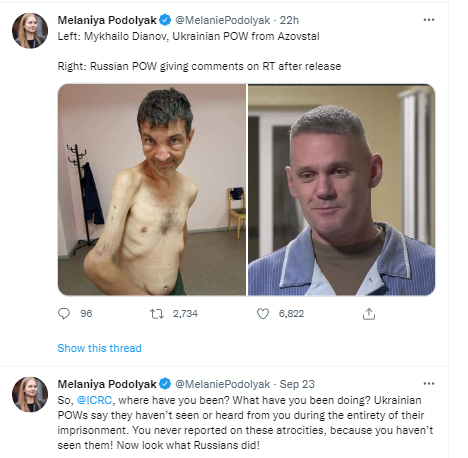 The Independent Commission's report comes on the heels of a prisoner exchange brokered by Türkiye and Saudi Arabia that included approximately 300 prisoners.  Of note, however, is the marked difference in the condition of the prisoners released.  In photographs contrasting the physical condition of prisoners held by the Russian Federation compared to Russians held by Ukraine, alarming questions arise about the abuse and malnourishment of prisoners while in Russian captivity.  According to an unverified Tweet by NGO activist Melaniya Podolyak, side-by-side photographs of one Azov Battalion soldier, Mykhailo Dianov, shows his emaciated body markedly showing signs of medical neglect while in Russian captivity contasted with a rather corpulent Russian soldier released by Ukraine.  According to the RT inteview, the Russian soldier claimed he was deprived of food and only given water – claims likely implausible given his weight and skin colour.
The lack of engagement by the once venerable International Committee of the Red Cross is of growing concern over the weakening of once critical institutions dealing with the care and repatriation of prisoners of war.  According to Ukrainian prisoners of war recently released, the Red Cross had not had contact with them while they were in Russian captivity.  It is unclear if the Russians were obstructing visits by the Red Cross.
According to the Canadian charity monitoring charityintelligence.ca service, information last updated as of 6 July 2022 show the Canadian Red Cross alone had raised at that point some $522m (CAN).  Reportedly an additional @$16.3m was raised since.  However, the Ukrainian Red Cross reports having only recieved some $58.2 million from their Canadian Red Cross counterpart – less than 10% of the monies raised for the benefit of Ukraine.  Public confidence in the International Red Cross has been in sharp decline since it was disclosed earlier this year that the International Committee of the Red Cross purportedly allowed Russian forces to ship weapons to Ukraine under the protection of the Red Cross symbol. The Red Cross' claims the following operating principles:
Humanity means we help everyone, wherever they are.

 

Neutrality means we take action, but never sides.

Impartiality means we focus on the needs, whatever they are.
However, critics claim these principles have been grossly and willingly perverted by the Red Cross to assist Russia with administering "filtration" camps under the guise of humanitarian assistance all while Ukraine receives a fraction of the funding while being victims of Russian agression continue to haunt the Red Cross.
It is likely that the abuse of Prisoners of War will no doubt form yet another investigation into Russian misconduct as the war continues.