by Richard Holmes
Honorary Consul of Mongolia in Northern Ireland
Special Contributor
BELFAST & ULAANBAATAR — Whilst the present year represents the centenary of the re-emergence of Mongolia as an independent State, many will also know that Mongolia was once the centre of the largest contiguous geographic empire in the history of human civilisation.  Reaching its height in the 14th Century under the control of Chinggis ("Genghis") Khan and his sons, the Mongol Empire stretched from modern day Central Europe right across Eurasia to the shores of Japan.  With the subsequent decline of the Mongol Empire over the following centuries, modern day Mongolia came under the increasing control of China until the early 20th century.
Inspired by events in Russia four years earlier, the Mongolian revolution led by Damdin Sukhbaatar  ended foreign rule and allowed Mongolia to regain its status as an independent state from 1921 onwards. The following 70 years saw Mongolia follow a socialist path of development under the influence of the Soviet Union, until the end of the end of communism in the early 1990's.
Today Mongolia is a vibrant multi party democracy that welcomes international investment with a free market economy that has been among the fastest growing in Asia.
Situated between Russia and China and with a population of 3 million, Mongolia has undergone a truly remarkable transformation. This has created an upward trend in economic activity leading to a wealth of opportunities both for Irish exporters as well as those seeking foreign direct investment (FDI) opportunities in this rapidly emerging Asian market.
Many will therefore ask what has led to the meteoric rise of Mongolia to become a star performer not only in the Asian economic sphere but also outshining many other global markets.
The key to the Mongolian economic miracle lies underground. Mongolia is a treasure trove of natural resources in the metals and minerals sector, with the resultant wealth arising from substantial new mining projects now generating an ever increasing demand not only for industrial and commercial products but also for consumer goods and services.
Exploitation of copper and gold resources in one particularly significant mining project, Oyu Tolgoi, has been identified as the key driver for Mongolian economic growth in the years ahead. Located in the vast expanses of the arid South Gobi region and close to the main market in China, Oyu Tolgoi will it is hoped, become one of the world's largest copper mines.
With major international mining companies already key investors in the Mongolian market, opportunities also exist for others involved either as exporters or foreign investors in this particular industrial sector.
Agriculture is the other mainstay of the Mongolian economy with animal husbandry, rather than crop production, being the main focus of agricultural output. More than one third of the population still follow a traditional nomadic lifestyle moving with their herds of sheep, goats, camels, cattle and yak across the vast steppes that make Mongolia in overall terms, a country seven times larger in land area than the British Isles.
It is the humble goat in Mongolia however, that produces the most valuable product, with fine quality Mongolian cashmere being in significant demand worldwide both as a raw material for the garment industry and in the form of finished articles from Mongolian luxury brands such as Gobi Cashmere.
Tourism, too is an expanding industry with the unique heritage and culture of this Buddhist nation making Mongolia a popular destination for travellers, especially those stopping over on the epic train journey from Moscow to Beijing.
Unlike larger export markets such as China which can involve visits to multiple locations, doing business in Mongolia is logistically much more straightforward with virtually all commercial activity centred in the capital city Ulaanbaatar.
What was once a byword for the very essence of a remote city, Ulaanbaatar or "UB" as it is commonly known, has been totally transformed by the ongoing economic boom. With construction cranes filling the skyline, chic boutiques and foreign restaurants now cater to an increasingly expanding Mongolian middle class and visiting foreign investors alike.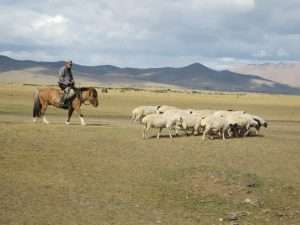 With a stream of other mining projects forecast for further growth in the near future including the Tavan Tolgoi coal deposit, some commentators contend that Mongolia could evolve into the next Qatar or Brunei, a country with a relatively small population supported by substantial wealth based on natural resources.
With this mind, a dedicated economic development agency, Invest Mongolia has been formed to facilitate inward investment and improve the ease of doing business in Mongolia.  The inclusion of Mongolia as the next target market for Irish exporters is worthy of consideration particularly amongst those companies already experienced in supplying other Asian markets including China.
Given this proximity to China, Mongolia was also quick to react to the emergence of the Covid-19 pandemic, closing borders early and avoiding the worst of the impact of this global health crisis.
With the resumption of international trade and travel, the Honorary Consulate of Mongolia in Northern Ireland exists to facilitate such economic, educational and cultural links. Over the past decade these have ranged from a touring Cultural Exhibition of Mongolian Postage Stamps through to a joint collaborative medical research project currently underway between Mongolia and Queen's University, Belfast.
Further information on Mongolia can be obtained from contacting Richard Holmes, Honorary Consul of Mongolia in Northern Ireland in the first instance at mongolia_ni@yahoo.co.uk.