by Miceál O'Hurley
Diplomatic Editor
DUBLIN — In the lead-up to the 9 August 2020 Presidential election in Belarus incumbent President, Alexander Lukashenko, jailed opponents, barring them from participating in the election.  Into the breach stepped one barred candidate's wife, Svetlana Tikhanovskaya, launching her campaign in a bid to wrest the office from Lukashenko.  Reports of voter suppression, harassment, intimidation, summary arrests and even torture plagued the campaign.  Having gained its independence from the former Soviet Union on 25 August 1990, Lukashenko has held the office of President since 1994, being the only President Belarus has known.
After polling stations closed the Government of Belarus declared a 'landslide' victory for Lukashenko with 80.1% of the vote with Tikhanovskaya supposedly polling only 10.12% of the popular vote despite exit polls uniformly indicating Tikhanovskaya was the clear winner.  Serious concerns have been expressed about the legitimacy of the vote with the European Council High Representative declaring:
"… the elections were neither free nor fair.
State authorities deployed disproportionate and unacceptable violence causing at least one death and many injuries. Thousands of people were detained and the crackdown on freedoms of assembly, media and expression intensified. We call on the Belarusian authorities to release immediately and unconditionally all detained. Furthermore, credible reports of domestic observers show that the electoral process did not meet the international standards expected of an OSCE participating State.
The people of Belarus deserve better."
(European Union High Representative Statement of 11 August 2020)
On Monday, 17 August 2020 Minister for Foreign Affairs Simon Coveney  expressed he was "deeply concerned" about the human rights abuses by the Lukashenko regime in the aftermath of the election.  He announced from Government Buildings that Ireland's position is that Lukashenko's election victory "was not legitimate".  Minister Coveney called for Lukashenko to release all political prisoners now being held in Belarus.  Reliable reports indicate some 7,000 Belarusian people were summarily arrested for protesting Lukashenko's claims of election victory.
Sometimes referred to as "The Last of Europe's Dictators" for his repression of opponents and stifling of dissent, Lukashenko has sustained the ethic of State ownership of most industries and preserved many of the Soviet era vestiges of institutional power, including the retention of State Security Committee of Belarus (Комитет государственной безопасности Республики Беларусь) better known by its ominous acronym, KGB.  For all intents and purposes the Belarus economy remains largely closed and insular.  Trade between Ireland and Belarus is miniscule, consisting largely of agricultural equipment, small though the amount may be.
Since the election results have been declared a popular rising has occurred throughout Belarus with tens-of-thousands of Belarusian people turning out on the streets to protest.  The Lukashenko regime's response has at times been brutal, with the use of deadly force resulting in fatalities and numerous reports of civilian protesters and reporters having been badly beaten.  On 11 August 2020, in the aftermath of Lukashenko claiming to have won the elections, Tikhanovskaya read what appeared to be a carefully worded message by video with the following statement:
"I, Svetlana Tikhanovskaya, thank you for your participation in the presidential election. The people of Belarus have made their choice. It is with gratitude and warmth that I appeal to all the citizens who supported me all this time. Belarusians! I call on you to exercise your better judgment and respect the law. I don't want bloodshed or violence. I ask you not to confront the police or go out into the public squares, so as not to endanger your lives. Take care of yourselves and your loved ones,"
– Svetlana Tikhanovskaya
 Tikhanovskaya fled to neighbouring Lithuania for refuge along with her children.  The Republic of Lithuania has issued her a one-year Visa.  Tikhanovskaya's husband remains under arrest in Belarus along with other opposition figures.
Tikhanovskaya, the 37-year old political novice and direct challenger of Lukashenko in the Presidential election rejects the results of the August 9 vote.  In a newer video released from her exile in Lithuania on 14 August 2020 Tikhanovskaya declared, "I did not want to be a politician. But fate decreed that I'd find myself on the frontline of a confrontation against arbitrary rule and injustice…".
Tinkhanovskya demanded in the newly released video that Lukashenko relinquish the Presidency and step-down without further bloodshed, "I am ready to take responsibility and act as a national leader during this period…. In order for the country to calm down… so that we release all political prisoners and as soon as possible prepare the legal framework and conditions for organising new presidential elections."
Protests have arisen across the EU, including in Dublin, where both Irish-Belarusians and Irish people staged protests to demand Lukashenko step-down.  A new Member of the 26th Seanad Éireann, Barry Ward (Fine Gael – Industrial and Commercial Panel), has been sharply critical of the events in Belarus in the lead-up to and following the 9 August election.   Senator Ward sat down with Diplomatic Editor, Miceál O'Hurley, to discuss the crisis in Belarus.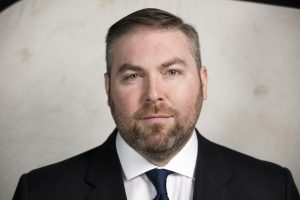 Senator Ward, thank you for speaking with Diplomat Ireland about the unfolding state of affairs in Belarus.  Let me begin by asking you about your ties and knowledge of Belarus?
I first visited Belarus in 2000 as I was travelling north through Europe by rail.  Since then I have visited a number of times and have many friends living there, many of whom are naturalised Irish citizens.  There are also many links between Ireland and Belarus, not just through initiatives like the Chernobyl Children's Project, but through the many Belarus-born people living in Ireland.
My most recent visit to Belarus was to Minsk, three years ago.  The country has changed a great deal over time and appears, on the face of it, to be a functioning, modern, country with a level of economic activity and stability.  However, there is always the feeling that people are in some way subdued: friends don't discuss politics in public or even over the phone, people tend not to meet you eye on the street, there is an awareness of on-going state surveillance, particularly in certain areas, and there is no real political discourse in the news or national media, certainly nothing critical of the government.
What gives you reason to believe there was little if any integrity in the vote on 9 August that saw Lukashenko declared the victor?
I think Belarusian people are, much like Irish people, relatively slow to anger, so the extraordinary reaction to the unexpected election result was telling in itself.  The scenes of the streets of Minsk and other cities are unprecedented and, I think mark a turning point in public attitudes.  Certainly, I have been struck at how willing friends in Belarus now are to discuss what has happened and to express their disappointment and dismay. It can only be a good thing for people to want to speak up around these issues.
In addition to this, there are known examples of intimidation and violence during the course of the electoral cycle, which suggest that there were unfair and unfair practices at play.  The European High Representative on Foreign Affairs and Security has described the election as being "neither free nor fair", a statement that was not made lightly.
You have previously described Lukashenko as an "authoritarian" leader whose conduct runs contrary to European norms, values and law.  Do you see any easing of that past conduct in an attempt to calm matters in Belarus?
Everything Mr. Lukashenko has done since the election result was announced confirms his authoritarian attitude.  He makes no concession on either the result, or the conduct, of the recent election, nor does he acknowledge any validity to the public anger or protests.  Instead, he has met them with a characteristically heavy hand: riot police, baton charges, rubber bullets, and arrests, which have resulted in injuries, and at least one death, of innocent civilians.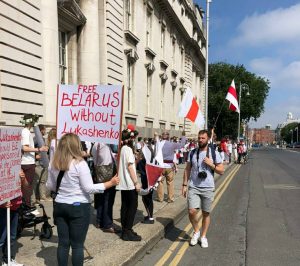 A modern, democratic leader would recognise the serious potential for bloodshed in this situation.  Even if he disagreed with the nature or content of the protests, a leader who was genuinely concerned for the welfare of his people would, at least, approach the situation in a more conciliatory way, looking for common ground and/or some form of mediation.  We have not seen anything of the sort from Mr. Lukashenko.
The European Union's High Representative has challenged the election results and essentially declared the election was stolen from Ms. Tikhanovskaya.  Would you agree with that assessment?
Yes.  I have seen reports of serious misbehaviour on the part of State authorities during the election. Even the very fact that Ms.Tikhanovskaya has become a candidate to replace her jailed husband, who is one of many jailed opposition politicians, indicates the levels to which the authorities will stoop to thwart genuine democracy.
Given that Belarus has never asked for membership in the European Union, why should Lukashenko care what Europe has to say about what he clearly has called an internal matter?
Belarus borders five other countries: three of them are members of the European Union, one is a country that actively seeks to join the European Union, and the fifth is Russia. There is no doubt that Mr Lukashenko looks to Moscow before he looks to Brussels, but the EU has enormous international, financial and diplomatic standing, so I think he should certainly be mindful of such a strong statement from its diplomatic watchdog. Earlier this year, the EU placed a number of restrictions on Belarus as a result of its governmental behaviour; these are matters that should be of concern to any political leader.
I understand that Mr. Lukashenko does not value his relationship with the European Union, but I believe that the Belarusian people do.  In that regard, he may well describe this as an internal matter, but the European Union arguably has an obligation to intervene when it sees such flagrant disregard for vital democratic systems and structures.
Ireland's trade with Belarus is minimal and Ireland does not even maintain a Consulate in Minsk, rather handling its diplomatic affairs with Belarus from the Irish Embassy in neighbouring Vilnius, Lithuania.   Again, why would Lukashenko care about Ireland's position on the validity of Belarusian election integrity?
Ireland has proven itself to be a substantial diplomatic force in Europe, and now globally, as a member of the UN Security Council.  While Ireland might only be a small national entity, our governmental representatives have the ears of the most powerful leaders in the world. Ireland also has significant international credibility in the area of human rights and democracy.
European diplomats, including Ireland's Tánaiste and Minister for Foreign Affairs, Simon Coveney, have already directed officials to draw-up a list of individuals in Belarus for the purpose of targeted sanctions.  The UN, EU and USA have attempted similar sanctions against Russia in the aftermath of their invasion of Georgia in 2008 and Ukraine in 2014.  Do you see the imposition of sanctions in this manner as having any real potential for effect on the Lukashenko regime and if so, why do you think it might produce a different result than those imposed on Russia which have not resolved the issues with their invasions of both Georgia and Ukraine?
As you probably know, Simon Coveney has a deep personal interest in Belarus, having been involved in charitable initiatives there for decades.  He is very well acquainted with the country and has visited on a number of occasions in a personal capacity.  The EU has already identified individuals on whom travel bans have been imposed because of their unexplained involvement in the disappearance of opposition politicians.  The EU has the power to significantly limit the activities of Mr. Lukashenko and his government by freezing assets, banning travel and restricting certain trade; these measures hit home directly with actors within Mr. Lukashenko's government in a targeted fashion, without indiscriminately hitting the Belarus population as a whole.  Working with our international partners, a very loud message can be sent to Mr. Lukashenko with such measures.
If the proposed sanctions against individuals don't produce results and Lukashenko refuses to step-down from power, what else can Ireland do in this situation?
All such measures can be ramped up to a greater or lesser extent, but we must be careful not to allow Belarus to become a pawn in a wider, geo-political game between superpowers.  Ireland's power here is soft power; we cannot rely on military might or threats of aggression, but on our substantial ability to persuade, mediate and assist with a process that brings about a fair and democratic solution.
Finally, let me ask, Lukashenko is reported to have asked Russia for assistance in maintaining control of Belarus and remain in office.  Given the tens-of-thousands of Belarusian people who have turned-out on the streets, and the labour strikes that were announced in the past 24-hours, do you have concern that this might result in another Maidan-type repression where armed forces kill civilian protesters in an attempt for the regime to maintain power and possibly set up a conflict by which Russian backed separatists attempt to divide Belarus?
Absolutely, this is a real risk.  There is no doubt that Russia wants to maintain its control in Belarus, and it appears that Mr. Lukashenko will avail of what he can, in order to hold on to power.  We must ensure that events are not allowed to overtake diplomatic and non-violent solutions.  Feelings are running high in Belarus and this must be harnessed in a positive way to ensure that the people get the government that they want and deserve.
All parties, not least the opposition and Ms. Tikhanovskaya, must act responsibly to bring this present impasse to a safe and democratic conclusion.  It would not take much to push matters into a sphere where blood is spilled and people die, when such a conclusion is not necessary.  That is why it is also so important that Ireland, with its unparalleled history of non-violence and peacekeeping, takes a strong line in this dispute.
Thank you for your insights, Senator Ward.
As to what role Russia might play in rescuing Lukashenko's grasp on power remains uncertain.  Lukashenko claims to have received assurances from Russian President Vladimir Putin that Russia was ready to provide "comprehensive assistance to ensure the security of Belarus." A Kremlin transcript of a a telephone call between the two leaders, Russia "reaffirmed its readiness to render the necessary assistance to resolve the challenges facing Belarus."
Adding to his claims, Lukashenko asserted that NATO was amassing troops along the Belarus border—allegations that have been outright rejected by NATO Headquarters.  To make matters more fraught, Lukashenko seemed intent on insulting his neighbours, claiming Lithuania, Poland and Ukraine have conspired to cause a national rising within Belarus to effect regime change.  In response, the President of Ukraine reminded Lukashenko of their nations historically good and friendly relations and rejected, outright, any blame for the Belarusian people taking to the streets in protest at what they see as a stolen victory.  Nonetheless, as a sign of escalating tension, Ukraine has recalled their Ambassador to Belarus for consultations.  Tensions remain high between diplomats in Lithuania and Poland as well.
When reached by Diplomat Ireland, Ukrainian Chargé d'affaires in Ireland, Ms. Olena Shaloput, stated unequivocally that Lukashenko's attempt to shift blame to Ukraine for internal unrest in Belarus was misplaced, "Accusations that Ukraine has engaged in unfriendly moves against Belarus is completely ungrounded," she said.  Ms. Shaloput continued, "It's a pity that instead of searching for non-violent ways to settle internal crisis, official Minsk has devoted itself to searching for those guilty just among neighbouring and friendly countries, including Ukraine, which are committed to democratic values and respect freedom of expression of its people."
 Diplomatic Editor Miceál O'Hurley asked her about the prospect of Russian intervention in Belarus to which the Ukrainian Chargé d'affaires in Ireland, Ms. Shaloput, expressed her reservations, "We can not but feel deep concern by the recent statement of the Belarus leadership regarding prospective engagement of the Russian special forces in the pacification of those dissenting with results of the flawed presidential elections.  Such a design poses a direct threat not only to a sovereignty of Belarus, but also to the regional security.  I believe that cost of the 'Russian helping hand' is well-established worldwide, particularly after the illegal annexation of Crimea and temporary occupation of Donbas.  I personally follow closely the developments in Belarus, the country of my first posting where I served almost four years" Ms. Shaloput stated.
 As of the filing of this report an announcement was made of an EU-wide summit was to take place on Wednesday, 19 August 2020 to deal more proactively with the Belarus situation.
It remains anyone's guess if Russia will tempt further international ire by assisting the Lukashenko regime to remain in control or if the Kremlin might pursue a via media by which they prop-up the current government with a new, emerging leader cut from the same cloth as Lukashenko who will assume control using specious Constitutional arguments as have already been made about the inability to turn over power to Ms. Tikhanovskaya, in an attempt to keep Belarus tilted towards the Russian Federation.  The question lies as to Russian President Vladimir Putin's appetite to take-on more sanctions in the hope of keeping the fragile country out of the hands of the people of Belarusian people who have made a fierce and determined stand to have their voices heard and counted to preserve Belarusian independence and democratic integrity.
Attempts to obtain comment from the Belarus Ambassador in London, by telephone and email, were made with messages not being returned.
Main Photo Credit:  Natallua Buividovich, Minsk