by Miceál O'Hurley
DUBLIN — On 30 September 1999 the Republics of Ireland and Moldova established diplomatic relations.  Yet it would take over 20 years for Moldova to establish an Embassy in Ireland.
The newly opened Embassy of Moldova to Ireland serves a relatively large Moldovan-expatriate community with deep roots in Ireland.  When the Republic of Moldova decided to establish an Embassy in Dublin in 2019 they turned to an experienced, veteran envoy with a track record achievement, a reputation for having a sharp intellect, strong character and yet known for exercising the gentleness of velvet glove diplomacy capable of garnering Ireland's support for Moldova's further integration in Europe.
Her Excellency Ms. Larisa Miculeț arrived in Dublin in 2019 to confront every diplomat's most daunting challenge — dealing with estate agents in Dublin's runaway property market — a challenge more than one diplomat over the years has mused as being tantamount to attempting Middle East peace accords.  Not one to shrink from a challenge, the new Chargé d'Affaires ad interim found a desirable location for Moldova's new Embassy in Dublin at 2 Mount Street Upper and went about the task of quickly building a rapport within the diplomatic corps.  On  24 September 2020, Her Excellency Ms. Larisa Miculeț was received at Áras an Uachtaráin by President Michael D. Higgins and presented her letters of credence as Ambassador Extraordinary and Plenipotentiary of the Republic of Moldova to Ireland.
Preparing for the interview proved interesting.  Ambassador Miculeț is a study in contradictions – a woman who broke the glass ceiling while other professional women struggled to advance their careers, a published author with an abundance of publications that would make a tenured professor blush, a woman who appears in photographs with famous celebrity musicians like Sir Paul McCartney and august politicians like Israel's Prime Minister Benjamin Netanyahu, Her Excellency has been featured on the pages of publications as diverse as Fashion VIP magazine and the most serious scholarly journals.  I had the opportunity to speak with Ambassador Miculeț about her long career of government service as a lawyer, prosecutor as well as her experiences here in Ireland and insights into her diplomatic agenda for her beloved Moldova.
Your Excellency, I want to thank you for taking time out of your busy schedule to grant this interview with me.
Thank you Miceál for the opportunity to speak with you as a representative of this highly regarded magazine in the diplomatic community of Ireland and beyond.
Prior to being posted as the Charge d'Affaires ad interim for the Republic of Moldova to Ireland in 2019, then presenting your letters of credence as Ambassador Extraordinary and Plenipotentiary to President Higgins at the Áras an Uachtaráin in 2020, you had a very interesting career. Do you mind if we start there?
Not at all – my entire professional career has been in public service and it is split between the two most important offices in the country: The General Prosecutor's Office and the Ministry of Foreign Affairs. I value them equally and in both I held positions with high responsibilities, which is why I feel professionally fulfilled. Perhaps switching between these two public institutions is not quite common in well-established countries, but in my case, it happened because as a lawyer with proficiency in English, I worked side by side with diplomats on international stage and served as a national expert helping consolidate institutional capacities and the legislation of a new independent country. When I was invited to join the ministry as permanent staff, I came with a solid professional experience. By the way, because Moldova gained its independence only in 1991, even having a passion for diplomacy, at that time I did not have any chance to become a diplomat. Moldova had a very insignificant diplomatic service of its own, with limited functions and only few employees, and no schools for educating professionals in international relations.
As a diplomat, I served as Ambassador to Israel with concurrent accreditation to Cyprus, and now serve as Ambassador to Ireland. In between, I served as Deputy Permanent Representative of my country to United Nations and held other high-ranking positions at the Ministry.
You graduated from the State University of Moldova with a degree in Law with Highest Honours and became a Prosecutor, attaining the rank of Justice State Council, 3rd Class which I understand to be the equivalent of Major-General. While many women in the West struggled to break the glass ceiling during those years, and still do, you excelled.  Can you share with our readers what you encountered as a professional woman in the Soviet and then Post-Soviet eras in terms of career development, opportunities, and equality as a professional woman?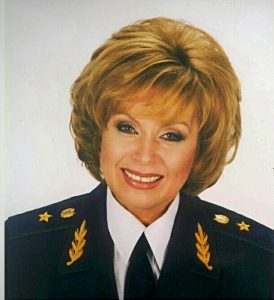 Certainly, I share your view that then and now, women in the entire world are struggling to break the glass ceiling. Yet, some women brilliantly accomplish the goal with the latest inspiring examples being those of the US Vice-President Mrs. Kamala Harris, by the way a former prosecutor too, as well as the first female elected as President of the Republic of Moldova Ms. Maia Sandu.
I started my career as prosecutor after graduating from law school and I worked with dedication for 25 years in that field, becoming, as you rightly pointed out, the highest-ranking woman in Moldova's General Prosecutor's Office. I admit that it was not easy at all to distinguish myself in the prosecutor's office, where men predominated, but I succeeded. I worked with perseverance, dedication, and integrity – a simple recipe. Thus, step by step, through fair competition I progressed and reached new stages in my career. I gained the respect of my colleagues from the prosecutor's office, from outside institutions and from the public, namely by being outspoken, by leading and by being transparent. I was never afraid of obstacles or difficulties, and in the end, professional qualities, not gender, is what mattered.
What advice do you have for young women today who might be considering a career in law, government service or diplomacy?
The most reliable thing is to build your career on a solid foundation, such as well-grounded professional abilities, self-confidence, hard work and honest competition. It is essential to be open to opportunities, to not be afraid of failures and to be ready to start everything from the beginning in pursuing your dreams. At the same time, it is important to keep in mind that in life there must be a balance between career and personal life.
As both a prosecutor and diplomat you have been noted for your scholarly work, having studied at the Geneva Centre for Security Policy, George C. Marshall European Centre for Security Studies (Germany), being a Research Fellow at American University and being a Fulbright Scholar-in-Residence as the School of International Service. Your book, Prosecution of White Collar Crime and Corruption in the USA and Moldova: Comparative Analysis (2005), was very well received, as have been the prolific of interviews and articles on legal and foreign affairs topics in national and international publications.  Establishing a new Embassy in Dublin must have been demanding.  Do you miss the opportunities to contribute to the professional body of literature of your chosen fields or might you find time to do publish more in the future?
Continuous professional development has always been a priority in my life, and I used every opportunity to acquire new professional skills and knowledge. Throughout my professional life, I preferred to share knowledge and experience with others, by publishing professional articles and a book, and by mentoring others. At the same time, when you run diplomatic missions or ministry divisions with small number of diplomats, as I did for the last 15 years, you concentrate all of your abilities in achieving practical goals.  Most recently, I was responsible for setting up the Embassy in Dublin, an incredibly challenging experience but the goal was successfully achieved.  Thus, it is true, I miss the opportunities of writing in areas of my expertise and do hope soon to come with new contributions, especially that my country has a need for them.
I don't want to gloss over what is by any account an incredible career, but I want to start by asking about your work in fighting organised crime and corruption. After Moldova achieved independence from the former Soviet Union on 27 August 1991 you were at the heart of some of Eastern Europe's most innovating and effective efforts to fight financial and economic crimes.  What was it like to be part of those efforts, where is Moldova today and what more needs to be done in these areas to further integrate with Europe?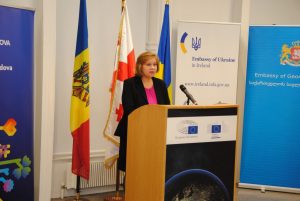 In transition to a market economy, Moldova was increasingly faced with previously unknown to us economic and financial crimes, which in most cases were also followed by acts of corruption and money laundering. This phenomenon directly undermined the stability in society, and the country's authority vis-à-vis international institutions and foreign investors, and thus had a devastating impact on Moldova, on both international and national levels. The people, enduring the harmful consequences of economic crime, almost lost confidence in the correctness of the economic policy pursued by the state, and as a result, economic crimes affected not only the economic processes, but also the morale in the society. The evolution of the situation in the same direction represented a real danger for the economic security of the country and its reforms. At the same time, the law enforcement agencies were untrained to deal with such a complex situation. Certainly, it was an incredibly challenging experience to be part of the team that took the call and responsibility in fighting dangerous crimes. Being on the front line of that fight, I brought the required international experience, gained from research performed at various US institutions.
Although Moldova still faces ups and downs in fighting corruption and financial crimes, there are also visible positive changes in the country in this regard. The institutional capacities became stronger, the legislation improved and the cooperation with foreign counterparts increased. At the same time, the European institutions have continued to underline on various occasions the shortcomings of the rule of law in Moldova and the continued high level of corruption. The Moldovan authorities remain strongly committed to improving the situation and proposed a range of additional measures to strengthen the rule of law and fight corruption. There is new ground for optimism with the newly elected President Maia Sandu, who from the beginning has pledged to fight corruption and already started to gradually implement measures to this end.
Your work on bilateral relations between Moldova and Israel during your time as Ambassador between 2005-2009 was widely recognised as greatly increasing inward investment in Moldova's pharmaceuticals, energy, information technology and software, electronics engineering industries. From your perspective, what was so appealing about Moldova and to what do you attribute your success in furthering Moldovan-Israeli relations?
Being posted as Ambassador to Israel was undoubtedly an extremely significant part of my career and assisted me greatly in my next diplomatic post at United Nations. The diplomatic corps accredited in Israel are highly skilled, and the diplomatic activity is incredibly intense. You must always keep your hand on the pulse of events and that is not a metaphor. My diplomatic activity in Israel overlapped with a period of maximum tension in the Israeli-Palestinian conflict, as well as the Second Lebanese War, and I was deeply marked by those events.
I will tell you without modesty, that jointly with my colleagues, ​​we achieved several important objectives for the country, both in the political and economic field. Israeli investors, being very entrepreneurial and looking for the new opportunities, were interested in the new emerging market of Moldova. The investment climate in Moldova was then and it is now characterized as a positive one, with many economic sectors offering large potential for doing profitable business. Investors are able to use enormous advantages offered by the geographical proximity to the EU and CIS markets, and significant tax reliefs are granted along with other great incentives. To this end, I put a lot of effort in improving the bilateral legal framework to facilitate business relations between our countries, and I am proud that many Israeli companies are successfully developing and expanding their investment in Moldova. Additionally, Israel is home to a big community of Moldovan descendants that are well accustomed with the country, people, culture, and the economy. In Israel I left behind many friends of the Republic of Moldova and personal friends of mine. By the way, the President of Moldova awarded me with the state award for enhancing bilateral ties.
The next item that jumps off the page for me is your work as an Ambassador At-Large engaged in multilateral diplomacy with the International Holocaust Remembrance Alliance. The world just celebrated Holocaust Remembrance Day 2021.  Now, 76 years after the end of World War II, there are a whole host of political leaders whose parents did not fight the war or survive it and have no intimate, personal connection with that tragic era.  What effect do you think the distance of time has on continuing to honour the dead, understand the Holocaust in context and maintain vigilance against such barbarity once again rearing its head in the world?
The multilateral diplomacy and the Head of Moldovan delegation to the International Holocaust Remembrance Alliance (IHRA) were two separate tasks assigned to me at the ministry. Moldova's active involvement in multilateral diplomacy, as it is for many other small states including Ireland, is of vital importance. I performed those responsibilities at the ministry at the time when Moldova advanced to the General Assembly of the United Nations the draft resolution titled "Complete and unconditional withdrawal of foreign military forces from the territory of the Republic of Moldova" which urged the Russian Federation to unconditionally withdraw its troops and armaments without delay from the territory of the Republic of Moldova. The adoption of the resolution by the Assembly reaffirmed that international law should prevail in relations between states. Ireland, along with all EU member states, voted in favour of the resolution and we are grateful for that.
The duties of the Head of Moldovan delegation to the International Holocaust Remembrance Alliance were particularly important because anti-Semitism is still on the rise. During that period, we achieved good progress, including the adoption by the Government of Moldova of the IHRA working definition of anti-Semitism. The implementation of the Holocaust educational programmes and the study of the Holocaust by the young generation of Moldovans is important and is a sign of maturity of the society.
Tell me, if you can, about your work at the United Nations.  What is special or different about UN diplomacy as opposed to bi-lateral diplomacy and what challenges did you face at the UN representing a small nation on the world stage?
I fully share the view of the British Ambassador to Ireland, who in a recent interview when asked what the most fascinating activity in his diplomatic career was, mentioned the activity at the United Nations, saying that this can be equivalent to how as a football player you would play in the "World cup" or participate in Olympics. As Deputy Permanent Representative of the Republic of Moldova to the UN, I represented the country at senior level in the plenary meetings of the UN General Assembly, the open meetings of the Security Council, and the sessions of Main Committees, and promoted and upheld the country's position on wide range of issues. It was probably the most valuable experience of my entire diplomatic career. Yes, there was space for improving the efficiency of the UN system, but it takes time to come to the proper solutions and reach consensus with all state members. By the way, at the UN, I became deeply aware of how vulnerable and fragile the humanity is and how important human solidarity is, and the pandemic has further proved it.
Given your experience at the UN, what insights or opinions might you have concerning Ireland having taken-up a non-permanent seat on the UN Security Council?
Ireland's election, as a non-permanent member on the UN Security Council for the fourth time, is the recognition and trust of the international community in its ability to contribute further to peace and stability in the world. Ireland set up ambitious but reachable priorities for its new term. The country's efficiency and constructiveness in international affairs and its pragmatic approach to global challenges has been shown in previous three terms of the UNSC membership. Ireland's new term in the Security Council is extremely optimistic for small countries, like Moldova, which counts on multilateralism. As Ireland will chair important Committees and will be co-pen-holder of many crucial items, there is more hope that voices of small countries will be better heard and supported. Certainly, the reform of the SC activities is long overdue and shall go on, but it is my strong belief that the Security Council, with its preventive diplomacy, has the merit that the world remained peaceful for the most part, while passing through many violent conflicts and wars.
You have unique insight into European Integration having served as your nation's Ambassador At-Large and before that serving as the Head of European Integration and International Legal Cooperation for Moldova. Where is Moldova in terms of further integration in Europe and what challenges lie ahead?
European integration has been the main objective of the internal and external agenda of the Republic of Moldova for a while now and our relationship with the EU – a strategic and very important one, this being the number one priority of our country's foreign policy.
On a practical and tangible level, Moldova's European aspirations are translated through our commitment to the implementation of the Association Agreement, signed in 2014.
The list of all benefits resulting from this continuously evolving cooperation is long, as EU has always been a reliable partner and true friend both in good and bad times for us.
Moldova is already anchored in the European economic space both through the Association Agreement and the DCFTA, which after 6 years brought the EU to the top rank of the trade partnerships, accounting for about 55-60% of its total trade.
Finally, the people-to-people relations is also at the core of us feeling part of the European family. Over 2.3 million Moldovan citizens and more than 8.5 million trips made to the Schengen area since our visa free regime with the EU in 2016.
This interview has very good timing, as we are in the process of setting the objectives for next years – both in bilateral dialogue (new Association Agenda 2021-2027) and within the Eastern Partnership (future objectives for post-2020 period). Therefore, the decisions we will take in 2021 will shape the EU-Moldova cooperation for years ahead.  The challenge here is to identify and set tangible objectives, while ensuring the functionality and continuity of the process.
We must and will put efforts to ensure that even in this transition period, the implementation of the Association Agreement will remain not only a strategic priority, but also an active driving motor in our path towards European integration.
Another immediate challenge, which does not refer just to Moldova, but to all of us, is the effects of the covid-19 pandemics. We are all aware of the challenges this crisis brought to our societies, economies, and cohesion too in a certain sense. Once again, in this struggle, we are lucky to have the EU support, both in terms of medical assistance from the very beginning of the pandemics and up to the accessing the vaccine stocks.
This brings me to the Eastern Partnership of which Moldova is involved along with Armenia, Azerbaijan, Belarus, Georgia and Ukraine.  Would it be fair to observe that within the Partnership, only Moldova, Georgia and Ukraine are vigorously advancing their ties to Europe?
Since 2009 the Eastern Partnership and in particular its bilateral dimension – has witnessed a number of remarkable successes in particular visa-free regimes, association and free trade agreements as well as significant packages of assistance delivered to Eastern partners. At the same time, over the years it has become clear that the Eastern Partnership needs a fresh look regarding the future objectives of the political and sectoral cooperation. The successes of the past should serve as inspiration for an even stronger cooperation in future.
So, along with our aim of achieving tangible results through a solid dialogue within the multilateral dimension of the Eastern Partnership, we are convinced that time has come to deepen further the dialogue between EU and Three Associated Partners – Moldova, Georgia and Ukraine. This could be done without disrupting normal work of the Eastern Partnership. We already have specific dialogue between European Commission and three partners on DCFTA and agenda of such dialogue should be expanded. I believe you will hear more from three associated partners.
This is a crucial year for the Eastern Partnership as we aim at having an EaP Summit and agree on future long-term priorities and we hope to identify the most viable solutions for all of us, while taking into consideration the specific aspirations of each.
 You arrived, I believe, in 2019. Have you had a chance to see much of Ireland yet?  What were your impressions of what you have seen?
Unfortunately, not as much as I would have loved to. At the beginning, I was fully immersed in setting up the Embassy, as well preparing to provide consular services as a priority, and later the pandemic developed. However, I managed to visit Galway and its surrounding areas, some charming places in Wicklow and several other quintessential towns. I look forward to visiting Cork and Limerick in the future and having official meetings there.
Your Excellency, please tell me about the Moldovan community in Ireland if you will. Did you have much of a chance to have personal contact with them prior to the pandemic?
The Moldovan community in Ireland is large and some of them are in the country since the 90s. I have only heard words of praise about my compatriots because they are hard-working, diligent and trustful. Many of them are already fully integrated in this country and have decent jobs in the public or private sector, and some set up businesses. The young people of the latest wave of the diaspora are employed in the most prestigious high-tech companies such as Google and Facebook, and in the financial sector, and all of them are contributing to the Irish economy. They love Ireland but at the same time they are also patriots of the Republic of Moldova, and they are that lasting bridge between our countries.
The Embassy is providing Moldovan citizens with fast and quality consular services and this is important during this pandemic time when the travel restrictions are severe.
Certainly, I keep in touch with Moldovan diaspora from the different regions of Ireland. In my time here, we had a handful of wonderful cultural events that helped consolidate the diaspora. Thus, we share the Irish authorities view that "The Diaspora is both an asset and a responsibility".
Madame Ambassador, what changes have you had to make to support the Moldovan community and provide Consular services during the pandemic?
When the pandemic developed in Ireland, the Embassy increased its attention to protect the rights and interests of members of Moldovan community. Approximately 2000 citizens registered at the Embassy for repatriation to the country of origin and with the Embassy's participation, three charter repatriation flights from Dublin to Chisinau were put together.
Providing consular services in strong compliance with Ireland's COVID-19 requirements and safety protocols was another challenge but we were able to organize it correctly to protect the team and the visitors. Owning appropriate facilities at the Consular office allowed us to comply with the safety requirements on social distancing, temperature control and sanitization. During the lockdowns we allowed visits in person only in emergency cases. There was a persistent communication with members of Moldovan community through Embassy's Facebook page and website, phone, and email. We updated them consistently about all of the up-to-date requirements of the Irish and Moldovan authorities related to COVID restrictions.
I understand you faced something new and challenging in the last few months – administering a Presidential election during a pandemic. Did Moldovan ex-patriates in Ireland have a right to vote in the election and if so, what challenges did that bring in these difficult times?
In June 2020, the Embassy notified DFA of its intention to operate polling stations to allow Moldovan citizens in Ireland to vote in the Presidential elections in November. The Mission also informed that there were no other legal alternatives for Moldovan citizens abroad to cast their constitutional right to vote, other than by physical presence at the polling stations. Thankfully, the Department of Foreign Affairs concluded that the operation of a polling station by the diplomatic mission to allow its citizens to vote is an essential service and gave the permission to hold two rounds of presidential elections in Ireland.
It was an unprecedented challenge and experience for us to organize such a large-scale electoral process in pandemic conditions. The Embassy enforced all public health measures to ensure that polling stations would be carried out in compliance with public health guidelines and that the voting would be conducted in a safe manner.
As a result, the elections went smoothly and absolutely all participants in the electoral process, including voters, showed discipline, and respected the imposed restrictions. By the way, the Embassy, prior to the elections, had persistent communication with potential voters regarding the newly imposed safety measures. I want to underline that the diaspora was extremely willing to participate in elections and supported all of the mission's efforts in organising the process.
That election saw Maia Sandu elected as the 6th President of Moldova. She ran on a distinctly pro-European platform with an emphasis on reform, good government and addressing poverty.  What does this mean for Moldova, internally and within her place in Europe?
President Sandu, who is a Harvard educated economist, a former World Bank employee and the former Prime Minister of Moldova, is the first woman to become the President of Moldova after winning with 57.7 % of the vote on 15 November 2020, with a strong mandate from its citizens. It is believed that through their vote, the citizens of Moldova endorsed the consolidation of democratic institutions, and the Moldovans showed again their aspiration to deepen the European ties.
It is well known nationally and internationally that Mrs. Sandu favours closer ties with Europe and is a staunch supporter of European integration. There are grounds to believe that Moldova will advance in its European integration by continuing to implement key reforms internally.
Long before Georgia and Ukraine saw Russian forces attempt to annex their territories, Moldova faced-off with Russia over the Transnistria region where Russian forces assisted locals in attempting to break-away from Chișinău (Kishinev) after Moldova's independence in 1991. What is the status of that conflict and what do you make of the Kremlin's initial reaction in dismissing President Sandu's proposal to see Russian peacekeeping forces in the secessionist region of Transnistria replaced by a civilian OSCE observer mission?
One of the main tasks of Moldovan diplomacy is to ensure a favorable international climate for the successful conduct of the Transnistrian conflict settlement process. We underline the importance of the Permanent Conference on Political Issues in the Framework of the Negotiation Process for the Transnistrian Settlement in the 5+2 format as the only mechanism for achieving a comprehensive settlement. Despite the difficulties and challenges posed by the Covid-19 pandemic, we reiterate our firm determination to further promote confidence-building measures between the two banks of the Nistru River.
Regarding the foreign military presence in the Transnistrian region in the absence of the host nation consent, we reiterate our long-standing position on the need to finalize the withdrawal of foreign military troops and its ammunition stockpiles from the territory of the Republic of Moldova in accordance with its constitutional provisions of neutrality and in line with international commitments assumed within the OSCE. There is a clear distinction between the illegally stationing foreign troops and the peacekeeping format in Moldova.
Concerning the peacekeeping mechanism, established by the Moldovan-Russian cease fire Agreement of July 21, 1992, we reiterate that it had long achieved its goal of separation of forces and monitoring ceasefire. The new context established for many years in the region is requiring new objectives. In this regard, we need to launch consultations with all interested international partners on the adjustment of the current peacekeeping arrangement on the Nistru river in order to effectively contribute to strengthening confidence and building an atmosphere conducive to the identification of a peaceful solution to the Transnistrian conflict on the basis of the parameters set out in the relevant OSCE documents.
We consider that the Transnistrian settlement process is one of those issues that requires constant engagement of the OSCE, including the efforts of Chairpersonship, mediators, and observers in the "5+2" format. In this context, we would like to thank the OSCEs Participating States for their support thus reconfirming the strong resolve to attain a comprehensive, peaceful and sustainable settlement of the Transnistrian conflict based on the sovereignty and territorial integrity of the Republic of Moldova within its internationally recognized borders with a special status for Transnistrian region.
One of the difficulties in becoming a full member of the European Union (EU) is satisfying the so-called 'Copenhagen Criteria' which presents difficulties for countries acceding to the EU where contested borders and military occupation continues. What does this mean for Moldova's prospects to join the EU and can the Eastern Partnership play a useful role in overcoming this seeming impediment.
Indeed, the conflicts in the region of the Eastern partnership have been increasing in the past years. At the same time, the EaP itself has never been the format for discussion or settlement of the existing conflicts, as each of them has specific character and negotiation formats.
At this stage of our relations with the EU – the Transnistrian conflict is an important point on our agenda of dialogue and a negotiation process where the EU is involved as an observer and contributor to confidence-building measures.
Our main goal at this stage is to make sure that the entire Republic of Moldova, including resident living on the Left bank of Nistru river can feel the positive results of the European integration and of the Association Agreement. A concrete example is trade area, where the Transnistrian region benefits from the trade regime agreed by Moldova with the EU.
All actors understand that both processes – the European integration and the conflict resolution have their own dynamic. At the same time, I could expect, that in future, with the general progress in our path to come closer to the EU, the importance of resolving the Transnistrian conflict will gradually increase.
Your Excellency, I'd like to delve into your work in Ireland. Moldova and Ireland have enjoyed bilateral relations for over 20-years. Why establish and Embassy in Dublin after all these years?
Moldova shares the view of Irish authorities asserted in the "Irish Global 2025" that "Being a citizen of the world in the 21st Century requires a strong and effective international presence, both physically and virtually". In September last year we marked together 20 years of diplomatic relations between our countries. Indeed, our bilateral relations are strong, friendly, diverse, and based on mutual interest and shared values. The decision of the Moldovan authorities to open the Embassy in Dublin shows the significant interest in further advancing the bilateral ties between the two states. Ireland is an EU member state, and we are willing to move further in our cooperation with the EU and with each member state. Moldova has a big community of citizens in the country and to have a diplomatic presence here is also important from this prospective. Additionally, there is a vast untapped potential for bilateral cooperation in the political, economic, cultural and tourism fields, all of which are among the priorities of my mandate. As the new Ambassador of the Republic of Moldova to Ireland I am committed to contributing with dedication to the comprehensive development of the Moldovan – Ireland relations. We hope that Ireland will reciprocate by opening its Embassy in Chisinau.
What were some of the things you had to confront in opening a new Embassy? That must be quite a daunting task.
I arrived in Dublin in the middle of March 2019 and the Embassy became operational only three months later in July. It was quite a journey. Upon my arrival, many Ambassadors warned me, that with the boom of Irish real estate market, my mandate to open the Embassy was going to be difficult. Indeed, it was a challenging task, but I was truly inspired by an Irish saying, "the road will rise to meet the one who walks it". In the end, I found a centrally located premise appropriate for the Embassy's main purposes, at a good budget.  I'd very much like to express my deep gratitude to all those who guided me in that endeavo0 and express my special gratitude to Her Excellency, Mrs. Manuela Breazu, the Ambassador of Romania, for her support.
On 26 February last year we had an official opening ceremony with participation of the Irish officials, diplomatic corps and many Moldovan friends. The distinguished Dublin Lord Mayor and Ceann Comhairle delivered a warm welcoming address. I feel accomplished that Moldova has now a fully functioning resident Embassy in Dublin and will carry this legacy.
Now that you have opened an Embassy, what priorities have you set for yourself?
Among the Embassy's main priorities are to advance and expand the Moldovan-Irish cooperation in areas of common interest; to promote awareness and public understanding in Ireland of Moldova's foreign policy, and to deepen and streamline the support for the European integration efforts of the Republic of Moldova. Additionally, the Embassy focuses on promoting the Moldovan economic interests in Ireland, fostering bilateral economic ties and boosting the Irish investment to Moldova. Other, equally important priorities are the promotion of cooperation in the fields of justice and home affairs, tourism, culture, education and science, strengthening the bilateral legal framework, and supporting the Moldovan community in Ireland.
We are interested in expanding of the high-level visits, including those of Presidents, Prime Ministers and Foreign Ministers of the two states. We also plead for the intensification of the parliamentary dialogue.
Trade cooperation and investment are always at the top of any Ambassador's mission. What opportunities exist for Moldova and Ireland to further their bilateral cooperation in these key areas?
So far, the trade between our countries is not very substantial but there is an untapped potential for the trade-economic cooperation and we strongly encourage it. Companies with Irish investment are successfully operating in Moldova but there is room for more. We are interested in launching discussions on extending the services of low-cost airlines Ryanair and Aer Lingus to the Republic of Moldova, given the constantly increasing number of Moldovan migrants in Ireland.
The Republic of Moldova is an emerging market with advantageous geographical location in the heart of Europe and direct flights to the east and west. The country is a member of the World Trade Organization since 2001 and benefits from free or preferential trade with 43 countries that allow resident companies to access markets of more than 880 million potential customers. Moldova has visa liberalization regime with 100 states, a multilingual population and affordable labour force, competitive operational costs, advanced IT infrastructure at competitive costs, and an attractive fiscal system. These factors and others facilitate investment.
In the 2020 World Economic Freedom index, Moldova ranked in the 87th spot and in the 2020 Ease of Doing Business report, Moldova earned 74.4 points and ranked in position 48, ahead of its neighbours Romania with 73.3 and Ukraine with 70.2 points, respectively.
The main economic sectors are agriculture, light industry, construction, cosmetics, and automotive. The services industry accounts for more than 60% of all and more recently, the exports of IT services increased, exceeding the sales abroad of alcoholic beverages and wines. Top 10 investors in Moldova are Romania, Great Britain, Netherlands, France, Estonia, Italy, Russia, Germany, Turkey and Luxembourg.
What do you believe Moldova can learn from Ireland?
It is worth mentioning that Ireland's experience in advancing country's reforms after joining EU, along with Irish people's strong commitment to EU values and objectives, is the most encouraging example for us. I am convinced that Moldova and its citizens will be inspired by the Irish confidence in the benefits of European integration and its membership, which is the highest in the European Union. The Irish people truly felt the positive changes that the EU membership brought to the country's performance as whole and to its local communities by correctly and responsibly assimilating the resources and the financial opportunities offered by the European Union.
Ireland has been quite vocal about supporting freedom and democracy, encouraging small nations and being a nation that proudly stakes its position at the centre of Europe. In what ways can Ireland play a role in supporting Moldova?
We thank Ireland for the constant support at the political level and by the practical steps of furthering European agenda of my country. As our commitment to continue the reforms based on the Association Agreement has not changed, we further rely on Ireland's support, domestically and in the EU, in the process of implementing the agenda of reforms undertaken by the current Government, including in fighting corruption, reforming the financial-banking system, and strengthening national security, etc. Ireland is very supportive of the Eastern Partnership – a strategic and ambitious partnership and we do hope to have its support further in setting up the appropriate future objectives for post-2020 period, taking into consideration the specific aspirations of each member state.
As we further reiterate our firm decision to identify within the "5 + 2" negotiation format, an adequate solution for the Transnistrian problem based on respecting the sovereignty and territorial integrity of the Republic of Moldova, we count on Ireland's experience and further involvement in achieving this task to the benefit of regional security. We are looking forward to learning more of Ireland's conflict resolution experience of building, sustaining peace and promoting reconciliation on this island.
Beyond the diplomatic corps, our readership includes business leaders, travel sector heads and even the average Irish person with an interest in foreign and international relations. If you could Madame Ambassador, give me your 'elevator pitch' for Moldova that would help make a country maybe many people have not visited seem a little more accessible and interesting?
Only 3 hours flight, visa-free, you will arrive to a secret garden authentic in every detail, a hospitable destination with generous and welcoming people, who besides having other terrific talents have a big passion for winemaking. The Moldovan award-winning wines have graced the tables of Russian Czars and European Royalty for centuries. Moldova has two world-renowned unique underground wine cellars: Cricova and Milestii Mici. They are genuine underground towns in some places reaching 80 m in depth, with real streets named Cabernet, Feteasca, Aligote that matches the wine stored in adjacent niches in big oak barrels, of the 600 to 2000 wine decaliters. Mileștii Mici, for example, is the in Guinness book as world's largest wine cellar (250 km).
The Lonely Planet travel guide promotes Moldova as a 'not-to-be-missed' and 'highly affordable' destination.
I've had the opportunity to spend several days in Moldova and found it a vibrant model of European hospitality.  Beyond the thoroughly vibrant and cosmopolitan city of Chișinău (Kishinev), with its dynamic blend of modern architecture and preserved historic buildings the countryside is breathtaking and demonstrates the nation's growing commitment to ecology. I found the domestic wine extraordinary and the food incredible, and both very affordable.
What would you suggest for those who want to visit Moldova when travel returns after the pandemic subsides?
Moldova is famous for many things and is worth visiting. The country is known historically as a crossroad of routes that shaped modern Europe and offers a genuine travel experience. Traditional Moldovan homes are always built with a "Casa Mare" (Big Room) – where visitors are welcome to enjoy domestic wine and share a meal. Guests will discover that generosity and genuine friendliness towards visitors are part of everyday culture in Moldova.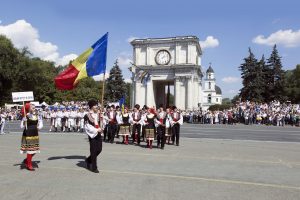 As Moldova is such a little-known destination for tourists, the high quality of Moldova's wine and cuisine usually surprises our guests. Wine experts have long regarded Moldova's best wines. In recent years wine production has been enjoying a renaissance with a return to traditional wine making techniques, the renovation of our largest wineries, embodying the authentic and traditional style of winemaking with high quality. Moldovan wine is complimented by our cuisine and music.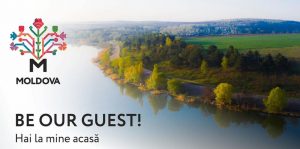 Moldova is well connected to the world and in summertime there are 350 flights per week. Two Moldovan companies operate direct flights to Dublin, 5 times per week. There are many interesting cultural places to visit too, among them monasteries, as well as an archaeological complex that is an open-air museum situated 60 km northeast of Chisinau by the name of Orheiul Vechi (Old Orhei). Rural tourism is very developed, and visitors are extremely impressed.
Madame Ambassador, I have truly enjoyed getting to know a little more about you and so much more about Moldova and her aspirations during this interview.  I want to thank you for being so gracious with your time.  I wish you and your Mission every success in Ireland.
Thank you, Miceál.