by Miceál O'Hurley
Dublin – In December, 2019 news began to emerge of a novel strain of a coronavirus that was infecting people around the globe.  To date, some 452,036 people have reportedly died because of the Covid-19 pandemic.  The toll the pandemic has taken on the world has been devastating with it wrecking economies, stressing health care systems and causing countries around the world to impose travel bans and restrictions to thwart the spread of the virus.  As Ireland begins to lift many of the restrictions put in place to help contain the Covid-19 pandemic it gives us time to reflect upon the work of diplomacy in action and the critical role played by the Diplomatic Corps in continuing to serve people during the crisis.
We will be profiling several diplomatic missions in Ireland to provide an insight into how diplomacy has been conducted during these trying circumstances and provide some insight into the challenges that may lie ahead.  In this interview, Mrs. Olena Shaloput, Chargé d'Affaires, Embassy of Ukraine to Ireland, shared some of her thoughts with me.  Mrs. Shaloput's previous postings have included service in Minsk (2004-2008) and Kyiv as Deputy Director of the Ministry of Foreign Affairs Department for Countering Russian Threats (2014-2017).  In February 2017, Mrs. Shaloput was appointed to the Ukrainian Mission in Ireland as Chargé d'Affaires ad interim.
Mrs. Shaloput, I appreciate you taking a moment to discuss the events of recent months and the Covid-19 pandemic with us and how it has impacted your Mission's work of late.
Please tell me, what did you find to be the most significant challenge for your Mission during the Covid-19 pandemic?
Our main focus has been, and remains to be, on the care of safety of our citizens in Ireland and around the world.  This has often meant working long-hours to meet the needs of Ukrainians requiring consular assistance as well as continuing our duties to represent the Government of Ukraine in Ireland.  Offices throughout Ireland may have been closed to the public, but our work very much continued throughout the pandemic.
With travel bans and restrictions being imposed by many countries, what challenges did Ukrainian citizens living, working or visiting Ireland experience with regard to returning home to Ukraine?
Since the outbreak of the COVID-19 pandemic in Europe, and movement restrictions were imposed, the Embassy was confronted with a challenge as to how to help those Ukrainians, long away from home, to get back to Ukraine.  This presented a unique challenge as regular direct flights between Dublin and Kyiv were suspended due to the pandemic.  The Ukrainian Government and national air companies immediately organized a number of repatriation flights from European hub airports in Amsterdam, Frankfurt, Brussels, etc.  Many Ukrainians, including in Ireland, took advantage of these flights, however, many of visiting elderly as well as under-aged Ukrainians who study in Ireland found it difficult and stressful to travel alone.
Despite these challenges, and with the help of both the Irish Foreign Department and Civilair Ireland, our Embassy facilitated one direct chartered flight from Dublin to Kyiv on which more than 50 Ukrainians were able to return home safely.  In general, since the beginning of April, more than 235,000 Ukrainians from around the world have been successfully repatriated owing to the work of Ukraine's diplomatic corps working with our partners around the globe.
The Ukrainian Embassy also worked closely with the Irish Foreign Department to render assistance to those Irish nationals who were in urgent need to travel to Ukraine. 
Historically, the Diplomatic Corps has been creative in meeting arising problems, be it in natural disasters, times of war or even pandemics.  Were there instances during this crisis in which the Embassy of Ukraine to Ireland worked in concert with other diplomatic missions to meet the challenges posed by the Covid-19 pandemic?
Of course.  We worked closely with other diplomatic missions, including those abroad, in ensuring we could help Ukrainians in different parts of the world to return home.
With a general prohibition on travel and restricted visits to Embassies, what are some of the ways your Mission adapted to meet the needs of people asking for services?
Like all other Missions, our staff generally worked from home to meet the needs of our people and to carry on with our diplomatic mission throughout the pandemic's worst days. 
We suspended our consular services in mid-March, except for cases which required our immediate involvement, such as cases related to a loss of documents, health hazard, etc. Therefore, frequently, while observing health and safety protocols, it was necessary at times to work from our offices to perform our consular functions and help Ukrainian nationals in difficult circumstances. 
What was your interaction like with the Department of Foreign Affairs or members of the Irish Government throughout this crisis?
The pandemic introduced significant correctives to our work, including to well-established mechanisms of interaction on governmental level.  However, we managed well during this turbulent period to maintain a bilateral dialogue on a high level.  This included a telephone conversation between Minister for Foreign Affairs of Ukraine, Dmytro Kuleba and the Tánaiste and Minister for Foreign Affairs and Trade of Ireland, Simon Coveney which took place on 19 May.  The talk proved very fruitful and focused on bilateral cooperation with a special emphasis on economic issues.  Simon Coveney confirmed intention to establish the Irish Embassy to Ukraine before the end of 2020.
The Embassy highly appreciates the continuous support offered by the Department which was always timely and practical.  We kept on communicating on various issues, starting from those related to multilateral cooperation within international organizations and concluding with practical arrangements for the chartered flight from Dublin to Kyiv.
The Department of Justice and Equality significantly alleviated challenges for visiting Ukrainians and other foreigners having their permits for stay in Ireland automatically prolonged. 
Personal Protective Equipment (PPE) availability became a pressing issue around the globe.  Did Ukraine play a role in ensuring health care workers, first responders and the public in the EU, including Ireland, had the resources they required and continue to need?
You probably saw that the Irish media widely covered the arrival of the world's largest cargo aircraft, the Ukrainian AN225 Mriya, when it landed at Shannon airport last week.  I saw that many locals compared it to "the size of Croke Park pitch" with "a height of six stories".  On just this single flight it brought nearly 1 million units of personal protective equipment from China.  According to the media, it was the largest ever consignment of PPE ordered by Ireland.  We are also pleased to note that amid COVID-19 pandemic the Ukrainian AN225 was busily involved in delivering medical and protective supplies needed to combat the coronavirus to many countries all over the world.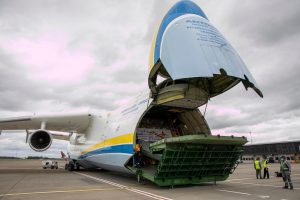 There are accounts of diplomats, their spouses or staff serving around the world who fell victim to Covid-19 in the service of their countries.  Did your Mission or country experience any losses in your diplomatic community during the Covid-19 pandemic to date?
Luckily, no fatal COVID-19 related cases among Ukrainian diplomats overseas and in Kyiv have been registered, though a number of persons were infected.  In Ireland, we were deeply shocked by passing away of our good colleague, Her Excellency Laura Bernal, the Argentinian Ambassador, who fell victim to the pandemic.
Are there any changes in the way you will provide Consular services for the foreseeable future?
I do not think there will be major changes in ways we have been providing consular services, though we will certainly have to take into account risks related to the spread of coronavirus and implement necessary protective measures in order to ensure safety of our personnel, as well as safety of our visitors.  With this in mind, we have already installed protective means and undertook other measures on the premises which will allow us to avoid over-crowding and help ensure a required level of health safety. 
What are the plans for Ukraine to move towards a 'normalisation' of travel and tourism?
Realizing challenges following travel/movement restrictions imposed by many countries, the Ukrainian Government has recently instructed regional state administrations to work out provincial tourism development plans, which will provide a basis for the national program in this field.  We also expect that restrictions on entry to Ukraine of foreigners will be lifted shortly and international air flights, including the Dublin-Kyiv flights will be resumed, which will contribute to bringing the tourism back to normal
Mrs. Shaloput, I truly appreciate you taking time to discuss the work of the Embassy of Ukraine to Ireland with me and Diplomacy in Ireland – The European Diplomat.   Let me to wish the Ukrainian people continued good health and happiness and you continued success in your diplomatic Mission in Ireland.
Thank you, Miceál.