by Miceál O'Hurley
ALGEIERS — The 26 July coup d'État that cast Niger headlong into chaos continues to teeter on the edge of a widespread armed conflict that promises to further inflame and already troubled West Africa.  President Mohamed Bazoum was outsted from power after being arrested by his bodyguards and a junta seized control of the government.
According to Colonel Major Amadou Abdramane, Niger's junta regime spokesman, France maintains military forces in several ECOWAS (ed, Economic Community of West African States) countries purportedly as part of its preparations for a military intervention in Niger.  The Sahel state has found itself in a stand-off with the West African bloc ECOWAS, which has threatened military intervention should diplomatic pressure fail to return Bazoum to office.  Internally, Niger's pursuit of Boko Haram and Islamic State in West Africa Province (ISWAP) militants continues to keep the country in turmoil.  Since 2022, French forces have been present at the request of President Bazoum to assist Niger in suppressing terrorism and the Multinational Joint Task Force (MNJTF) has assisted in the pursuit of Boko Haram militants.  The parallel international conflict and internal anti-terrorism activities threaten the long-term stability of Niger with the potential for regional spill-over.
Algeria's President, Abdelmadjid Tebboune, has proposed a 6-point peace initiative designed to facilitate a political settlement for the crisis in Niger.  Tebboune's vision includes all sides embracing the principle of rejecting unconstitutional changes and mutually adopt the option of peaceful settlement without any military intervention.
Algeria's initiative is not only timely but offers the only real proposal on the table that would keep the situation from further deteriorating beyond the point where negotiations would be likely to achieve any real and durable settlement.  Given the spate of coups d'État in the region Tebboune's leadership with his 6-point peace initiative, the full text of which appears below, is both refreshing and praiseworthy.  A thorough and contextual reading of the proposal demonstrates Tebboune is both a political optimist and a pragmatic realist.  His proposal is based in constitutional authority and places any negotiated political solution firmly within a durable framework that promises participation by all parties for a sustainable peace.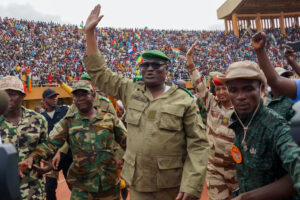 Since the junta seized power 67 days ago French military forces based Ouallam and Ayorou bordering Mali and Burkina Faso in the Sahel region have been essentially confined to their duty stations.  Reliable reports indicate jihadists have already killed numerous military personnel and civilians.  Independent verification of the numbers is impossible given the state of affairs in Niger.   Paris, has so far refused to withdraw troops from Niger in the hopes of sustaining its influence in the region which dates to its colonial era.  France remains adamant that it recognises only the authority of the democratically elected President, Mohamed Bazoum, as a legitimate leader.
Tebboune's initiative urges a political solution provides for a transitional period of 6-months for the restoration of a democratically elected Government.  However, Niger's junta leader, General Abdourahamane Tiani, "…has called for a transitional period that lasts for three years at most," Attaf said during a televised press conference.  "But in our view the (transition) process can be completed in six months" so the coup does not become a "fait accompli", he continued.  The transitional period would allow stakeholders to "formulate political arrangements with the acceptance of all parties in Niger without excluding any party" within the 6-month period, added Attaf.
To date, French diplomats gathered in crisis rooms at 37 Quai d'Orsay claim they will not engage with the junta.  For their part, the junta leaders claim to have invalidated several of the military cooperation accords signed between France and Bazoum's government making France's military presence in Niger wrongful and illegal.  Public protests calling for French troops and diplomats to leave Niger grow by the day.  Given the intensity of the animosity a single misstep on either side could cause wholesale conflagration in the country and plunge the region into greater turmoil that could spill across borders.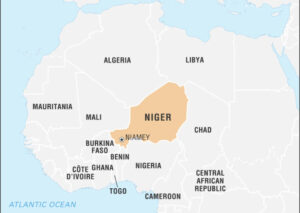 Algeria's Minister of Foreign Affairs and National Community Abroad, Ahmed Attaf, has lately been engaged in a whirlwind of shuttle diplomacy to prevent the crisis from devolving into bloodshed and instability.  Prior to the press conference, Attaf visited Nigeria, Benin and Ghana where he engaged in high-level dialogue to prevent the Niger crisis from widening.  According to the web site of Algeria's Ministry of Foreign Affairs Attaf has engaged with the United States, Türkiye and others regarding Tebboune's peace initiative.  Algeria shares a 1,000-kilometre (620-mile) southern land border with Niger.  Unsurprisingly, Tebboune was previously quoted as saying, "[a military solution by force would be] "a direct threat" to his country.  Tebboune said, "there will be no solution without us [Algeria].  We are the first people affected".
Speaking from Algiers last Tuesday, Attaf said President Tebboune had developed a 6-point plan that would allow all sides to reach a negotiated settlement without resort to military invention.  In a conference, held at the Abdellatif-Rahal International Conference Centre of Algiers, on the ongoing developments in the Sahel region, in general, and the Republic of Niger, in particular, Attaf stressed the need to give priority to a political solution without resort to force.  Attaf warned of the possibility for disastrous repercussions should force be used in Niger and the whole region.
Tebboune's 6-point plan was described by Attaf as being aimed at "strengthening the principle of rejection of unconstitutional changes and the definition of a six-month deadline for the implementation of a political solution leading to the restoration of the constitutional and democratic order in Niger, through the resumption of political action as part of the rule of law."  According to Attaf, any political solution that would avoid a crisis, "requires the involvement and approval of all parties in Niger, without any exclusion, the arrangements should be carried out within a deadline of six months, supervised by a civil authority, led by a consensual figure, accepted by all political factions in Niger to succeed in restoring the constitutional order in the country."  France's refusal to engage with the junta remains an obstacle to peaceful resolution.  Equally so, it remains unclear if the junta and other parties are prepared to engage in Tebboune's plan, the only real process for a solution on the table at this time.
Algeria's leadership in this peace initiative does not end with the 6-point proposal.  As a political approach, Algeria has indicated it is prepared to provide appropriate guarantees to all the concerned parties in order to "ensure the sustainability of the political solution and its approval by all."